Still Wondering if Technology Will Change Education Proves We're Already Too Far Behind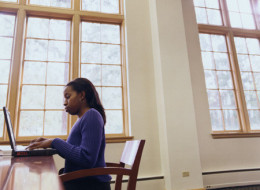 There is a great deal of debate about whether or not technology will revolutionize education. To me the debate itself points out a problem. With the number of free and low-cost educational resources that technology has made available it should have, at least to an extent. The fact that it hasn't points to a problem with the system overall.
A little while back my friend Tessa Sproule left the CBC to start Vubblepop, a news site that is proving to be spectacular for asking provocative questions and for providing depth and context to current events.
Thursday Vubblepop posted two conflicting videos on the question of technology and education. Both videos (below) raise interesting and valid points but tend to ignore the key issue which is that the education should currently be rapidly evolving, but is not.
I believe that the root of the problem is that the current public system, in both the United States and Canada, is designed for parents and politicians and not children. The current focus seems to be on keeping the children safe and comfortable in an inexpensive non-day-care environment, on teaching them to recite the answers to trivial pursuit questions so that they can score well on standardized tests (allowing parents and politicians to evaluate the school) and on encouraging them to train for particular lifestyles and career paths. For example, there are concerns about the health and activity levels of adults so physical fitness is pushed in the schools, there is a perceived current and future need for people in science and technology so these paths are particularly promoted.
If we want to get the most out of our schools, the education system should be designed exclusively for children and for the world in which we currently live.
Standardized testing has always been a bad idea and not really reflective of academic success. Now that we live in a world where basic facts can be Googled on an as-needed basis there is little point in forcing children to memorize hundreds of facts, simply so they can recite them back later.
Over time it is going to get faster and easier to access growing piles of information. It seems to me that what is important is teaching children, from an early age, what to do with that information. Obviously it is important to teach reading and writing but beyond that someone has to teach students how to gather, filter, analyze, evaluate and think critically about all of that information. Literacy has to go beyond the simple definition of 'knowing how to read' and expand to include media literacy, data literacy, math literacy, scientific literacy and critical thinking.
It is also becoming a bit pointless to steer children toward specific fields, at least during primary education. A child born today will likely enter a world where having a job is the exception, not the norm and where work plays a much smaller role in the lives of most people. Given the speed with which the economy and the workplace are changing it seems a bit pointless to devote resources to steering students in a specific direction.

In my opinion, it is also critically important that students be taught empathy from an early age. This is important from a anti-bullying, anti-sexism, anti-racism, anti-homophobia etc., perspective. It goes far beyond that however; empathy is going to be critical to students' ability to filter, analyze and think critically about information. Evaluating the source of information and understanding the perspective of people impacted by events will be necessary for critical analysis.
Finally, I think civics needs to return to the curriculum in a major way. It is important that young people understand government, how laws are made and how they can have an impact federally, regionally and locally. Civics education seems to have been devalued at all levels while physical fitness increased. The reasons for this but it is a bad formula unless the goal is non-voting sports fans.
In short, rather than trying to turn out members of a particular profession I believe our education system should attempt to turn out decent people, capable of empathy, engaged in their communities and capable of critically evaluating information for lifelong learning.
Whatever the priorities may be, education needs to be revolutionized by technology. It is foolish not to incorporate the volumes of free information made available online through universities, libraries, galleries, scientific journals and sites like Archive.org, YouTube, Vimeo, Wikipedia and others.





ALSO ON HUFFPOST:
Education around the world
A future teacher outside her primary school in Emori Joi, a pastoral Kipsigis community in Kenya's Rift Valley. In 2002, Kenya's newly elected government made primary education free, leaving no time for schools to prepare for the one million additional eligible children. To this day, the government is struggling to catch up, so Free The Children builds schools and schoolrooms, libraries, latrines, clean water projects, agriculture and health programs, and alternative income programs to remove barriers to children attending school, while the Kenyan government pledges to maintain the schools in their entirety, including hiring teachers and providing materials and resources.

Once a dark and overcrowded mud structure, Emori Joi Primary School has been rebuilt by Free The Children. Presently, the new school consists of 9 school houses, a kitchen and library. Not only does the school provide access to education for more than 530 local children; it also serves as a meeting place for the whole community. Since initial construction, academic progress has been at the forefront of the leaders of Emori Joi Primary School. In January 2008, Emori Joi was the top-ranked school in its district! Female attendance and retention have also increased, to almost 50 per cent of the student population.

Students at a new school in Kamoda, a rural community in the hills of Rajasthan in northwestern India. Sixty per cent of the local population are Bhils, a scheduled tribe that historically has been discriminated against due to their relatively low ranking in the caste system. The other 40% of Kamoda are Rajputs who have a higher social standing than the Bhils, however, the vast majority of them still live below the poverty line, which is why Free The Children has chosen to work with both caste groups to improve the collective situation in Kamoda.

A recent series of renovations at Kamoda Primary School have included a new toilet block for students, an administrative room, and re-painting the walls to ensure that students have a bright and comfortable environment where they can thrive. An enrolment campaign focused on addressing individual families' barriers to sending their children to school led to seven new girl students at the school, and the hiring of a second teacher!

Free The Children has been working in Ecuador since 1999 with a focus on school building in the province of Chimborazo, home to the largest number of indigenous communities who suffer from some of the highest rates of poverty in the country. These communities have very limited access to education, water, economic opportunities, health care services and the resources needed to maintain a nutritious food supply, so Free The Children's multi-pillar "Adopt a Village" program provides clean water, health and agriculture programs, and alternative income projects to remove the barriers to children's education.

A classroom in Aluo, a remote community in China's southwestern Sichuan province. Schools in this region were heavily damaged in the 2008 earthquake, and the lone school in Aluo was completely destroyed. Over half of Aluo's male population and 70 per cent of females are illiterate, in part because of high drop-out rates resulting from poorly trained teachers. Free The Children provides teacher training programs to improve the quality of education in the new Aluo Primary School, and since many teachers live too far from Aluo to travel to the community for work each day, they live at the school in our teacher accommodations. As a result, teachers in Aluo have become more involved in the school and in the community as a whole. A recent study by China's Ministry of Education found that Aluo has the highest attendance rates of any school in the surrounding Xide County!

Students working diligently in Manac, an isolated community that sits at the intersection of five of Haiti's mountain ranges. The five-hour hike down the mountain to the nearest town, Hinche, is not fit for vehicles, and even donkeys have trouble traveling up and down the slope. But the residents of Manac were so enthusiastic about the construction of the new school that they volunteered their time and effort, hauling supplies and donating stones from their yards to be used as concrete for the walls and foundation of the new school. Since Free The Children first encountered Manac, student enrolment has grown to 475 students, and examination results are among the best of all Free The Children schools in Haiti.

When we held the inauguration of a new school room in El Trapiche, a small community in the Central Pacific Region of Nicaragua, it was a historic moment. El Trapiche had never before had a school building for its children, not even a classroom. Nearly 60 people gathered to celebrate the opening of the school, including excited well-wishers from neighbouring communities. Free The Children also works in the Nicaraguan community of San Diego, where outside the newly built library there is a new school garden, complete with a wide variety of flowers and vegetables. The community's teachers will receive training on how to maintain the garden, and they will share this knowledge with the many students and parents who have eagerly come forward to help.

Due to the devastating effects of an 11-year civil war that ended in 2000, access to education in Sierra Leone's Kono District is very limited. Almost all infrastructure—schools, homes, medical and water facilities, and businesses—were destroyed during the war. Years later, the area is still severely neglected by the government and remains very low on the United Nations Human Development Index. Due to the fragile post-war environment, Free The Children implements its projects through a local partner, the St. Joseph of Cluny Sisters, since 2002. All children involved in our projects are war-affected youth—amputees, former child soldiers, and those who have lost family and friends.

Free The Children has worked in Ghana since the early 2000s, building and renovating classrooms and schools, and initiating clean water projects in the village of Domeabra, which is about two hours north of Kumasi city in Ashanti Region and about eight hours from the capital city of Accra. In response to the country's ongoing need, Free The Children is now working with communities in the western region of the country, where these two young students study in the brand-new primary school in Asemkow, a fishing and farming community of 900 people along the ocean coast in Ghana's Ahanta West District.
Follow Justin Beach on Twitter: www.twitter.com/Justinsb