Two Fresh And Flavourful Herbs To Enjoy This Summer
I love to use fresh herbs in my cooking because it adds a depth of flavour and a freshness that you just don't get from using dried herbs.
Here are two of my favourite fresh herbs -- their nutritional benefits, how to use and store them, and some Smart tricks!
Herb #1: Basil
Key Nutritional Benefits of Fresh Basil
It boosts the immune system by fighting bacteria.
It is anti-inflammatory
Excellent for combating constipation, indigestion and stomach cramps
Dried basil and other herbs very high in calcium.
Favourite food combinations
Tomatoes
Olive oil and garlic
Strawberries and black pepper
Coconut milk
Dark leafy greens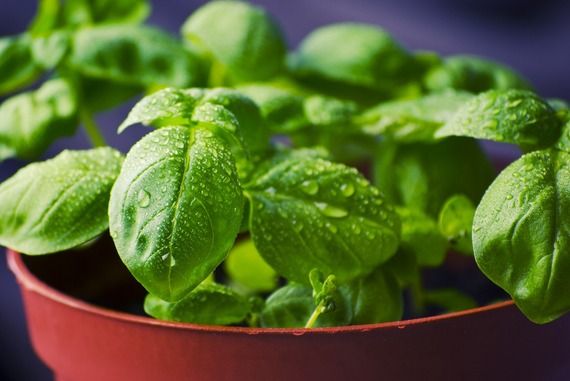 What to Look For
When buying fresh basil look for leaves that are free from any discolouration.
How to Store
The best way to store fresh basil is to remove it from the package and fill a glass with water and trim the bottoms of the plant and store at room temperature out of direct sunlight.
Money Saving Smart Tip
Another option is to buy a basil plant! They are typically about $2.99 at your grocery store and when you consider that a bunch of fresh basil is the same price, why not buy the whole plant? This way you can have fresh basil on hand at any time. I have a planter in my house (winter and summer) that is a pot of fresh herbs. I buy four plants (basil, parsley, cilantro and mint) and keep it year round! For $12 I have fresh herbs all year!
Time-Saving Trick
Often when we buy fresh herbs, we only need a little bit. What I like to do with my leftovers is this: Take an ice cube tray and chop your fresh herbs up and combine them with olive oil and freeze. This way you have fresh herbs on hand anytime and can just pop in the herb cube for stir fries, soups or broths.
If I am feeling slothful and don't want to take the time to do even that, I will take the whole bunch of fresh herbs, put it in a Ziplock bag and freeze it. I will then add this frozen bunch of goodness to my soup broth and let it simmer!

To try:
Basil Pesto
Serves 4
1 cup of fresh basil
½ cup baby spinach
¼ cup grated parmesan cheese
½ cup chopped walnuts or almonds
½ teaspoon each of sea salt and black pepper
4 fresh garlic cloves
1/3 cup extra virgin olive oil
Combine all of the above in a food processor and serve on fresh gluten free pasta or zucchini noodles!
Herb #2: Cilantro
Key Nutritional Benefits of Fresh Cilantro
Favourite Food Combinations
Black beans
Mexican dishes
Curries
Avocado and lime
Strawberries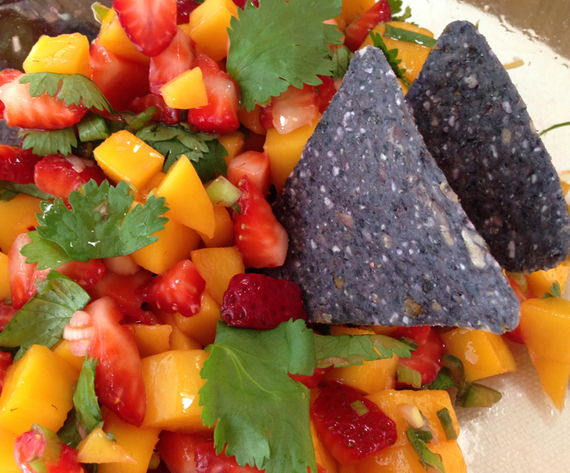 What to Look For?
When buying fresh cilantro look for leaves that are free from any discoloration or wilting.
How to Store?
The best way to store fresh cilantro is to remove it from the bag/container and wash very well. After washing cilantro, spread it out on a paper towel and roll up and store in the fridge for up to two weeks.
Money Saving Smart Tip
Another option is to buy a cilantro plant! They are typically about $2.99 at your grocery store and considering that a bunch of fresh cilantro can sell for close to the same price, why not buy a plant? It's the gift that keeps on giving.
Time Saving Trick
See above (basil). You can do the same thing with fresh cilantro.
To try:
Sweet and Spicy Mango Salsa! You can find the recipe on my website.
Follow HuffPost Canada Blogs on Facebook
ALSO ON HUFFPOST:
Foods For Health: Herbs And Spices
This herb is a little sweet and savoury, plus it adds plenty of flavour. Add it to sandwiches and sauces or use it as a fresh topping on your homemade pizza. Because of its high iron content it makes the perfect snack to eat during your period, as it replenishes the iron lost during menstruation, Health.com explains.

Mint tastes best paired with lamb or chocolate and it also helps aid an upset stomach. According to researchers at Maryland University, peppermint can decrease symptoms of indigestion, bloating, IBS, itching, headaches, colds and flu.

While some find that cilantro tastes like soap, those who love it know it doesn't just add fresh flavour, it provides health benefits too. Numerous studies suggest that cilantro can lower blood pressure, manage cholesterol and blood sugar as well as protect arteries, SFGate reports.

Parsley tastes great chopped up and added fresh to cold pasta, potato or bean salads. But the best part about this herb is its ability to stave off bad breath, says Alberta-based dietitian Megan Wallace.

Having a hard time sleeping? Add some chives to your diet. Dietitian Megan Ware explained to Medical News Daily that choline in chives not only helps with sleep, it relaxes muscles and aids with learning and memorization.

Dill pairs really well with lemon, garlic and lightly flavoured foods like fish, eggs and potatoes, Wallace explains. The flavourful herb is also known to fight bacteria, regulate insulin levels and relieve cramping.

Cumin is an easy spice to use in many savoury dishes. It has a spicy and nutty profile, providing 'warmth' to a dish. And with that warmth also comes some weight loss. According to Prevention, test subjects who were given less than 1 teaspoon of cumin a day and asked to reduce their caloric intake by 500 calories lost three pounds more than subjects who simply reduced their caloric intake.

Cinnamon doesn't just taste good, it has also been linked with regulating blood sugar levels, says Wallace. Add it to baking recipes (muffins and loaves) or sprinkle a little in your yogurt or on top of your morning oatmeal. You can even add it to mashed sweet potatoes with a dash of ground cumin for a warm, savoury side dish.

Thanks to the capsaicin found in cayenne pepper, this spice has a whole bunch of health benefits, from pain relief to weight loss and even itch relief. But use it sparingly, unless you like your food hot! Cayenne is robust and carries the heat from pot to plate, so start with a little and add if needed.

Got an upset stomach? Grab some ginger. This powerful spice helps soothe muscles, relieve cramps and rejuvenates skin.

Sure, pepper makes you sneeze, but when you have a cold it also acts as a decongestant. But the best part is that it adds plenty of flavour, so you don't have to use as much salt.

This bright red spice is loaded with vitamins A, E and B-6, making it good for the skin, eyesight and serotonin levels in the body. It can be used in dry rubs on meat before cooking, as well as added to soups, stews and meatloaf.

Turmeric is well known to help with everything from weight loss to Alzheimer's. The mild flavoured spice makes a great addition to curries and soups.

Herbalists have used bay leaves to treat wounds for years, but these days the leaves are added to soups and stews for flavour. But while the aromatic leaves carry a range of citrus and woody notes, they should be removed from a dish before serving.

This warming spice is another one that totes healing properties, especially for those with digestive issues. The popular Caribbean spice has a similar flavour to cloves and pairs well with pepper, cumin and ginger root powder.
Follow Kathy Smart on Twitter: www.twitter.com/smart_kitchen