Pure Maple Syrup Has Some Oh-So-Canadian Health Benefits
Oh, Canada! Our beloved home, and also the home of the liquid gold known the world over as pure maple syrup.
Maple syrup is as Canadian as hockey, snow, and our classic red and white. But did you know that this liquid gold also has genuine nutrition benefits?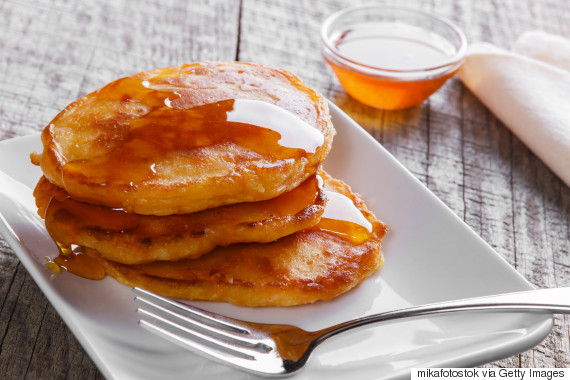 (Photo: Mikafotostok via Getty Images)
Yes, it's almost a dream come true -- the pure maple syrup that we so love DOES have nutritional value!
But let's go back to the roots (pun intended) of how maple syrup was discovered. My dad was a maple syrup harvester for a short time and LOVES telling me the history of pure maple syrup. Early European settlers in the U.S. Northeast and Canada learned about sugar maples from indigenous peoples.
Various legends explain the initial discovery. One is that a tribal chief threw a tomahawk at a tree, sap ran out and his wife boiled venison in the liquid. Another version holds that Native Americans stumbled on sap running from a broken maple branch.
It takes about 40 gallons of sap to make one gallon of maple syrup because sap is about 98 per cent water. The sugar water is boiled over a wood fire -- and what's left is the brown, sweet syrup with which we're familiar. Some sugar makers heated the sap further, creating crystallized sugar.
So, what is it about maple syrup that has health benefits?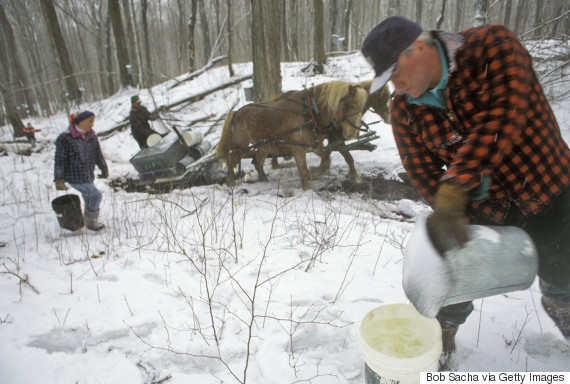 Farmers pour maple sap into buckets to be made into maple syrup. (Photo: Bob Sacha via Getty Images)
1. It contains antioxidants.
Antioxidants help to fight the damage that toxins and unhealthy habits and foods cause to our bodies, which eventually result in sickness and disease. In a study done comparing the antioxidant capacity of natural sweeteners, pure maple syrup has shown intermediate antioxidant capacity, along with black strap molasses (which actually have the highest antioxidant capacity. White sugar (refined), corn syrup AND agave syrup all showed MINIMAL antioxidant activity.
In fact, pure maple syrup has 24 known antioxidants. When available, choose Grade B maple syrup -- which is darker -- as it has a higher antioxidant capacity.
2. It contains manganese
Pure maple syrup offers a sweet dose of the important mineral, manganese.

Manganese is often overlooked, but it is a vital mineral in our enzymatic systems for carrying out energy production, bone formation, and protein metabolism. Soil mineral loss related to high tech farming has created a depletion of the mineral manganese, making it more necessary to consciously seek ways to increase our intake of this mineral.
Now, let's put it into action!
Pecan Maple Date Scones
Makes 16 scones
The smell of these coming out of the oven is heaven on earth. The creamy texture of ground almonds and pecans and the natural sweetness of dates and maple syrup... a favourite to wake up to!!
Ingredients
1/2 cup ground pecans
2 cups ground almonds
1⁄2 cup pecan halves + 1⁄2 cup raisins or chopped dates
1/2 teaspoon each of sea salt, baking soda
1/3 cup of melted coconut oil + 1/3 cup of maple syrup
2 eggs
Directions
Preheat the oven to 350F.
Pre-grease a baking sheet.
In a large bowl combine all the dry ingredients.
In a second large bowl, whisk together all wet ingredients.
Fold dry ingredients into wet half a cup at a time, and blend.
Drop batter two tablespoons at a time, two inches apart onto prepared baking sheets.
Bake for 12-17 minutes and enjoy heaven!
While we often associate pure maple syrup with sweet dishes, here is a way to use that goodness with your veggies for a more savoury option. I love serving this simple salad with grilled salmon or tempeh.
Maple-Mustard Salad Greens
Serves 4
Ingredients
1 tablespoon of pure maple syrup
1 tablespoon of balsamic vinegar
1 teaspoon of honey Dijon mustard "
2 tablespoons of fresh lime juice
3 tablespoons of extra virgin olive oil "
1⁄2 teaspoon of dried oregano
Sea salt and pepper to taste
1 package( 454 grams) of organic mixed salad greens
Directions
In a bowl, add maple syrup, vinegar, mustard and lime juice. Whisk together until well combined.
Slowly whisk in olive oil until salad dressing is emulsified.
Add oregano, and season to taste with sea salt and pepper.
Let stand for minimum 1 minute for flavours to infuse.
in a large bowl, toss salad greens with dressing; serve immediately.
Want to learn more about living SMART? Learn to see food not as the enemy in your health journey, but as a friend, with Kathy Smart's five-week Live the Smart Way Program.
Follow HuffPost Canada Blogs on Facebook
Also on HuffPost:
And it can take a mature tree a whole season to produce that much sap. That's not a whole lot of syrup per tree.

While the maple tree will continue to produce sap all year long, it only produces the syrup flavor we love during that brief period of time between winter and spring. In order to get the right kind of sap, the nights have to be in the 20s with days warming to 40 degrees Fahrenheit.

All the IHOPs in America -- among many, many other breakfast establishments -- are not serving real maple syrup, but usually corn syrup with caramel coloring added to it that is packaged as "breakfast syrup." Think Aunt Jemima and Mrs. Butterworth's.

And that's why imitations will never do. Not all 300 compounds are found in every batch of syrup -- it varies in amount between producer and time of year -- but nonetheless, maple syrup is one complex flavor.

This is not a joke.

They once got in a legal fight about this very thing with McDonald's. Vermonters don't play around with their syrup. They've been known to bring their own jar to breakfast restaurants too.

And all of Canada produces 80 percent. This is impressive. Also, the U.S. is the main importer of their product. (In 2007, we imported their entire supply -- all 67.6 million pounds of it.)

Not a bad title if you ask us. Native Americans were the first sugarmakers and they taught Europeans the process.

Each country -- and some states -- has its own grading system. Basically, it is a ranking of the lightest color of maple syrup to the darkest. The lighter the color, the milder and finer the flavor. (Light syrup is usually what gets drizzled on top of pancakes.) Darker syrups are used for cooking and baking.

It's even being marketed and sold as maple water.

Squirrels love the sap too. They're known to dig their teeth into sugar maples to tap their own sweet sap.

It's called maple taffy and it's one of the best things that happens in the winter in the North East. Maple taffy is made by boiling maple sap past the point of syrup, but not so long that it becomes maple butter. Then, it's poured onto snow where it hardens to be eaten.
Follow Kathy Smart on Twitter: www.twitter.com/smart_kitchen