Going Green for Earth Day 2013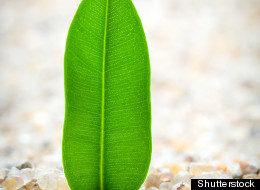 Green is always in on Earth Day, but this year, it at also happens to be Pantone's colour of the year.
The colour green represents fertility, life, and hope, and what better way to embrace this colour than on Earth Day? Whether you participate in it by recycling your cosmetics packaging, using a reusable cup, or choosing eco-friendly products, now is the time to go green.
Going Green for Earth Day 2013
This 98% naturally derived hand cream is made with certified organic botanicals, organic grape seed oil, olive oil, and argan oil. Its non-greasy formula absorbs quickly, and at under $5, it won't break the bank.

Inspired by their popular Big Shampoo, LUSH's Big Conditioner comes in large slabs so you can purchase the amount you need. It contains 17% sea salt to give hair volume and shine, is preservative-free, and uses no packaging.

Get twice as much out of your eyeshadow with Anabelle's Mineral Pigment Dust. Sweep it dry across eyelids for an iridescent effect, or mix it with Anabelle's iTransformer to create a rich liquid liner.

Banana Republic's Paige Tote is 100% leather and features an internal slip pocket. Personalize your tote by getting it monogrammed for just $10 at Banana Republic Grant Avenue, 3rd Street Promenade, Rockefeller Center, or Michigan Avenue.

Believed to provide strength when facing difficult situations, Mala Collective's Molten Bracelet contains real molten lava. The brand donates a portion of their profits to numerous causes, and all of Mala's jewellery is sustainably harvested, fairly traded, and ethically produced.

Available in drugstores and mass-market retailers, New Money is part of LOréal's Spring/Summer 2013 Colour Riche Nail Colour Collection. The colours in the collection are in line with Pantone's S/S 2013 fashion colour report, and the polishes include LOréal's new curved application brush.
Follow Kendra Hagerman on Twitter: www.twitter.com/kendrafoundit