What Kellogg Is Killing to Make Cereal
The Sumatran tiger is awesome. One of the most beautiful creatures in the world, and there are less than 400 left in the wild.
To give you an idea of how fast this creature is being wiped out, I remember only a couple of years ago writing that there were only 500 Sumatran tigers left.
The Sumatran tiger is being killed by poachers to a certain degree, but the much bigger problem lies in the cereal you eat and those shitty little processed snacks that just make us all fatter. No kidding, these tigers live in an Indonesian jungle that just happens to be the same area being deforested to grow palm oil plantations.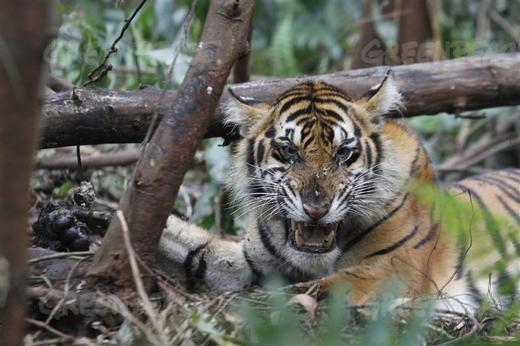 [Sumatran tiger caught in a snare near a palm oil plantation. It sadly died. Image courtesy of Greenpeace.]

The palm oil from these plantations, the same ones that are wiping out the last of the Sumatran tigers, is being used by cereal-maker Kellogg to make cheap snack foods in China.
The irony of Kellogg's mascot Tony the tiger looking a lot like a Sumatran tiger is not lost on the advocacy group Sum of Us, who has launched a campaign this week that's going totally viral online. Thousands of people are signing a petition and publicly speaking out via social media against Kelloggs and their role in killing off the last the of the Sumatran tigers.
All in the name of cheap, packaged and processed garbage food to flood the Chinese marketplace. Other companies used to use this palm oil that was killing tigers, like Kentucky Fried Chicken, but they came to their senses earlier this year after a massive outcry from the marketplace (which is you by the way).
Three cheetah cubs, born in November 2004, lean against their mother during a preview showing at the National Zoo in February 2005 in Washington D.C. Today there are just 12,400 cheetahs remaining in the wild, with the biggest population, totaling 2,500 living in Namibia.

A baby Black Rhinoceros stands in front of its mother in an enclosure at Tokyo's Ueno Zoo in June 2009. The Black Rhinoceros is a critically endangered species, according to the International Rhino Foundation there are less than 5,000 surviving in the world.

An orangutan infant at Ragunan Zoo in Jakarta, Indonesia, on February 15, 2007. Orangutans are threatened by deforestation and hunting. Click here for more orangutan photos.

A baby joey koala at Sydney's Wildlife World. Though koalas are Australia's most iconic and adored marsupials, they are under threat due to a shortage of suitable habitat from mass land clearance.

A 15-year-old female mountain gorilla holds her five month old son at the Kahuzi Biega Nature Park in Democratic Republic of Congo in May 2004. Only 700 mountain gorillas are left in the world, and over half live in central Africa.

A group of African penguins gather near a pond at a conservation site in Cape Town, South Africa. Birdlife International say the African penguin is edging closer to extinction.

A Trio of 45 day-old Bengal white tiger cubs were born in December 2007 At the Buenos Aires Zoo. With only 240 white tigers living in the world, their birth gave a boost to the animals' endangered population.

A pair of black bears sit at a zoo in Kwacheon, South Korea in November 2001. Black bears have been on the endangered species list since 2007.

A newly born Madagascar Lemur, an endangered species, at Besancon Zoo in France. There are only 17 living in captivity worldwide.

Two-month-old twin Red Panda cubs make their debut at Taronga Zoo in March 2007 in Sydney, Australia. The cubs were born out of an international breeding program for endangered species.

China's panda is one of the world's most beloved but endangered animals. Lin Hui, a female Panda- on a ten-year loan from China - eats bamboo at Chiang Mai Zoo in Thailand in Sept 2005. Captive pandas are notoriously poor breeders.

The Sydney's Taronga Zoo is home for this bright orange male infant monkey. This South East Asian monkey is highly endangered.

A grey-bellied Night Monkey born in captivity climbs onto his mother's arms at the Santa Fe Zoo, in Medellin, Colombia. The Night Monkey is an endangered species.

A six-month-old male Sumatran tiger cub rests under his mother careful watch at the National Zoo in Washington in October 2004. Sumatran tigers are endangered; fewer than 500 are believed to exist in the wild and 210 animals live in zoos around the world.

A baby elephant is pictured at the Singapore Zoo on Friday, Dec. 10, 2010. Many elephants are threatened by habitat loss and listed as endangered on the IUCN Red List.

A sow polar bear rests with her cubs on the pack ice in the Beaufort Sea in Alaska. In 2008, the U.S. government described polar bears as threatened under the Endangered Species Act. Due to dangerous declines in ice habit, polar bears are at risk of becoming endangered.
Follow Kevin Grandia on Twitter: www.twitter.com/kgrandia