"Who actually thinks this is still a good idea?"
Over the weekend at their annual general meeting, the BC Chamber of Commerce, arguably the most influential voice for business in the province,
voted unanimously against bylaw 280
, a key part of Metro Vancouver's waste incineration plan.
While Metro Vancouver will argue the point that, Bylaw 280, also known as "flow control," is a necessary step to ensuring there is an adequate waste stream for their proposed garbage incinerator, it also ensures that enough recyclable, high BTU materials like paper and plastic are fed into the incinerator to keep the heat up.
And industry experts
like the editor of a major industry trade magazine agree.
The Chamber resolution against Bylaw 280 claims that the bylaw, which requires approval by the B.C.
Minister of the Environment, Mary Polak,
"would result in a continuously increasing tax grab and responsibility creep into private sector as well as fund in part the proposed incinerator."
A "tax grab" is not exactly something any municipal politician up for re-election this fall likely wants to be part of. The
BC Chamber of Commerce has been outspoken
in its opposition of Metro Vancouver's waste incineration plan for some time now and states again in the unanimously passed AGM resolution that the overall plan is an "unnecessary prioritization of incineration ahead of other waste diversion and infrastructure needs." This is just the latest in a chorus of opposition from business groups in B.C.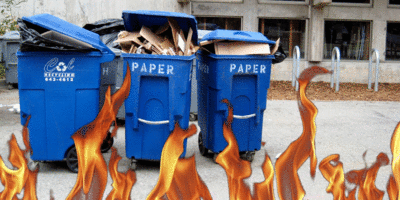 Late last week, another major business voice in B.C., the Surrey Board of Trade, issued a public statement asking

Metro Vancouver and the B.C. government to delay and revisit Bylaw 280.

The Tri-City Chamber of Commerce recently claimed that

Bylaw 280 is "damaging to business."

This latest opposition falls on a backdrop of Lower Mainland municipal politicians rejecting Metro Vancouver's waste incineration plans. Fraser Valley city councillors such as Patricia Ross and Jason Lum, and Metro Vancouver councillors including Neal Nicholson in Coquitlam and Rick Glumac in Port Moody, have all been outspoken on the issue, with many more councillors telling me behind closed doors that they also oppose the plan. Chilliwack Mayor, Sharon Gaetz, and the Mayors of Mission, Abbotsford, and Coquitlam all want the incinerator plan scrapped. I'm sure this chorus will grow as we get closer to the municipal election this Fall and elected officials are asked to state their position by the electorate. Then there is the business plan. One would think if Metro Vancouver wanted to spend more than $500 million in taxpayers' money on a mega-project, there would be a sound business plan. Much of the cost-recovery plan hinges on the waste incinerator burning garbage (including the necessary high-octane recycled materials) to create electricity. That electricity would then be sold on the grid to be used by BC Hydro. In order to get the higher-than-average price they need to make the business case, Metro Vancouver has to convince BC Hydro that, get this, burning garbage and recyclable materials is a "green" energy and that it qualifies for higher rates. As

Jordan Bateman of the Canadian Taxpayers Federation

points out, with a preferential rate from BC Hydro it would no longer be just the taxpayers in Metro Vancouver that would be paying for the incinerator -- it

would now be every BC Hydro rate payer in the province

that would be subsidizing the plan. Luckily (at least for us taxpayers), BC Hydro wrote a letter to Metro Vancouver letting them know that their new proposed facility

"does not qualify" for preferential rates.

Now Metro Vancouver is likely scrambling to figure out how to cover this massive gap in their business plan. Considering

major public health concerns being raised by air quality experts

about the impacts burning garbage will have on our lungs, plus cost overruns before the shovel has even hit the ground, and major industry and environmental groups agreeing this is a bad move, again, I ask the question:

"Who actually thinks this is still a good idea?"

Suggest a correction

Metro Vancouver's plan to control the flow of recycling in the Lower Mainland and construct a $520 million garbage incinerator is taking hits from all angles and really begs the question: