The No Pop Movement Is About Saying Yes to More Music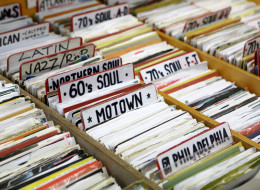 Despite there being more music than ever at our listening disposal, the quantitative growth and unique stylization surrounding much of today's music is often undermined by the rigid schism designating it as either commercial or non-commercial. Originally devised by Toronto music blogger, Lonely Vagabond, a "No Pop," or "Not Popular," movement might be just the approach needed to change this ingrained impasse of the music industry.
Written during early 2014, Lonely outlines his "Not Popular" mentality in a manifesto representing the following:
"Anti-commercial, non-chart-friendly, also inferring there is no expiration date on music nor is it limited by geographic or regional boundaries."
Songwriters and artists alike -- while thinking outside the boxes of traditional composition -- don't always see their unorthodox projects, songs, albums, etc., make it off the sidelines and into the mainstream lane where most of the music listening populous would discover them without much digging or a need to be "in the know."
The wall often keeping mountains of today's composed material unseen on shelves and unheard in ears, is the confining set of sustained expectations presently cast over anything that approaches the mainstream market. Some ideas put forth by the corporate music minds are not to be wholly frowned upon -- namely the pursuit of monetary compensation to enable music making as a life sustaining career. All the same, other facets of participation in the commercially-driven camp of music could probably do with a bit of receding through a movement like "No Pop." As Lonely also states in his declaration,
"[W]e live in a media-fed culture where information is instantaneous and everyone wants instant gratification...music from the past has been forgotten."
The first of these salient points is rather undeniable, thanks to the existence of the Internet. Though the web has enabled more connection and ability to search, its speed of provision has taken a toll on public patience for that same interest in research and, where music is concerned, listeners are often jumping from one popular trend to the next with very little lag time in-between.
This leads into the second point, wherein the roots of nearly every founding musical genre have been distorted -- and whose value is now largely judged -- by the presence of digital manipulation for the purposes of ensuring perfection. Funnily enough, this current "prerequisite" of the mainstream corporate music is discerned in part by the public's present affinity for things like web-powered instant gratification. This desire then morphed into a need for perfection, just because it was found to be attainable through the cookie-cutting process commonly named dropped as...auto-tune.
One independent musician from New York, Nicholas Femister, who creates within the electronic genre (ironically, the poster style for digital tools) highlighted this collective loss of appeal for original sounds via trends in country music -- a style initially fraught with imperfections and improvisations prompted by abrupt emotion:
"Today's country music is more overly produced and pitch-corrected than even the most polished pop music. All of the singers' voices are made to be totally immaculate, as well as all of their lyrical content for that matter. Nobody producing country music today could 'kill a man in Reno.'"
The fascinating element that almost brings us full circle to the top point of Lonely Vagabond's "No Pop" movement and which lies at the heart of what Femister was implying, is that human hesitancy and non-replicability, amidst other things, have become character points that are now barriers to commercial acceptance.
Things like: A trumpet solo almost clipping on a vinyl recording; an out-of-tune vocal quiver during an emotional country ballad; non-instrumental noises arranged in a metal single; a one-take, tempo-messy punk track or, even a no frills, vocal standards record, tend to prompt doubt by music's corporate powers that be. This disparity between past and present feels even greater when considering these elements were previously permitted -- even encouraged -- as things that helped to diversify and differentiate artists.
This leaves so much of what could be appreciated by listeners, for any number of mental/emotional/spiritual reasons, unnoticed for no other reason than something makes a song or band fall outside the current definition of "what's popular and will sell." Meanwhile, "what sells" is what the powers that be deem to be marketable qualifiers. These conditions then become what the public expects. It's a vicious cycle.
"No Pop" is about changing this self-imposed, self-perpetuating wheel of regulation and can do so without condescension toward the pursuit of monetary success. All that would need to, and should, change, is the perception of what makes music "commercial." Clearly, there was a time in music's past when people saw beauty and found joy in less homogenous composition. Therefore, why not take a page from the history books and bring back some of our own open mindedness? After all, the worst that happens is more music can be more easily found and come to be loved.
Given that the web and the rise of globalized streaming models are currently fostering unification through worldwide discovery, now couldn't be a better time for "No Pop."
MORE ON HUFFPOST:
Eco-Chic Music Festival Must-Haves
For a total festival must-have, we're grabbing this sustainably-made, softest of the soft, Parisian-designed sweatshirt. It's perfect for cozy mornings with our music-loving crew or late night comfort listening to the last notes of our favourite band closing out the show. $150. Available at Boho House.

We love pretty things that are easy and fun to wear, and this ethically-sourced braided multi-wrap is the perfect accessory for our easy breezy festival look. Wear as a double choker, triple anklet or style as a wrapped bracelet alongside your VIP wristband, of course. $40. Available at Hazel Black.

With amazing line-ups featuring our favourite artists all day long, we need to make sure we're protecting our eyes, as well as look good in the sun. We won't leave home without these stylish bamboo sunnies with polarized lenses -- the perfect accessory for summer festival fun! $199. Available at Sole-One.

We're obsessing over this one-piece floral romper from our fave yoga inspired boho-brand, Spiritual Gangster. Cute ruffled shorts and sporty racerback details make this our simple solution for one-step dressing. Complete the look with biker boots for the ultimate festival-babe style. $87.95. Available at Yoga Rebel.

The sweet floral scent of geranium and witch hazel is exactly what we need to perk up mid-fest, and this Canadian-sourced, plant-based spritz is full of pure essential oils to balance, tone and invigorate. It even fights blemishes brought on by a little extra celebrating and a slight lack of sleep! $14. Available at Province Apothecary.

Any green goddess will agree that life is simply better with a flower crown. We love that Toronto designer Jordan DeRuiter serves up pretty, eco-friendly, hand-made posies that don't break the bank. We'll be checking her out at Way Home, where she'll be selling her gorgeous goodies at a special festival-goer price. $48. Available at Etsy.

Heading off for the weekend to see your favourite bands play, but not sure how to stay fresh and moisturized in the woods? Use our tried, tested and true travel trick and pick up a pretty pack of these all-natural, lightly-scented hand and body wipes. With coocnut milk and flower extracts, they're all you'll need to hydrate effortlessly on-the-go. $7. Available at Pacifica.

Whether you're rocking out at Boots and Hearts or day dancing at Electric Daisy, we're sure you'll spot these delicate gold temporary tattoos adorning ankles, arms and music-loving bodies everywhere. With so many stunning designs to choose from (and knowing that they're non-toxic and made from vegetable-based ink), we'll all have to attend plenty of festivals to get to wear one of each! $6. Available at Tattly.

A dress that's a scarf and a cardi in one? With this Canadian-made, eco-aware brand's chrysalis cardi tucked into our bag, we've got festival dressing down to a fine art. And as if things couldn't get any better, this multi-purpose piece can even be used as a blanket for sunning, or cuddling up to your favourite song! $138. Available at Encircled.

We're all for man buns and beards, but even the boys need a little love when it comes to maintaining their festival look. Lucky for them, Triumph&Disaster has grooming covered with their eco-friendly travel kit full of masculine essentials and our fave: an all-purpose wash for body, face and hair! $54.78. Available at Triumph&Disaster.

Toting an all-access pass and have a little extra in the budget for festival fashion? Lady Hayes is a Festivalista's dream designer. Specializing in locally-made, spectacular silk flower crowns inspired by Grecian beauties like Aphrodite and Athena, she'll even do a custom design to help you create a beautifully unique festival goddess look. $320. Available at Lady Hayes.

Paired with crop tops, concert tees or simple white tanks, the denim cut off short is an icon of festival fashion, and these hand-selected and awesomely altered vintage 501 shorts are pure perfection for our summer of music-loving fun. $118. Available at The Reformation.

We love the flowy feel of this edgy black silk tunic, and we're equally enamored with the look of it layered over a bikini top and cut-offs, or topping a simple skirt. No wonder this lovingly crafted piece from our fave new boho-chic brand is on our list for festival fashion that adheres to our eco-chic sensibilities too! $223. Available at Bobo House.

Green Beauty Essentials For Summer

Summer heat calls for a paired-down beauty routine, and this tinted moisturizer from Ilia is our go-to for light coverage and a flawless finish, as well as skin protecting SPF 25. $50. Available at The Detox Market.

This petite pot of luminous magic is our summer secret to perfectly sparkling skin; dab on lids, and swipe on cheeks to nourish skin and let your natural beauty shine. $42. Available at The Detox Market.

We're cleansing our auras and our yoga mats with Namaste Ninja spray from Happy Spritz. This upllifting blend of lemon, tea tree oil and 100 pure essential oils has natural antibacterial properties, ideal to refresh and stay balanced all summer long. $32. Available at The Cure Apothecary.

We on-the-go gals need a mascara that can keep up with our hectic pace. UK brand Lily Lolo does just that without streaking or clumping, just long luscious lashes and plant-based, chemical-free goodness. $20. Available at Petit Vour.

We're serious about SPF, but we still love the look of a good summer glow. Try this matte bronzing powder from fan-fave W3ll People for the perfect combo of protection, nourishment and colour. $23. Available at W3ll People.

Ideal for beach bags and summer carryalls, Elements sun cream from Graydon is perfectly packaged to toss and go thanks to its airless, no-leak pump. This lightweight cream is sun reflecting and skin nourishing, and formulated to protect against UV damage and photo aging. Need we say more? $25. Available at Clementine Fields.

We're all about keeping things light in the warm summer months, and a gentle mist of Wake from Aromacentric serves us better than any heavy perfume. Full of the benefits of essential oils, this minty blend keeps us cool, invigorated and oh-so-lemony fresh! $21.95. Available at Aromacentric.

When a bare face just won't do, we reach for all-natural Sappho Foundation. Canadian-made and full of antioxidants and certified organic ingredients, this lightweight, long-wearing makeup creates a beautiful base for stylish summer beauty. $52. Available at Sappho Organics.

Available in five different colours to match every skin tone, and cleverly divided by superstar resemblance (think Kristen Stewart, Katie Holmes, Cameron Diaz, Kim Kardashian and Tyra Banks), this award-winning multi-purpose skin treatment protects with SPF 30, hydrates, and soothes, all while subtly covering imperfections. $58. Available at Clementine Fields.

Sticky, gooey gloss is a big summer makeup no-no, but we're all about puckering up with a pretty pink pout thanks to W3ll People's Bio Extreme Lip Gloss. It plumps, soothes and moisturizes with a minty tingle and subtly coloured shine. We're obsessed! $23.50. Available at W3ll People.

A sweet spritz of this rose water and citrus-scented Beauty Mist from Pelle Beauty keeps us cool and dewy in the summer heat. Made naturally from plant extracts and essential oils, it tones, refreshes and sets makeup, without using any nasty chemicals or dyes. $30. Available at Pelle Beauty.

Whether you're a beach babe, a festival go-er or a backyard BBQ kind of girl, summer fun calls for on-the-go touch-ups. Thankfully, we're always prepared with Box naturals wipes -- gently scented with rose and lavender essential oils, this is one beauty-must we won't leave home without! $10. Available at Petit Vour.

Nude nails are as synonymous with summer as ice cream and suntans, and Namaste from Aila is creamy, shimmery, five-free perfection. This pretty polish is made without parabens and is completely vegan and cruelty-free, meaning there's nothing but beautiful colour and chip-resistant shine. $17. Available at Clementine Fields.

This volumizing lip and cheek tint is an absolute must for easy on-the-go beauty with (bonus!) anti-aging technology. A couple of swipes from Tata Harper's signature green and gold pot of gorgeous colour and we're rocking a rosy summer glow, while skin is nourished and moisturized and fine lines are filled. $43. Available at Clementine Fields.

Clearly we're huge fans of this wellness-driven, totally on-trend brand, and their Bio Brightening Powder is one of our top summer beauty must-haves. It's all we'll need to say bye-bye to melting makeup and excess shine, and hello to a beautiful, bright complexion. $30. Available at The Detox Market.
Follow Kira Grunenberg on Twitter: www.twitter.com/shadowmelody1