For Canadians With Eating Disorders, Holiday Meals Are No Celebration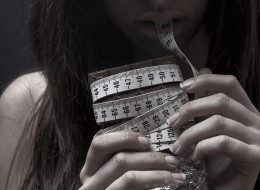 At a recent function, a young woman takes me aside, and complains bitterly about the holidays. She finds them stressful, but not for the reason we might think.
She worries about the parties and what she will eat, and how she will hide what she does not eat. She explains that, like thousands across Canada, she had waited for the Status of Women report on eating disorders,‎ and that she was praying that it might offer some hope for 2015, a plan to help struggling families. But these hopes have been dashed. She understands now that the "study" was nothing more than a sham, and that the committee only listened and proposed no real direction.
She asks why, although the pages and pages of testimony reflect what Canadians with eating disorders, their families, health practitioners and advocacy groups‎ want, the recommendations do nothing more than encourage the government to address self-evident needs.
She reminds me that witnesses before the Committee asked for, among other items, a robust research program to help identify better strategies to help Canadians with eating disorders live better lives. She asks me to tell the Committee and Canadians that she is a person, and that she does not want to be a patient. She begs to be understood -- begs for people to appreciate that she is suffering from a deadly mental illness through no fault of her own, and that it is not as simple as "just eating."
She asks what the Committee accomplished, other than to build false hope and then steal it away. She continued to say that many Canadians are so sick that they need urgent help, and that long wait times, few hospital beds and lack of help in the community are killing people needlessly in our communities.
‎She asks whether I know what it feels like to dread a Christmas dinner; to panic when there is no way to refuse an invitation; to wonder how to hide protruding ribs or cut marks on arms; and to sit down to dinner with everyone staring.
Do I know how to move food around on a plate to look like the food has been eaten, or how to hide food in one's mouth so it can be spit out in a napkin or in the toilet, or when desperate, how to hide it under the table or feed it to one of the pets? She asks whether I know how to purge, or what drugs to take to eliminate whatever has been eaten.
I explain that I hear, on average, twice a week from exasperated Canadians with eating disorders who feel abandoned, from ‎desperate families who are afraid for their children's lives, and from advocacy groups who take on the fight when families are too busy providing 24/7 care for their loved ones.
I tell her that I too am frustrated at the Committee's ineptitude to accurately reflect the needs of Canadians suffering with eating disorders.
Before she walks away, she says, "I would like to enjoy the holidays with my family and not think about how many calories I am consuming or how I will burn them off. Just for once, I don't want to endure their stares."
The government has tried to bury this report. This holiday season, while Canadians around the country struggle to live with their health condition, I encourage you to read my dissenting report and familiarize yourself with this misunderstood illness.
ALSO ON HUFFPOST:
Stars Who've Battled Eating Disorders
Demi Lovato has been very open about her struggles with bulimia and the extensive treatment she went through. "I was compulsively overeating when I was eight years old. So I guess for the past 10 years, I've had a really unhealthy relationship with food," she told ABC's "20/20" in 2010. Lovato has credited her younger sister and her fans with motivating her to seek treatment.

Amanda Bynes has a rocky relationship with the press, but she still hasn't shied away from tweeting about her struggles with food. "I have an eating disorder so I have a hard time staying thin," she tweeted in April 2013. In response to unflattering photos that had been published of her and a friend, Bynes later added: "We look awful, I look fat in that photo you chose, which doesn't help my eating disorder."

Gaga first spoke of her experiences with bulimia in February 2012 in an interview with Maria Shriver at a Los Angeles conference, saying "I used to throw up all the time in high school. So I'm not that confident. I wanted to be a skinny little ballerina but I was a voluptuous little Italian girl," the New York Post reported at the time. After a number of media outlets scrutinized her weight during a 2012 European tour she took to her website, LittleMonsters.com, to reveal she still struggles with bulimia and anorexia. She announced the launch of an online forum she's calling the "Body Revolution" to help herself and others "triumph over insecurities," she wrote.

In 2005, actress Jessica Alba told Glamour, "A lot of girls have eating disorders, and I did too. I got obsessed with it. When I went from a girl's body to a woman's body with natural fat in places, I freaked out. It makes you feel weird, like you're not ready for that body."

In her 2005 memoir, "Learning To Fly," Beckham revealed that she suffered from an eating disorder during her early "Spice Girls" years. Pressure from the group's management led the singer to struggle with extreme dieting and binging. "In the gym, instead of checking my posture or position, I was checking the size of my bottom, or to see if my double chin was getting any smaller," she wrote.

In 2006 after the public watched her shrink before their eyes, actress Lindsay Lohan confessed to Vanity Fair that she was "making herself sick," which many took as a reference to bulimia. She told the magazine that Tina Fed and SNL producer Lorne Michaels staged an intervention telling her she needed to take care of herself.

Actress and former child star Mary Kate Olsen famously went to rehab in 2003 for anorexia, but rarely spoke about it. In 2008 she confessed that the disease nearly killed her. "There have definitely been times in my life when I just turned to people and said, 'I'm done -- this is too much for me. This is too over-whelming," she said.

In 2007, singer Kelly Clarkson told CosmoGirl that she was bulimic in high school. "The lesson I took from that was purely superficial, but that's what I grew up thinking for a long time. It wasn't smart, and I headed straight into an eating disorder and became bulimic for the next six months," she said.

Katie Couric discussed her own history with bulimia on an episode of her new daytime talk show "Katie" while interviewing Demi Lovato, the New York Post reported. "I wrestled with bulimia all through college and for two years after that," Couric said while interviewing an expert in eating disorders, according to People.com.

In 2006, singer Katharine McPhee talked to "Good Morning America" about her five-year battle with bulimia that nearly destroyed her vocal cords. At her worst point, McPhee binged and purged as many as seven times a day, she said just a few weeks ago. She said that appearing on "American Idol" saved her life by forcing her to confront her problem.

"Sopranos" star Jamie-Lynn Sigler told "The Early Show" she had exercise bulimia: "I ended up starting at a routine which was, you know, 20 minutes in the morning and cutting back a little on my calories. And it snowballed into six or seven hours a day of exercise," said Sigler.

In 2010, former "Full House" star Candace Cameron Bure revealed her battle with bulimia when she released her book titled, "Reshaping It All." She told People that she began binging and purging after "Full House" ended its run in 1995 and she was adjusting to life in Canada with her new husband, Russian-born NHL player Valeri Bure.

In 2005 actress Kate Beckinsale opened up about her anorexic past. The star once weighed only 70 pounds and attended five therapy sessions a week for four years to fight the disease.

In 2005 singer and actress Ashlee Simpson told Cosmopolitan that as a young ballerina she struggled with anorexia. "I was around a lot of girls with eating disorders, and I actually had a minor one myself," says Simpson, who at one point stood 5'2" but only weighed 70 pounds. Simpson said her parents stepped in and made her eat, adding that family support really helped her.

After breaking into the modeling industry at 16 years old, Renn battled anorexia before getting healthy and switching over to the world of plus-size modeling two years later. In her memoir "Hungry," the Vogue cover girl chronicles her struggle to take control of her body -- and her career -- to become the size she feels most comfortable with. Renn continues to speak out about underweight models in the fashion world, championing larger sample sizes to encourage diversity in the media and healthy habits.

The actress has spoken out about her struggles with the "starving and binging and purging" that plagued her since she was 12. According to her memoir, "Unbearable Lightness," once she was cast in "Ally McBeal" in 1998, she began cutting down her food intake until she reached 82 pounds and collapsed on set. After hitting rock bottom, de Rossi gained and lost weight, eventually settling into a healthy lifestyle. "I thank God for Ellen every day -– she has enabled me to be exactly who I am. We first met in 2001 when I weighed 168 pounds, but she says she never saw me as heavy –- she only saw the person inside," de Rossi wrote. "It's ironic, really, that I tried so hard to present myself as something I wasn't when all I ever wanted was to be loved for my true self."

Demi Lovato made a heartfelt speech about eating disorders and bullying, after a fan threw a Barbie on stage. She talked about bulling and said, "I know how you guys feel and I want to show you guys that you can get through it because I'm living proof right here." The she proceeded to pick up the Barbie and said, " I spent my whole life trying to be this and trying to look like this. And guess what? I'm not this. And it means the world to me that you guys still love me no matter what."
Follow Kirsty Duncan on Twitter: www.twitter.com/KirstyDuncanMP