The Sketchbook Project Brings Art to the Masses
"No more pencils, no more books," sang American rocker Alice Cooper in his 1972 song "School's Out." More than 40 years later, Cooper's lyrics are getting schooled. Brooklyn, New York's Steven Peterman is Alice Cooper reinvented -- people are asking him for more pencils and more books.
If art was the only class you went to in school, you'll be happy to meet the 21st Century Library: The Sketchbook Project, a collection of more than 27,000 sketchbooks from 135 countries. The crowd-funded project, dubbed a traveling library of artists' sketchbooks, started in 2010 and invites people -- artistic or not -- to tell their stories by filling and donating sketchbooks for other people to read, interpret, and put back on the shelf for someone else to explore.
Peterman, 27, and Shane Zucker, are the co-founders of the Sketchbook Project. Peterman and his wife Sarah Peterman were in Toronto June 7 to kick off the North American Tour. Now, they're making a few stops in the United States before visiting Montreal on June 16.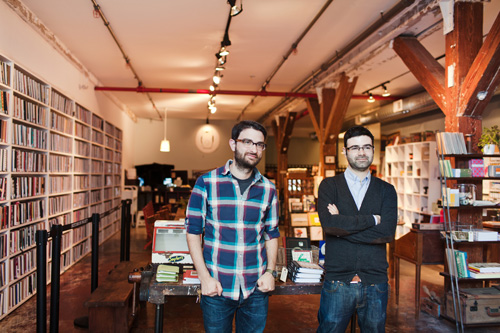 Steven Peterman, left, and Shane Zucker at the front of The Brooklyn Art Library, housing more than 27,000 sketchbooks from around the world. Photo credit: Blue Window Creative
They'll travel through 35 cities until October before bringing new books home for the shelves of the Brooklyn Art Library in Williamsburg, where Sarah Peterman is the keeper of the project. While this tour travels North America, Peterman tells me on a rainy day in May from his New York office that books come as far as Colombia and Cambodia and participation is as far-ranging as a book from a school kid in Sudan to a mom in Kansas.
"I was so intimated by a gallery world, and I wanted to create something anyone could be part of and show their work," said Peterman, humbly over the phone. "Art is so much more interesting when you reach more people and get more people involved."
While people can contribute to the collection, they can also browse their way through as many books as they would like. Participants sign up for a library card, and then search by name, theme or material. They find a book, sign it out and start flipping the pages. Each time a book is signed out the artist is notified.
This is the second time the project has come to Canada, and the cultural community is already taking notice of the project's vision for community art and collaboration.
Adil Dhalla, Director of Culture at the Centre for Social Innovation, is someone taking note.
"At the end of the day, the human experience comes down to a feeling of belonging and what this project has done has created a really easy and open way for people interested in this art form to belong," said Dhalla. It's in their ability to scale belonging that I'm certain that they'll continue to grow."
Steven Peterman's vision for the project includes looking at community art as single art. He tells me there are more opportunities and greater successes when people collaborate and work together, versus individually.
University of Toronto's Shauna Brail agrees. Brail is the Director of Experiential Learning and Urban Studies.
She points to the knowledge of how clusters work -- whether social enterprises or civic-minded organizations.
Brail said, "...the benefits of collaboration generally exceed the possibilities for accomplishments through individual work." She highlights Luminato Festival, inviting the world to celebrate creativity, as it states on their website, to opportunities for children and marginalized groups in programs like Regent Park Focus Youth Media Arts Centre, as examples of Toronto success stories. Will The Sketchbook Project see a library open in Toronto one day soon? I asked Peterman, but his humbleness about the project left me without a definite answer.
Instead Dhalla lends some perspective saying,
"Since the magic of the Sketchbook Project is in its ability to be accessible to anyone who shares its purpose, I'm not surprised to see their success in building an international community and expect that it will proliferate in Toronto."
I stepped into the Brooklyn Art Library at the end of the May on my way to get a coffee. I didn't know what I was walking into. Only a few weeks later following my visit, I'm one of several Canadians connecting with the rest of the world this summer by buying a sketchbook and filling its pages.
The Sketchbook Project visits Montreal June 16. For a full schedule tour visit: the project's website.
Best Cities For Street Art
The elusive Banksy is probably the most famous street artist in the world, and London is Banksy's stomping ground. Known for his cleverly scathing stencils, Banky's work has been torn from walls across the world and sold at auction. Head over to London's Canary Warf, and you'll spot this stencil of a girl falling with a shopping cart, which was painted in 2011. A month later, Banksy painted the words ""Sorry! The lifestyle you ordered is currently out of stock" on the same building.

The West Hollywood Library on San Vicente Blvd. in Los Angeles may be the best place to spot the big names in L.A. street art. In 2011, the library commissioned Los Angeles artists Kenny Sharf, Retna, and Shepard Fairey to decorate the building's walls. Fairey's mural (left) features his peace dove and elephant motifs in his unmistakeable style.

One of New York's most celebrated artists is the Brooklyn-based paste-up master Swoon. Her work can be seen in the Williamsburg and Bushwick neighborhoods in Brooklyn. Read more about her work here.

São Paulo is a destination for street artists, and many graffiti kings from around the world have brought their paint cans to the city. In this mural Jaime Rojo and Steven Harrington from Brooklyn Street Art introduced to us, local artist Kobra honors the late master architect Oscar Niemeyer. Eduardo Kobra. Installation.

While Paris has a lively street art culture, native JR has garnered the most international fame. JR has exhibited his giant black-and-white photos in cities all over the world from Japan to Palestine to New York. In 2009, JR decorated the River Seine with this image of a woman's eye for part of his "Women Are Heroes" exhibit where he covered public spaces across the globe with images of women. Most recently, JR just completed a massive photographic installation in Times Square, New York.

A month ago, Pasha P183 -- known as the "Russian Banksy" -- died at age 29. His works in Moscow have given the city a claim to graffiti fame, and P183's secretive personality made him internationally notorious. In the image to the left, the Russian words read, "Give to get a ticket home."

Last August, Atlanta held the first all-female street art conference, "Living Walls, The City Speaks," which included work from 26 female street artists. In the image to the right, Harlow Cregar (left) with her mother, Atlanta-based artist Sarah Emerson (right), show off their work in a gallery show.

Conor Harrington was born in Ireland, and his paintings appear all over his hometown, Cork. His style is a unique mix of classical portraits and abstract graffiti. Harrington has been quoted that he uses "the male figure, referring to the masculinity of urban culture."

Tel Aviv has become a hotbed for street art in the last five years, according to the blog Brooklyn Street Art. Amid a climate of political turmoil, young artists have taken to the streets. If you're lucky when taking a stroll, you might spy Know Hope's long-limbed figures with red hearts or even Jack TML's work (featured in the photo to the left).

Street art in Iran doesn't last long. It's both illegal and scarce. According to a feature on the Iranian pair Icy and Sot in Narritively, the duo estimates that there are only 6-10 active graffiti artists in Iran. Originally from Tabriz, Icy and Sot documented their work in Iran before it could be covered up.

In Buenos Aires, there's no need to paint under the cover of darkness. The city's lax policy on street art has made the city a haven for famous graffiti artists across the world. Argentinian born Martin Ron has completed murals all over Buenos Aires. In this image, he adds details to a sea turtle he first painted last November.

Grottagile is home of the Fame Festival, a DIY street art even where top artists around the world descend on the city, and the city remains spattered in famous works year-round. If Banksy is the king of London street art, then Blu rules Italy. He has various works in Grottaglie and others across the globe.

Dresden's urban art makes it a city within a city thanks to EVOL. In his "Buildings" series, EVOL stencils windows onto walls or street furniture to create miniature cities. For one work, EVOL painted an abandoned 8x10 meter hole in a Dresden warehouse to create a whole, apocalyptic-looking cityscape.

Based and born in Lisbon, creates his large-scale portraits by demolishing surfaces instead of painting on top of them. His process is just as explosive as the finished works, with debris spraying everywhere as he blasts away abandoned walls.

Every year the Polish city holds its annual Katowice Street Art Festival, welcoming artists near and wide to help turn the Eastern European cultural center into one of the best open air galleries in the region. Escif's giant light switch plastered on the side of an apartment building, painted in 2012, is just one example of the city's impressive treasure trove of beautiful murals.
Follow Kristen Marano on Twitter: www.twitter.com/kmarano