Victoria Watts Kennedy: I Challenge Myself Through Travel
The conversation about digital nomadism is at its height. Travel startups are cropping up to make the experience more accessible, while the early adopters are increasingly vocal to show that this lifestyle goes beyond the hype of working on a laptop from the beach.
I recently spoke with Victoria Watts Kennedy, a writer who is based in the UK and travels for part of the year to get her perspective on the lifestyle. For Watts Kennedy, travel constantly challenges who she is; her personality and ideas. We dug into some of the emotions, challenges, and rewards that have come with traveling through 50 countries since she hit the road in 2012 with her partner.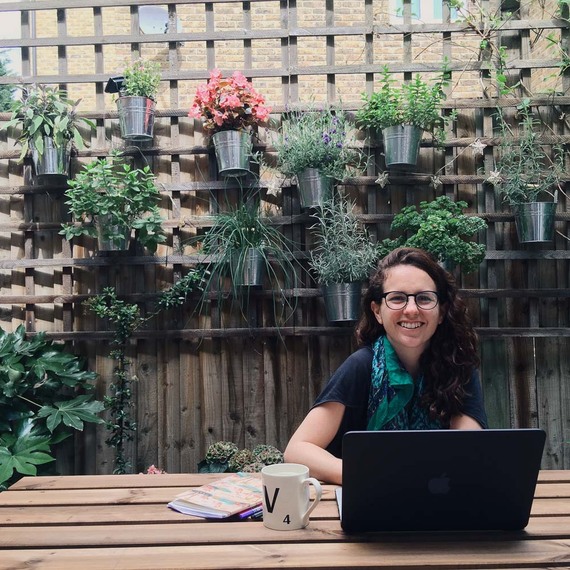 Watts Kennedy in Peckham, England.
Credit: Victoria Watts Kennedy
Tell me about being a digital nomad. 
I became a digital nomad by accident. I quit my full-time job as a writer for the British Red Cross in 2012 and set off on a one-way ticket to Rio with my partner Steve. Steve has his own film company and knew he'd be working while we were on the road, but I wasn't so sure what I'd do.
The main thing I wanted was to explore. So I started a blog about that exploration -- of both the world and myself. It started as a hobby, but I soon realized there were a lot of people out there who had a made a life for themselves out of blogging or freelancing while on the road. I decided to try it myself, and four years later, that's more or less what I do.
I don't travel full-time and my work is a patchwork of different things, including blogging, writing for magazines, and copywriting and editing for charities and travel companies. Most of this work is done remotely, but when I'm in the UK I sometimes work in an office. The variety suits me.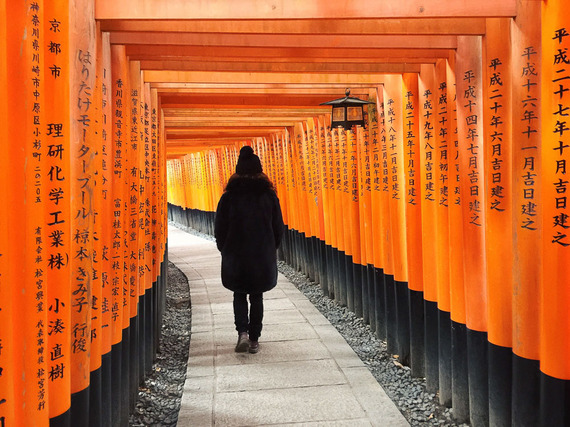 Watts Kennedy in Kyoto.
Credit: Victoria Watts Kennedy
What have you learned while writing on the road? Give a recent example. 
A lot of people idealize the concept of being a digital nomad -- there's this idea that it's like a never-ending vacation where you also happen to get paid. Although there are obviously perks, such as managing your own time and getting to see the world, being a digital nomad is also a lot of hard work and it's definitely not for everyone. Many of the digital nomads I know work longer hours than I did when I had a full-time job in London, and most have burned out at some point along the way. It's not all hammocks and cocktails on the beach.
Steve and I were the same when we started out. We found it really hard to find a good work/life balance and ending up working far too much, which started to take the joy out of travel. Over the years, we've experimented with different ways of managing that and are slowly learning what works for us. Our current trip in New Zealand has been ideal. We've mixed stretches of work with stretches of travel rather than constantly trying to mix the two. Our time travelling has felt more like it used to -- like simply travelling -- rather than work.
What are you learning about yourself while traveling with your partner Steve?

Steve and I have been lucky to realize we share similar priorities. After a few years of being nomadic, we started to long for a base -- a place to return to and call home. Along the way, we made many different plans -- we even came close to buying land in Mexico and building a yoga retreat -- but eventually we realized we wanted that base to be closer to our friends and family. The Mexico house may still happen one day, but for now, we've chosen to make England our place to return to with lots of travelling in between. We're lucky to share that dream.
On a more day-to-day level, we've happily both learned that our memories are fallible. I think one of the biggest causes for arguments between couples is the whole "no, you said this" and "I said this" type of bickering. Once you've learned your own memory might be wrong, you can let those little things go, which saves a lot of time!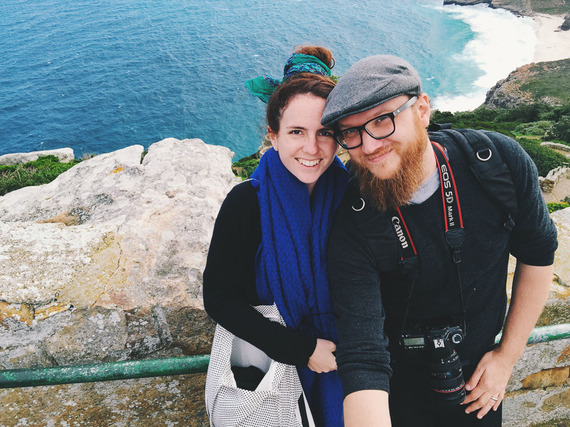 Watts Kennedy and her partner Steve Watts Kennedy on a recent trip through Cable Bay, New Zealand.
Credit: Victoria Watts Kennedy
Who's had the biggest influence on your life and why?
My Mum, for sure. She died in 2009 after a long struggle with MS that she faced with a huge amount of strength, humour and dignity. My Dad also died eight years before so I have a keen understanding of how short life can be. The love my parents had for each other is a major source of inspiration for my own relationship with Steve and I try never to take that love, or my health, for granted. I feel lucky every day.

How do you challenge yourself? 
Some people say they "find themselves" when travelling, but I've found the opposite to be true. It's like that saying, "the more you know the less you know for sure". When I was at home I had quite a clear idea of who I was, and so did all the people around me. When travelling, I'm constantly placed in new situations and find my ideas and personality are in flux. This isn't a negative thing; it's actually one of my favourite things about travelling -- how your own ideas, even about yourself, are constantly being questioned or seen in a different light. So in that respect, I challenge myself through travel.

Anything else you'd like to mention? 
I write a lot about my journey as a digital nomad on my blog Bridges and Balloons. Please do follow along and feel free to ask me any questions you have. I love hearing from readers.
Follow Victoria on Twitter and Instagram.
I'm fascinated by creative women -- their passions, challenges, and contributions to society. If you know a creative woman to feature, please tweet @kmarano.
For more stories about creativity and business, sign up for my newsletter, Creative Women Weekly.
Follow HuffPost Canada Blogs on Facebook
ALSO ON HUFFPOST:
Best Travel Destinations For Canadians
Best time to travel: April, May, September, October Average price: $700 to $900 Why you want to go: Even if the Euro scares you more than the U.S. dollar does, Spain is still considered a budget-friendly country with low accommodation costs. "Spain has something for every traveller's needs whether it be a relaxing beach vacation in Malaga, exploring the Alhambra Palace in Granada or visiting the famed Sagrada Familia in Barcelona. Spain is also famous for their tapas and you can get tapas and drink for $5," says Rishi Modi of travel deal site Next Departure.

Best time to travel: April, May, September, October Average price: $700 to $900 Why you want to go: For Canadians, Lisbon is one of the cheaper European cities to fly into. "It's a lively city with delicious seafood and cheap drinks. Take advantage of its inexpensive public transit to visit the historic Sintra, go to a winery in Porto and enjoy the Mediterranean weather on a beach in Faro."

Best time to travel: December to March Average price: $900 to $1,200 Why you want to go: Getting to Thailand can be pricey depending on the time you go, but once you're there, everything can fit into your budget. "Food from street vendors and markets costs you $4 to $5 and accommodations can run you as low as $20 a night [depending where you stay]. Thailand has tons of attractions to offer travellers, from trekking in the jungles of Chiang Mai to relaxing on tropical islands like Ko Samui."

Best time to travel: October to May Average price: $900 to $1,200 Why you want to go: Marrakech was named Tripadvisor's number one destination in 2015, according to travellers. "Explore the ancient palaces, shop in the markets of Marrakech and stay overnight in the Sahara desert. Food is inexpensive in local restaurants and street stalls, while accommodations are reasonably priced."

Best time to travel: Depending if you go north or south, you want to avoid cold or rainy seasons. Late December is usually the best. Average price: $900 to $1,100 Why you want to go: If you're an urban explorer or nature lover, Vietnam offers both. "Vietnam is another South Asian destination that continues to be budget-friendly with beautiful sights, including cruising along Halong Bay and visiting the rice terraces. Food is remarkably cheap — a meal and beer can cost under $3."

Best time to travel: April, May, September, October Average price: $900 to $1,100 Why you want to go: If you want to go to Europe and still have spending money, Modi suggests avoiding popular destinations like France and Italy and opting for Eastern Europe instead. "From Hungary to Romania to Bulgaria, these Eastern European countries are rich in diverse culture and its modern and historical architecture."

Best time to travel: April, May, September, October Average price: $700 to $900 Why you want to go: "Peru is known for its geographic diversity, from exploring the vast Amazon jungle to hiking the Inca Trail to relaxing on the beach coast," he says. But Peru's most famous attraction is the ancient site of Machu Picchu — a must-see if you decide to go to this South American country.

Best time to travel: April, May, September, October Average price: $1,000 to $1,200 Why you want to go: Indonesia has thousands of islands and Bali is one of the most luxurious and popular ones. "Food and hotels are extremely cheap, where you can enjoy tasty meals from $1 to $2 and spend as little as $20 per night on accommodations." However, if you do plan on renting out a villa or eating on Seminyak's main tourist strip, it can feel like dining and living in a major Canadian city.

Best time to travel: January to March; September to November Average price: $600 to $1,000 Why you want to go: If you haven't been to Cuba, you probably know several Canadians who have — the Caribbean island is one of the most popular beach destinations for Canucks. "All-inclusive packages are affordable and offer a bang for your buck. If you're really flexible, you can often find last-minute cheap deals on flights and all-inclusive packages."

Best time to travel: January to April; September to December Average price: $350 to $650 Why you want to go: We're not saying you should head to pricey destinations like Hawaii or Las Vegas, but some U.S. spots have taken advantage of our falling currency. "Myrtle Beach, Kissimmee, and Scottsdale are starting to offer deep discounts — around 20 to 30 per cent off accommodations, free meal vouchers and discounts off activities. Also, expect major airline carriers alongside the low-cost carriers stateside such as Allegiant and Sprint to offer discounts and seat sales as well." And when you look at your budget as a whole, many U.S. destinations tend to be cheaper than leaving the continent.
Follow Kristen Marano on Twitter: www.twitter.com/kmarano