Nate Parker's Past Won't Be Why I Boycott The Birth Of A Nation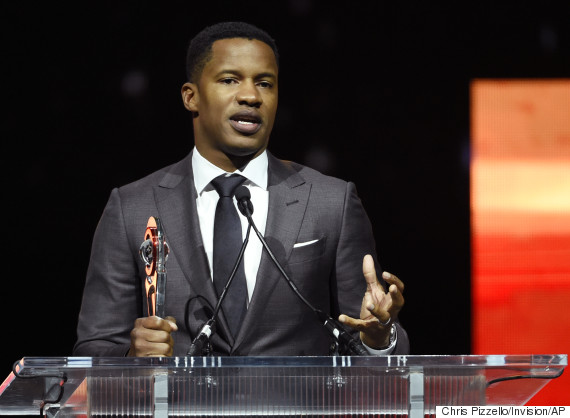 Nate Parker, director of the upcoming film The Birth of a Nation, accepts the Breakthrough Director of the Year award during the CinemaCon 2016 Big Screen Achievement Awards. (Photo: Chris Pizzello/Invision/AP)
It's become a mark of civic righteousness to boycott things on principle, all the more so when the thing you're passing over has cachet. Since new information has surfaced about filmmaker Nate Parker's involvement in a 1999 rape, progressives have been wringing their hands and loudly hawing about whether to watch Parker's much-heralded film about a slave uprising, The Birth of a Nation, which is playing at the Toronto International Film Festival this week.
It's always disappointing to see a hero fall, and Nate Parker seems like the hero America sorely needs right now. Unfortunately, the hero discourse doesn't shed any light on how good people should choose their theatre tickets this season.
If we only took in art, ideas or political causes that came from bona fide heroes, the world would be considerably uglier, duller and more unjust.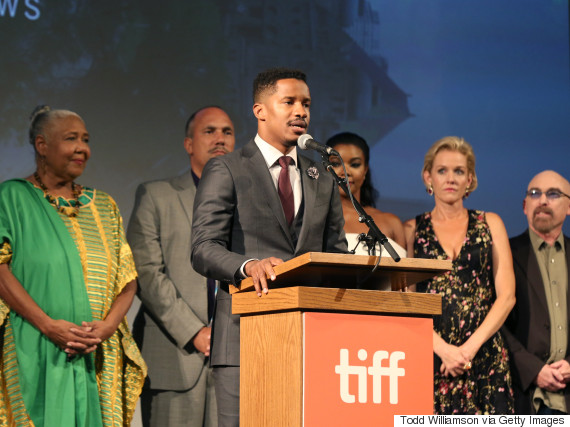 Nate Parker attends Fox Searchlight's The Birth of a Nation special presentation during the 2016 Toronto International Film Festival. (Photo: Todd Williamson/Getty Images for Fox Searchlight)
That doesn't mean that alleged criminals should get a free pass because they happen to be luminaries in some human endeavour. It means that justice isn't best served by cultural erasure. And perhaps we shouldn't be shocked that someone has a poor grasp of sexual consent just because he understands the evils of racism.
Humans are not known for their consistency. Virtually no historical giant has an unblemished moral record, at least by contemporary standards.
Shall we throw out the works of Rousseau, who abandoned his five illegitimate children, and had the chutzpah to write a treatise on childrearing? Or Benjamin Franklin (who owned slaves), the poet Horace (ditto), or the countless leaders for social justice causes who wouldn't let their wives go to the polls? Shall we burn the lyrics of John Lennon, who, I'm sorry to tell you, had a violent side? (P.S.: Nelson Mandela did too.)
Leave it to a black filmmaker taking on the white establishment to turn filmgoers into principled crusaders against gendered violence.
Even in presentist terms, the amount of scrutiny devoted to Mr. Parker seems disproportionate. Woody Allen has been accused by his own adoptive daughter of repeated molestation. (He married a different one.) Allen's personal warts haven't thwarted his career or made the masses question how dispensable they make his comedies about wealthy white Americans.
Mel Gibson, Alec Baldwin, Sean Penn, and Charlie Sheen have all been associated with domestic abuse, and although Sheen's career seems to have imploded, it's not because of that. Leave it to a black filmmaker taking on the white establishment to turn filmgoers into principled crusaders against gendered violence.
If the hero standard were applied to reading texts, we'd lose most of the Western canon overnight. Take Martin Heidegger, a 20th Century genius who had an incalculable influence on later philosophy and was also, alas, a Nazi. You can even see the germs of his nationalist leanings in some of his works, right between the turgid descriptions of fundamental ontology and the call of conscience.
It would be intellectually lazy and morally irresponsible to ignore Heidegger's Nazism. But the alternative isn't to boycott his works. We read him, wrestle with his ideas, and try to understand how this unique figure came about. We see the world in richer, if more disturbing, ways by acknowledging these layers.
It's not an either/or choice between condemning rape and embracing an excellent (by all accounts) piece of political art.
I probably won't watch The Birth of a Nation, but not for the reasons you might think. I can't stomach graphic representations of slavery; chalk it up to my overzealous Holocaust education as a child. I would rather learn about history in other ways.
I don't think I could stomach a Bill Cosby routine, either. For me, there is no good to be gained from hearing a stand-up comic rattle off jokes while unrepentantly brushing off allegations of over 40 drugged sexual assaults.
Survivors of sexual violence may not be able to watch Parker's work for similar reasons, and that's fine. But don't sit it out on principle. In the year of Black Lives Matter, #HollywoodSoWhite and a certain presidential candidate who shall remain unnamed, it's a bizarre principle indeed that rejects the small amount of black-produced mainstream film on offer. Parker's questionable past doesn't disqualify him from advancing urgent conversations about race and American history.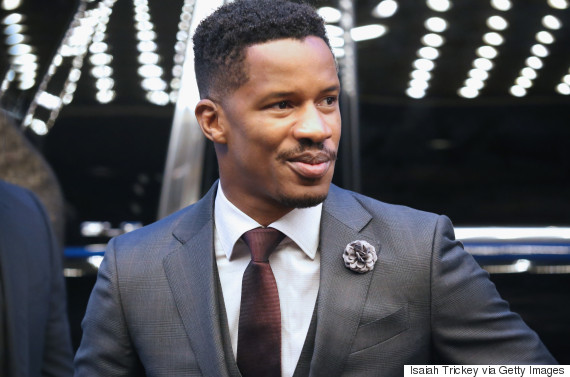 Writer/actor/director Nate Parker attends the 2016 Toronto International Film Festival premiere of The Birth Of A Nation Premiere at Winter Garden Theatre on Sept. 9, 2016 in Toronto, Canada. (Photo: Isaiah Trickey/FilmMagic)
That's the hard thing about inconsistency. It's not an either/or choice between condemning rape and embracing an excellent (by all accounts) piece of political art. It's not Parker the Hero or nothing at all. The story of Nat Turner needs to be told, and so does the story of the rape victim who committed suicide in 2012.
Some people like to compartmentalize so they don't have to see the alleged rapist and the Oscar contender as the same person. If this works for you, more power to you.
But if double-think isn't your thing, don't rule out the possibility of taking in a buzz-worthy film for fear that you're enabling sexual crimes. The world doesn't come in such neat dichotomies. The first step in the fight for a better world is seeing the actual one for what it is. We need to have thoughtful, honest conversations about moral complexity. The unfortunate news about a would-be hero's involvement in a grievous crime gives us an opportunity for just that.
Follow HuffPost Canada Blogs on Facebook
MORE ON HUFFPOST:
8 Dumb Comments About Rape Made By Powerful Men
Tory big beast Ken Clarke faced calls for his resignation following comments he made about rape sentencing policy. The then Justice Secretary was speaking to BBC 5 Live in 2011 when he appeared to suggest date rape is not always "rape". Addressing presenter Victoria Derbyshire, he said: "Assuming that you and I are taking about rape in the ordinary conversational sense, some man has forcefully…" In this full transcript provided by the BBC, Derbyshire interjected with: "Rape is rape," to which Clarke replied: "No it's not."

In 2012 GOP presidential candidate Rick Santorum explained his opposition to abortion even in cases of rape in an interview with CNN's Piers Morgan. He said that women who face such circumstances should "make the best of a bad situation". When asked what he would say if his own daughter approached him, begging for an abortion after being raped, he explained he would counsel her to "accept this horribly created" baby because it was still a gift from God, even if it was given in a "broken" way.

George Galloway ignited fierce debate in 2012 over comments he made relating to the sex crime allegations against WikiLeaks' Julian Assange. On his podcast Good Night with George Galloway, posted on YouTube, he said: "It might be really sordid and bad sexual etiquette, but whatever else it is, it is not rape or you bankrupt the term rape of all meaning." Swedish prosecutors wish to question Assange on suspicion of offences of unlawful coercion, sexual molestation and rape.

In 2011 UKIP candidate Roger Helmer blogged his opinion that there are distinctions between "date" and "stranger" rape. "Rape is always wrong, but not always equally culpable," he wrote. With reference to "stranger" rape, he said: "… the victim surely shares a part of the responsibility, if only for establishing reasonable expectations in her boyfriend's mind."

In 2009 then BBC football pundit Alan Pardew, now coach of Newcastle United, was forced to issue an apology after he compared a tackle by Chelsea's Michael Essien to a rape on Match of the Day. Essien had collided with City's striker Ched Evans when Pardew said: "He's a strong boy. He knocks him off." As Alan Hansen interjected with "he mauls him", Pardew added: "he absolutely rapes him."

In 2013 England spinner Graeme Swann said sorry after comparing the third Ashes Test loss to Australia as being "arse raped" Swann made the comments on Facebook during an exchange with his brother hours after England's loss. He took to Twitter to apologise: "Sorry to anyone who was offended by my comments in the papers today. Crass and thoughtless of me in the extreme."

In May UKIP Donor Demetri Marchessini argued there was no such as thing as marital rape, claiming: "If you make love on Friday and make love on Sunday, you can't say Saturday is rape." When asked whether UKIP should be taking cash from a donor with such repellent views, leader Nigel Farage replied: "Possibly not."

California judge Derek Johnson was publicly admonished in 2012 for suggesting a rape victim "did not put up a fight" and that if someone truly doesn't want to have sex, their body "will not permit that to happen." Judge Johnson made his comments during a case where a man threatened to mutilate the face and genitals of his former girlfriend with a heated screwdriver. In documents published on the Californian Commisson on Judicial Performance, he is recorded as saying: "I'm not a gynecologist, but I can tell you something - if someone doesn't want to have sexual intercourse, the body shuts down. The body will not permit that to happen unless a lot of damage is inflicted, and we heard nothing about that in this case."

Failed Republican Senate candidate Todd Akin suggested in 2012 that victims of "legitimate rape" don't need the option of abortion because they "rarely" become pregnant. He later apologised.