20 Toronto Neighbourhoods Where Townhouses Are Still Affordable
According to various forecasts, Toronto is poised to be the hottest real estate market of 2017 -- and it's well on its way to scorching, if January numbers are any indication.
According to the Toronto Real Estate Board, the average home price in the GTA hit $770,745 last month, a 22.3 per cent year-over-year increase. And you'll need almost double that if you aspire to live in a house, with the average detached price now $1,336,640 in the city proper.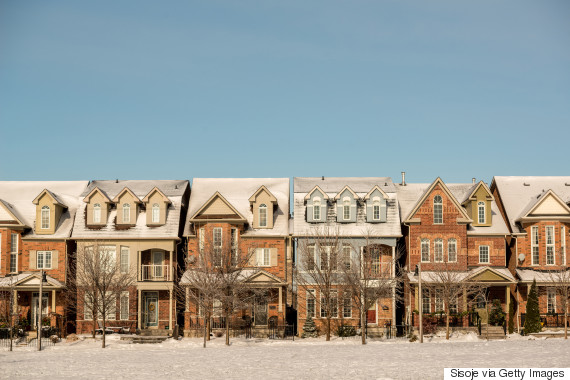 (Photo: Sisoje via Getty Images)
Houses Can Be Hundreds of Thousands of Dollars Out of Reach
Consider this -- for an individual with the median Toronto household income of $76,219, the maximum affordability they can hope to achieve is $636,900, and that's assuming they qualify for a five-year variable mortgage at two per cent, pay at least 20 per cent down on their home and can pay it off over a 30-year period. Yet that still leaves the median Torontonian nearly $700,000 short from affording a house.
That doesn't give buyers -- especially those in the move-up market -- a ton of options. While condo life is becoming more popular with growing families, larger units with more than two bedrooms remain exceedingly rare. That leaves picking up and heading for further-flung affordable markets, but suburb living isn't the bargain it used to be; according to TREB, detached homes in the outer reaches of the GTA have rapidly approached the $1-million mark at an average of $999,102. In fact, a number of Ontario-region real estate markets have recently received a "red" warning from the Canada Mortgage and Housing Corporation due to the price "spillover" affect from Toronto-based buyer demand.
A New Low-Rise Reality
As well, not everyone wants to confine their lifestyle to high-rise living, or take on a lengthy commute. Zoocasa has found for this buyer segment, Toronto townhouses are an appealing low-rise option. With an average price (based on 2016 sold data) of $562,187, they're still firmly within the realm of affordability for many. And, while you may still encounter a bidding war to win one, there's a greater chance you'll walk away unscathed: the average townhome sold for $16,714 over asking last year, compared to the whopping $63,482 for an average detached home.
The Top 20 Most Affordable Toronto Neighbourhoods for Townhouses
To help buyers find townhomes within their budget, Zoocasa has compiled the top 20 Toronto neighbourhoods where you'll get the most bang for your buck.

Follow HuffPost Canada Blogs on Facebook
Also on HuffPost:
Canadian Homes You Can Buy With A Median Income (September 2016)
This big brick box in Empress, a village about 350 kilometres from Calgary, could use a little work on the inside. It's a historic building with potential for a business to run on the main floor and have a residence on the top one. The inside has mostly been torn apart, so you certainly have your work cut out for you.

This three-bedroom P.E.I. home sits on a large, 1.18-acre lot in Duvar, about 120 kilometres from Charlottetown. And it's a fixer-upper. The basement needs foundation. But if you're willing to buy the home as is, it's there for you.

This 625-sq.-ft., one-bedroom apartment is located in Tahsis, a western Vancouver Island community about 150 kilometres from Campbell River. For just under $20,000, you can own a unit that has river and mountain views and comes with a spacious living room. The building has three common barbecue areas. The home's listing pitches it as a "great getaway for fishing."

Sintaluta. It's a small town about 45 minutes away from Regina. And a "motivated" seller wants you to have a piece of it with this three-bedroom, one-bathroom, 1,000-sq.-ft. home that is being sold in as-is, where-is condition. The listing doesn't come with any photos of the interior and it's being pitched as a project for renovators who can "bring life back" into the home. So you likely have some real grunt work to do.

How about that, an affordable home in a major Canadian city! This 626-sq.-ft., one-bedroom apartment is being pitched by an out-of-town seller who's "looking at liquidating his holdings" in Winnipeg. He owns three units, and one of them is this one, which is currently being rented out to tenants who are paying $675 per month plus hydro. So there's a chance to have someone else pay your mortgage. The unit is also assessed at $79,800, so maybe someday you might be able to sell it for what it's worth, at a significant profit to yourself.

"With a little TLC the opportunities are endless." That's how the ad concludes for this 991-sq.-ft. home in Matheson, which is just over 350 kilometres north of Sudbury. It has an "open concept main floor" and an upstairs big enough to build your own little office. It's being sold as is and there are no interior photos attached to the listing.

A giant, two-bedroom home just over the U.S. border in Maine can be yours, if you're willing to put the work into it. It also comes with a dining room, living room, den and laundry room. And one bathroom.

The listing is as honest as they come: "Bring your ideas and tools, this home is in need of a lot of work." It's an 864-sq.-ft. home located in Canso, a small coastal community about 320 kilometres from Halifax. The kitchen has pretty wooden cabinets and the home, overall, looks a tad outdated but could be quite nice with some love. Not too bad for $16,900.

Travel 270 kilometres away from St. John's and you'll find yourself in Dunfield, where you'll find a 994-sq.-ft., two-bedroom home that could be yours with some renovation. Listings show that some windows are missing on the home, and the interior could use some sprucing up too. But it's priced to sell, so if you know how to use your tools, it might be worth a shot.
Follow Lauren Haw on Twitter: www.twitter.com/Zoocasa