Violence Against Women Costs You This Much Money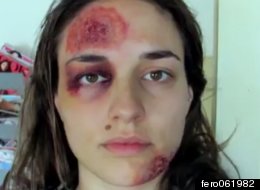 Intimate partner violence and sexual assault of women in Canada hurts the economy and no comprehensive national policy is currently in place to address the problem. These were the key findings of The Gap in the Gender Gap: Violence Against Women in Canada report released by the Canadian Centre for Policy Alternatives, released on Thursday.
Study author Kate McInturff reveals that these two forms of violence against women comes at a cost of $334 per person, putting it on about the same level as the cost of illegal drug use and smoking which is costing Canada an estimated $262 per person and $541 per person, respectively.
The economic losses for these crimes come in the form of costs to the justice system, costs to the victim, and costs to third parties. For example, sexual assault cases would cost the police anywhere from $10,320 to $51,225 per incident depending on the level.
On average, criminal court cases cost $1,408 per case with the average legal aid expenditure pegged at $811 per criminal court case. The justice system also incurs expenses during prosecution, incarceration, conditional sentences, probation, and civil protection.
The financial cost to victims is also great, the study finds, since many are forced to seek medical care in terms of doctor visits and hospitalization and suffer from mental health issues. These physical and mental injuries can lead to productivity losses like lost wages for female victims amounting to $136 per day and lost education which has a dollar value of $39.41 per school day (college or university).
Third parties like social services and employers also bear the brunt of sexual violence against women in Canada. Crisis lines, support centers, and victim services spend $40, $450, and $453 per incident respectively. Employers lose their employee victim's output which is 5.2 per cent of the total of lost wages. Tardiness and distraction and absences are also hurtful to their bottom line.
McInturff writes that the "difficulty of collecting data about violence against women has been a barrier to progress in ending [it]." But she also reveals that "the data that does exist tells us three things very clearly: this problem is big, it comes at a high cost, and we are making little or no progress in putting a stop to it."
As far as federal spending for programs and services related to intimate partner violence and sexual assault goes, the most recent data was for fiscal year 2011-2012 and it paints a very grim picture: McInturff found that the federal government spent only $79.9 million which when divided on a per person basis "works out to $2.77 per person."
Violence against women does not only scar the victims. This most recent CCPA study and previous ones done in other countries (covered in this column by Leah Eichler) show that these crimes can have a detrimental effect on a country's gross national product. It is as much an economic and business problem as it is a personal one.
To put an end to violence against women, the study recommends conducting "regular, sensitive, detailed surveys of incidence of sexual assault and intimate partner violence...to measure the impact and effectiveness of public policies and programs over time" and "a coherent, coordinated, well-resourced national action plan to address" the problem, among others.
By Nicel Jane Avellana, contributor at r/ally, the mobile collaboration platform that lets you socialize your goals.
Notable Anti-Domestic Violence Campaigns
Women's Aid won an award for their domestic violence awareness campaign, which saw celebrities including Anna Friel, Fern Britton, Jemma Kidd and Honor Blackman made-over to appear as if they had been beaten.

In September the Home Office began piloting a Domestic Violence Disclosure Scheme, known as Clare's Law. It was so named to honour Clare Wood, who was strangled and set on fire by her ex-boyfriend. It proposes to give women "the right to know" if a partner has a history of domestic violence. The scheme came into being after campaigning to protect women from Michael Brown, the father of the murder victim.

Self-taught make-up artist Lauren Luke appeared before her YouTube subscribers in July looking battered and bruised. While the bruises were fake, the video, made in collaboration with UK charity Refuge sent a clear message to women across the globe: "65 per cent of women who suffer domestic violence keep it hidden. Don't cover it up." http://www.youtube.com/watch?feature=player_embedded&v=d-XHPHRlWZk

Atonement actress Keira Knightley starred in a 2009 Women's Aid ad which saw her punched and kicked to the ground. Shot by Atonement director Joe Wright, the clip was deemed "too violent" and was censored before it was shown on TV.

An 'unofficial' campaign was carried out against singer Chris Brown, who found his latest album, Fortune, slapped with stickers reading: "WARNING: Do not buy this album! This man beats women!"

Here's Barbie as you've never seen her before - as a model of domestic abuse. A student artist has painted black eyes, bruises and blood onto the perfect faces of the iconic dolls. The art project, It's A Matter Of Trust, has the tagline 'We shouldn't be taught that life is perfect.' Read more here.

On the surface this newlywed couple look blissfully happy, but sadly reality tells a different story - one of domestic violence and abuse. Behind the smiles, beautiful flowers and white wedding gown, the groom is twisting his new wife's arm, which is battered and bruised from previous violent episodes. The powerful image forms part of a hard-hitting Norwegian domestic violence awareness campaign. Read more here.
Follow r/ally on Twitter: www.twitter.com/rallyyourgoals