Mead Is The Delicious Dram Behind Your Honeymoon's Sweet Name
August is Canada's most popular month to wed, and while new beginnings, romantic gestures and expressions of unconditional love may be top of mind for many couples, the prospect of planning a honeymoon to an exotic or romantic location is almost as exciting as the wedding itself. From romantic rides in Venice to wild times in Vegas, honeymooners have just about done it all. But why? Where did this tradition begin?
I recently had the opportunity to learn about the origin of the word "honeymoon" when I was in Ireland for a research and sightseeing trip. During one of our excursions we were lucky enough to stop at the Bunratty Castle, where we participated in a medieval-style dinner. The feast was complete with all the trappings of a medieval feast, including live singers and, as is the custom, no cutlery. That's right -- we ate with our bare hands!
Before the dinner began, we were each offered a glass of mead -- a sweet drink made of fermented fruit and honey -- as a welcome drink. While we enjoyed the delicious brew, it was explained to us that mead is called the "honeymoon drink" -- in Welsh, German, Scandinavian and Babylonian cultures, a one-month supply was traditionally given to a newly married couple. It was believed that if the couple drank the honey-based mead on a regular basis throughout the first moon of their marriage it would bring them luck and fertility. More specifically, drinking the mead allegedly ensured that the woman would become pregnant within their first year of marriage.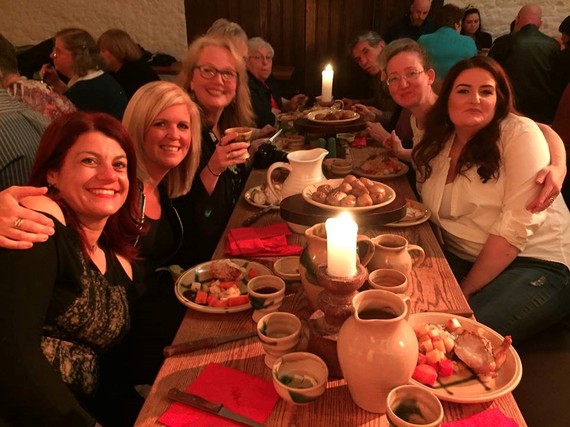 Enjoying the festivities at Bunratty Castle
With this information fresh in my mind, I was inspired to dig deeper into the history of the honeymoon tradition and how it has evolved throughout the years.
While the tradition's exact origin is unknown, the custom of going on a honeymoon was popularized in Britain in the 1800s. Commonly referred to as "bridal tours," these trips were generally only affordable for members of the upper class, who used these trips to visit family and friends who were unable to attend their wedding. However, over the years as the gap between socioeconomic classes shrunk, these trips became more widespread, and today they are actually considered to be one of the primary drivers of mass tourism.
When one thinks of honeymoons one typically thinks of a tropical or exotic destination. For this reason, I was surprised to discover that Niagara Falls is widely recognized as the "honeymoon capital of the world." Around 50,000 newly wed couples visit Niagara Falls each year, many of whom leave their mark by signing their names in guest books kept by the Niagara Falls Tourism Office.
These records, now available from family history resource website, Ancestry, show that newlyweds have travelled to the falls from all around the world, including tropical spots such as Mexico, Hawaii and the Bahamas. Interestingly enough, these are the top three destinations Canadian say they've honeymooned.
With my 32nd wedding anniversary coming up in September, looking at these records has made me reflect on my own honeymoon. I had taken on most of the wedding planning, so my husband took charge of our honeymoon and chose to keep the location a surprise.
As we drove further into the countryside and eventually reached the fishing cottage he had rented, I quickly realized that this was not going to be the weekend in the city for which I had packed. While a quaint countryside weekend was definitely not what I expected, our memories of our first weekend as a married couple will never be forgotten.
To end on a sweet note, see below for a recipe that will teach you how to make your very own homemade mead!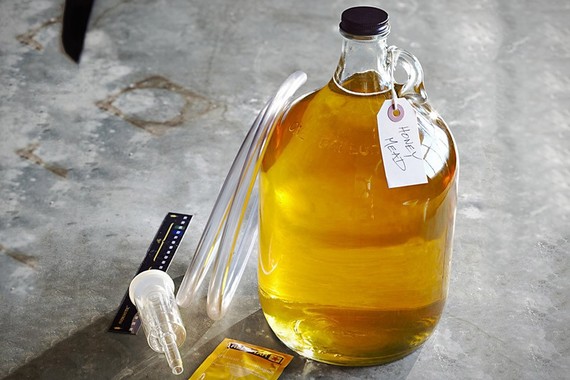 Homemade Mead
Ingredients
:
2 to 3 pounds of grade-A honey
2 ½ litres of tap or bottled water
1 and 1/3 grams of freeze-dried wine, champagne or dedicated mead yeast
Recommended Equipment:
Stainless Steel Stock Pot
Thermometer
Hydrometer
Plastic Fermenter
Glass Carboy
Fermentation Lock and Stopper
Racking Cane and Tubing
Sanitizer
Instructions
:
Put water into your stainless steel pot and bring to a boil for 10 minutes. After boiling for 10 minutes remove pot from heat and add yeast nutrient, yeast energizer, and honey.
Stir the pot until the honey and water have mixed completely.
Hold the mixture at that temperature (around 170 degrees) for 10 Minutes. Chill the mixture down to 80 degrees.
Take a hydrometer reading. Pitch(add) your yeast into the must, stir vigorously for 5 minutes.
Place the lid on your fermenter with the air lock attached. Fermentation should begin about 24 to 48 hours.
2 to 3 weeks later (or when fermentation is done) rack mead into a sanitized carboy. Let it sit another 3 to 4 weeks.
Rack for the final time into another sanitized carboy and let it sit until the mead is clear (another 2 to 3 months).
Follow HuffPost Canada Blogs on Facebook
MORE ON HUFFPOST:
20 Honeymoon Destination Ideas In Canada
Quebec City Type of getaway: Couples who like busy cities with local history. Romantic adventures: Spend an evening at the opera, dine at a French restaurant or check out the city's local farms or vineyards. Where to stay: Try something rustic like Hotel du Vieux-Quebec or spend your week at a bed and breakfast.

Georgian Bay, Ont. Type of getaway: Couples who love quiet getaways with a ton of activities. Romantic adventures: Rent out a boat, take a dip at the beach or drive out to The Bruce Peninsula. Where to stay: The Bay covers off everything from Wasaga Beach to Manitoulin Island to Collingwood — you can stay anywhere from a B&B to resorts to lodges.

Cowichan Bay, B.C. Type of getaway: Couples looking for small-town vibes with a lot of shore time. Romantic adventures: Go kayaking, check out one of the region's 20 marinas and make room for a local seafood feast. Where to stay: Waterfront hotels like Oceanfront Suites at Cowichan Bay to guesthouses to B&Bs.

Cape Breton Island Type of getaway: Couples looking for the ultimate Canadian escape. Romantic adventures: Hike through Cape Breton Highlands National Park, take a guided tour or check out the The Celtic Colours International Festival (in October). Where to stay: Rent out homes, check-in at an inn or a B&B.

Magdalen Islands, Que. Type of getaway: Couples looking for a unique and breathtaking view. Romantic adventures: Take a glassblowing class together, check out all eight major islands and eat local seafood. Where to stay: Seaside hotels or rent out a cottage on Airbnb.

Niagara-on-the-Lake, Ont. Type of getaway: Couples who love charming towns with a lot of wine. Romantic adventures: Vineyards (of course), shop at local breweries or just hit the spa. Where to stay: Vintage hotels to luxury boutique suites to private vacation homes for two.

Charlottetown, P.E.I. Type of getaway: Couples who love a sense of community with an artsy touch. Romantic adventures: Check out a musical, stroll through Peake's Wharf Historic Waterfront or try cycling. Where to stay: You will find a ton of hotel/motel options in Charlottetown but we say splurge on a unique and quiet B&B or inn.

Kluane, Yukon Type of getaway: Couples who are tired of the same-old Canadian outdoor adventure. Romantic adventures: A ton of activities at Kluane National Park and Reserve. Where to stay: Local B&Bs, cottages or try a luxury suite.

Parksville, B.C. Type of getaway: Couples who dream of sandy beaches (in Canada). Romantic adventures: Spend a day at the beach (Qualicum Beach is a favourite), go golfing or if you're there for the right season, check out B.C.'s whales. Where to stay: A resort like Ocean Sands Resort or the Tigh-Na-Mara Resort.

Fogo Island, N.L. Type of getaway: Couples looking for privacy and to be surrounded by a lot of water. Romantic adventures: Explore local museums, walk the trails and splurge on an expensive suite. Where to stay: The Fogo Island Inn is absolutely stunning or try a guest house.

Canmore, Alta Type of getaway: Couples who love the outdoors (and being nestled in between the Canadian Rockies). Romantic adventures: Spend the day at a spa, spend big at the casino or watch a live band in the town's downtown core. Where to stay: Everything from B&Bs to hotels to lodges to inns.

St. Johns, N.L. Type of getaway: Couples who can't choose between big cities and small towns. Romantic adventures: Take a boat tour (make sure you look out for whales and icebergs), eat at one of the city's best restaurants or spend a day outdoors. Where to stay: The city has everything from hotels to inns to cabins to resorts.

Tofino, B.C. Type of getaway: For couples who love to surf, swim or embarking on road trips. Romantic adventures: Lay on the beach, eat local seafood and roam Tofino's ancient rain forests. Where to stay: From resorts to hotels to guest houses, we love the Wickaninnish Inn.

Hecla Island, Man. Type of getaway: Couples who have mastered the outdoors. Romantic adventures: Walk through Hecla Grindstone Provincial Park (biggest attraction) or take a village tour. Where to stay: Cute B&Bs and if you're up for the challenge, go glamping!

Prince Edward County, Ont. Type of getaway: Busy couples who want to reconnect with nature. Romantic adventures: Go on a wine tour, hit the beach or take a cooking class. Where to stay: A ton of B&B options but for a honeymoon, we suggest the Drake Devonshire Inn.

St. Andrews N.B. Type of getaway: Couples who love to be one with the sea. Romantic adventures: Hit up an art gallery, go whale watching or check out the town's many festivals. Where to stay: The Algonquin Resort is well-known, but there are also smaller B&Bs and inns.

North Hatley, Que. Type of getaway: Couples who love the idea of everything quaint. Romantic adventures: Tune into the Massawippi Music Festival, go boating or explore the local shops. Where to stay: Check out one of North Hatley's four inns or six B&Bs.

Waskesiu Lake, Sask. Type of getaway: Couples on a budget and who may want to travel with children or pets. Romantic adventures: Relax on the beach, hike with the whole family or spend a night under the stars. Where to stay: Lodges or the Elk Ridge Resort for those looking for something more fancy.

Victoria, B.C. Type of getaway: Couples who need a relaxing escape. Romantic adventures: Go whale watching, spend the day at the spa or stay put in your tiny lodge. Where to stay: A ton of beautiful resorts to choose from, but also smaller lodges and vacation rentals.

Banff Type of getaway: Couples who love resort towns with endless options of things to do. Romantic adventures: Canoeing at Moraine Lake, hike at Lake Louise or if you're up in Banff during winter, go skiing! Where to stay: Beautiful resorts including the Fairmont Banff Springs or the Moraine Lake Lodge.