Who Is Ultimately Responsible For Rude Behaviour?
Calling out rudeness, a lack of etiquette or a complete absence of compassion or empathy in public should never have to happen -- but it MUST.
The recent examples that made the headlines -- of a woman allegedly sitting on the feet of a passenger whose feet dangled over an empty seat on public transit -- is a case in point.
He was rude and inconsiderate to put his feet up on that seat in public. She likely took it a little too far in teaching him a lesson by sitting on his feet.
The key here though is that kind of disrespect and rudeness needs to be flagged in some way, otherwise, how is the perpetrator of the rudeness going to know and ever going to learn.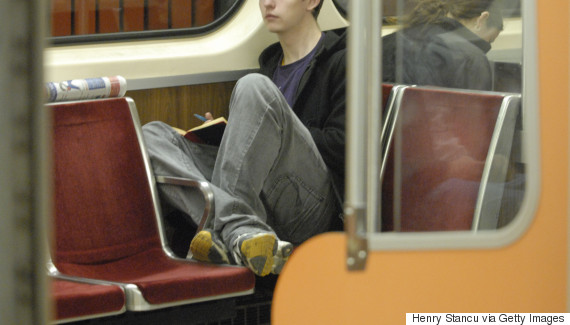 (Photo: Henry Stancu/Toronto Star via Getty Images)
Seems to me, a lack of etiquette has been an overriding theme these days in general -- with three stories serving as the most recent examples to grab media attention. The other one involved a school bus driver who, in trying to teach loud elementary school kids a lesson, ended up driving them back to their school before setting back out on the bus route -- arriving more than an hour late at the scheduled stops, to the worry and dismay of parents. And then we had the cellphone ban during class, imposed by a school on its Grade 7 and 8 students, which went into effect last Monday. Again, the root cause? Poor etiquette and a lack of respect, in my opinion.
No doubt, there are plenty of daily examples on the subways, streets, sidewalks, on the phone, etc., in the Greater Toronto Area (GTA), where these incident took place and elsewhere, pointing to the increasing absence of basic manners.
Is that not being taught at home any more? Is it because we are just an increasingly side-tracked society? Does technology take the blame for impolite behaviour?
Most importantly and frighteningly, is it becoming accepted as the social norm? I hope to goodness not.
Manners and respect are connected, in my opinion.
I'm not even talking about holding doors open anymore and allowing women, pregnant women and the elderly to go ahead of you. That was the way it used to be and much less so now. These SHOULD always happen, but don't.
My issue is around displaying basic manners. There should never be a reason to do so -- it should be automatic. Manners and respect are connected, in my opinion. You cannot have one without the other.
When that doesn't happen and disrespect is on display, people need to be told -- again, that's just me. I'm not looking to pick a fight with everyone I see, but as long as it is not brought to their attention, the behaviour will continue.
Of course, there are ways to convey this message, manage your frustration, make your point and move on, without it becoming front-page news.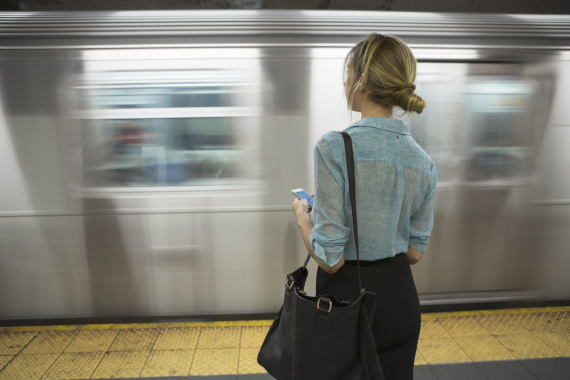 The tactics used to make that point are critical to success. Also important to consider is the situation and the perpetrator. It's almost impossible to flag rudeness to an irrational person.
A few years back, I interviewed a lady, the owner of a company which teaches civility and manners. initially, I found the concept to be quite curious. "Really, is there a need for something so obvious to be formalized into a program," I thought. Turned out she was onto something. Then, a few years later, another interview with another expert about etiquette -- spanning a wide range of themes including how to set a table and which cutlery to use in what order -- in addition to other not-so-basic lessons, as it turns out. Apparently, these business continue to thrive because there is a need.
For the parents who continue to teach these important life lessons about respect and politeness -- kudos. You are hopefully saving the rest of us the frustration of having to deal with it in a public setting. And yes, we all have moments when it is hard to be patient and respectful -- but it is necessary to live in a civil society.
For those parents who don't prioritize this type of teaching -- ask yourself -- how would you feel if your kid was the one who put their feet up on an empty seat in the subway -- denying its use to someone else. Would you tolerate that behaviour in your own home? Neither should the rest of us.
The students affected in both stories and the male youth involved in the subway incident won't realize it now, but they should be thankful their potential and real rudeness was flagged.
The increasingly uncivil look and feel of our society should make us ALL responsible.
Follow HuffPost Canada Blogs on Facebook
Also on HuffPost:
Everyday Etiquette Lessons
Etiquette Tips: It's always rude to pay more attention to a phone than a person in the flesh, and they should always be put away when transacting other business – for example, when you're paying for something in a shop. They should be switched off in theatres, cinemas (including during the trailers!), art galleries, or any space where silence is desired.

Etiquette Tips: E-cigarettes should never be used in a work environment. Vaping shows that you're not focused on your work and may also be a distraction to your colleagues.

Etiquette Tips: Many people are unclear on the subject of social kissing. Kissing is not appropriate in many professional situations. On the whole it should only be used among friends, but not on first meeting. An air kiss, without contact, may seem rude or impersonal, so very slight contact is best but no sound effects are needed.

Etiquette Tips: You should avoid both. It's inconsiderate to eat smelly food in a confined environment, and applying make-up on public transport can jeopardise that all-important first impression and make you appear disorganised.

Etiquette Tips: This is a common bugbear. It's selfish to recline your seat back during short daytime flights. When travelling by plane always stay within your own designated space and don't hog the armrest. Also avoid kicking the back of the seat in front of you or using it as an aid to standing-up.

Etiquette Tips: In a recent university experiment only 20% of London tube passengers offered to give up their seat to a visibly pregnant woman. Passengers should always offer to give up their seat to any individual that is pregnant, elderly, or clearly in need. It is important to remember, however, that it is just as rude to aggressively decline the offer of a seat as it is to not offer a seat.

Etiquette Tips: Blind copying should be used discerningly as it is deceptive to the primary recipient. Instead, the email should be forwarded on to the third party, with a short note explaining any confidentiality, after its distribution. If blind copying is essential – i.e. for a confidential document where all recipients must remain anonymous – then the sender should address the email to themselves, and everyone else as 'bcc' recipients.

Etiquette Tips: Is it rude to start eating at the table before everyone else has been served? The simple answer is yes, unless the host or hostess gives their permission for diners to start.
Follow Lianne Castelino on Twitter: www.twitter.com/liannecastelino