Why You Need To Visit Ottawa Now
Next year, 2017 is the 150th anniversary of Confederation. It is our sesquicentennial, a big birthday for Canada, and the capital city is getting ready for its closeup.
As I found out last weekend, Ottawa is in the process of changing up the nice, proper-but-a-tad-stiff image it has rocked since I visited as a child. Most people visit Ottawa on their grade ten school trip and never look back; I returned over the years because I have family there. What I found on last weekend's visit made me want to go back for more.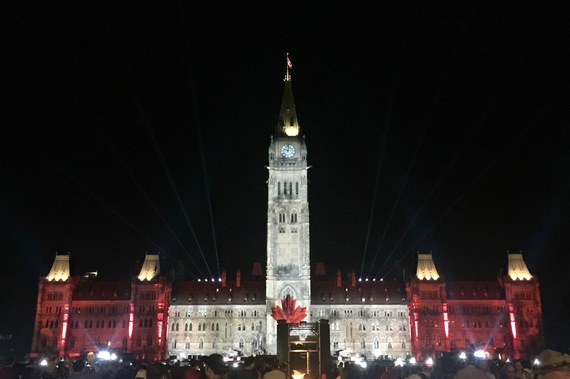 The "Northern Lights" summer light show on Parliament Hill Photo: Lin Stranberg
It's no news that the nation's capital will be hosting some big-time birthday parties, and it's getting ready to meet and greet in style. Ottawa is shaking off that stodgy image and getting some glamour on. And here's the good part: Ottawa's makeover is about more than the cranes on Parliament Hill, the scaffolding around national memorials, and the new LRT going in. I found hip new hotels, fabulous new restaurants, and a new allure in the air that wasn't there before.
A happier vibe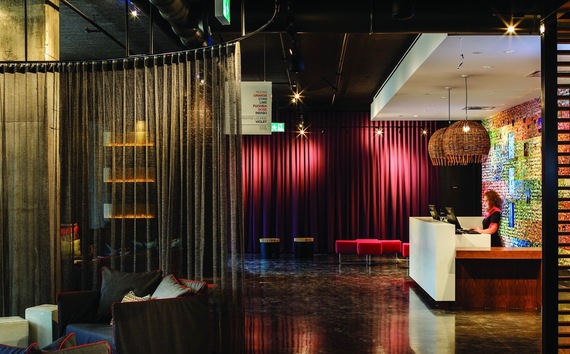 The Alt Hotel Photo: Alt Hotel
My first clue that things were different was when I checked into the new Alt Hotel on Slater Street. It's all sleek white facade, warm and colourful lobby, and a chill, down-to-earth vibe. For starters, it was great to check into an Ottawa hotel that didn't take itself too seriously. My room had the same footprint as a Le Germain hotel (it's the no-frills-chic version) but smaller. It had comfort, design and a surprise perk -- no checkout time on Sundays. Bonus: pet-friendly. It was a stylish perch and a good base for walking around the capital.
Fine art and iconic sights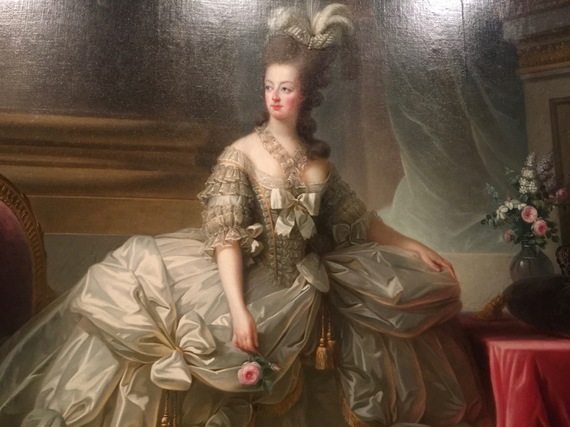 Marie Antoinette by Elizabeth Vigée Le Brun (1778) Photo: Lin Stranberg
I'm a museum-restaurant-and-sightseeing kind of city tourist and I like to walk it. I took a 20-minute stroll up to Elgin Street, over the bridge, down the stairs past the glass skirt of the curvy Shaw Centre, then on to Sussex Drive and the National Gallery of Canada to catch the exhibition of portraiture by Elizabeth Vigée Le Brun. The 18th century painter was Marie Antoinette's official portraitist, and the show was rich and ravishing. The National Gallery is the last stop of the show's Paris-New-York-Ottawa tour; on until September 11th.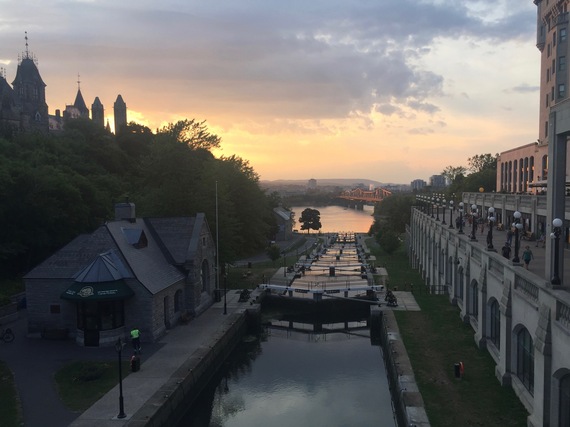 Site of the Red Bull Crashed Ice World Championships in 2017. Photo: Lin Stranberg
Next, I walked down to the locks on the Rideau Canal for a look at the future site of the Red Bull Crashed Ice world championships next March, one of the signature events from the party planners at Ottawa 2017. Ice cross downhill is an extreme sport designed for urban environments. It's a high-excitement event. Skaters in hockey gear can hit 50+ kph-speeds on tracks packed with drops, gaps and hairpin turns, making it the fastest sport on ice and a big draw for Canadians.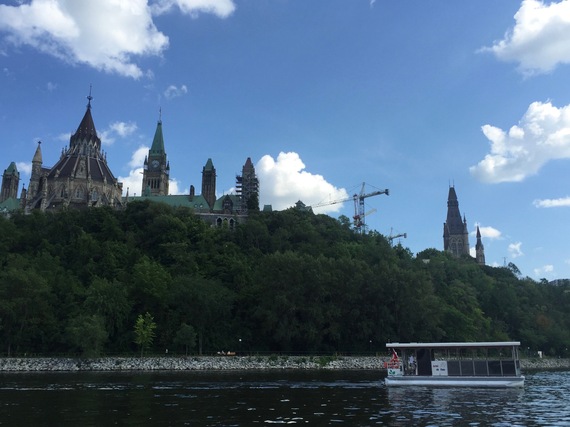 Au Feel d'Eau water taxi on the river behind Parliament Hill Photo: Lin Stranberg
I continued on to visit the small and historic Bytown Museum, the oldest stone building in the city. Then, for a mellow new look at some iconic Ottawa sights, I hopped a silent electric aqua taxi across the Ottawa River to the Museum of History and back.
Stylish ambience and fabulous food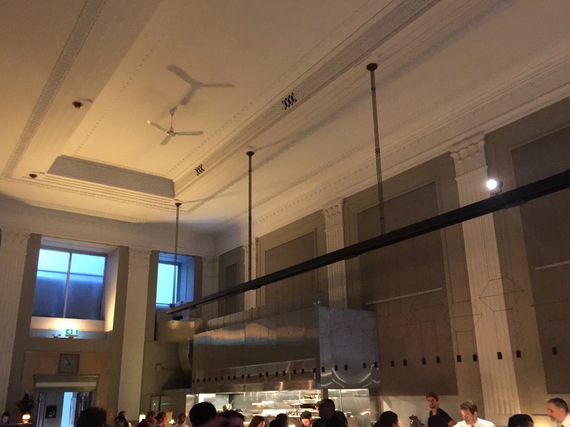 The Riviera Restaurant has 50-ft ceilings and an open kitchen Photo: Lin Stranberg

It wasn't easy to score a dinner reservation at Riviera. The new restaurant, from the chefs of El Camino and Fusion in Ottawa's Glebe neighbourhood, is just a few weeks old and the hottest new spot in town. Set in a 1920s former CIBC bank building, the restaurant's soaring 50-ft. ceiling and urbane ambience pair beautifully with the fabulous food, some of the best I've tasted all summer.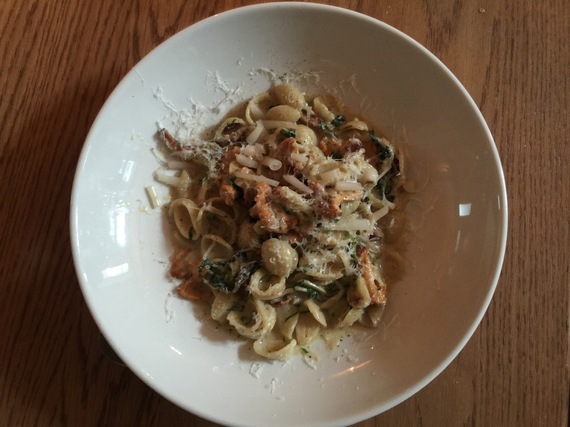 Orriechette carbonara, pasta made in-house with an Italian extruder Photo: Lin Stranberg
Lights and sounds on Parliament Hill
It was a gorgeous night on Parliament Hill when we dropped by to see Northern Lights, the city's free light-and-sound extravaganza projected onto the Parliament Buildings. It's a laid-back sort of summer evening thing, with people alone or in couples, standing around or lolling on the grass; some with lawn chairs, some with kids. The bilingual show tells a condensed story of Canada's history in a visual way and has some stirring moments. The scale is spectacular.
Fresher looks for Byward Market and the OAG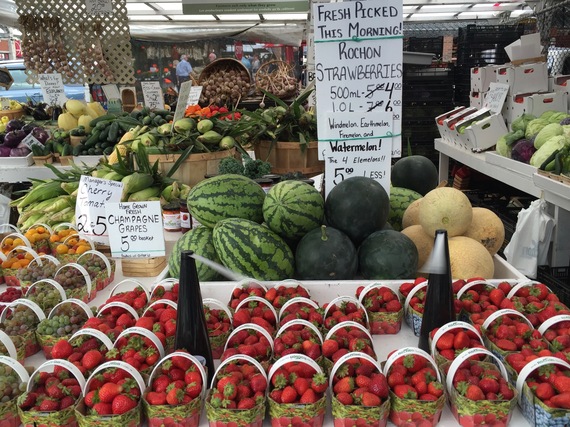 Local produce at Byward Market Photo: Lin Stranberg
Even historic Byward Market, one of Canada's oldest public markets dating back to the 19th century, has changed up its image. It may be older than Confederation, but it's freshened up its vibe with the new Andaz Hotel, a "lifestyle" Hyatt that just opened this month. Nearby, the Ottawa Art Gallery is expanding to occupy a 23-storey multi-use complex that includes a new Le Germain hotel.
For Ottawa information or Ottawa 2017 updates: ottawatourism.ca
ALSO ON HUFFPOST:
Spend a rainy day indoors at the National Art Gallery of Canda. Complete with 1,200 permanent works of art and thousands of special exhibits, this stunning gallery features Canadian, Indigenous, international, and contemporary collections.

One of the most historical rivers in North America, the Ottawa River was once the main transportation route for Aboriginals and early settlers. Alongside the river runs a 31km path that passes by city landmarks like the Canadian War Museum, Parliament Hill and the Ottawa Locks.

Take a stroll through Ottawa's most upscale neighbourhood and fantasize about buying your own dream home.

This hidden gem gives you gorgeous views of the Hill and Gatineau both during the day and night. And if you get hungry, the Island also boasts an Aboriginal café and trading post.

Restaurant Two Six Ate makes the most of local products in their nose-to-tail style of cooking. If you're not sure what to order we recommend this Surf 'N Turf dish priced at $16.

Home to many Asian restaurants and businesses, Ottawa's Chinatown runs along Somerset Street West between Bay Street and Preston Street. After taking a photo under the stunning archway, be sure to stop for a bit at popular dim sum destination: Hung Sum Restaurant.

If you have time to catch a concert head to Zaphod's or Barrymore's. The intimate halls — which have hosted the likes of The Trews, Ben Harper, Alanis Morrissette, Broken Social Scene — are a must-see for any music lover.

The city of Beckwith is home to this pub and craft brewery. If you're in the Ottawa countryside, it's definitely worth stopping here for a bite and pint. With flavours like Blueberry Wheat and Vanilla Stout, you might have a hard time choosing just one.

There's nothing like spending a sunny day on the water. Rent a kayak or canoe from Dow's Lake and paddle your way up to Back Falls and Mooney's Bay for the ultimate summer escape.

Okay, so this is technically in Gatineau, but anyone from Ottawa knows the two are pretty much one in the same. And considering this gorgeous retreat is only 10-minutes away from downtown Ottawa, we didn't think you'd mind!

A short walk from Parliament Hill, this fresh market has everything from food to fashion. And if you'd rather buy full meals versus fresh produce there's plenty of great restaurants mere steps away.

Obvi, if you're in the Nation's Capital you might want to make time to check out Parliament Hill. Throughout the summer, the building puts on shows including a daily changing of the guard and a stunning sound and light show in the evening.

While the canal is most commonly associated with winter, it's just aa picturesque in the summer... and has a much smaller crowd.

Now a hostel, this old prison makes the most of its morbid history by offering free tours and mugshots to their overnight guests. But be warned, this spot is said to be one of the most haunted buildings in all of Canada!

The National Arts Centre (NAC) has a home in downtown Ottawa. From ballerinas to thespians and orchestral musicians, the NAC gives a stage to some of Canada's most talented performers.

Drive by the Prime Minister's residence at 24 Sussex drive. Even if it's for a quick second, don't you want to see how the PM lives?

Just 45 minutes outside of downtown Ottawa, Merrickville is a picturesque town with Victorian homes and boutique shops. Take a glassblowing class at Gray Art Glass for only $75 then swing by the Goose and Gridiron for classic Pub-style grub.
Follow Lin Stranberg on Twitter: www.twitter.com/linstranberg