Presence Is The Key To Confidence In High-Stakes Situations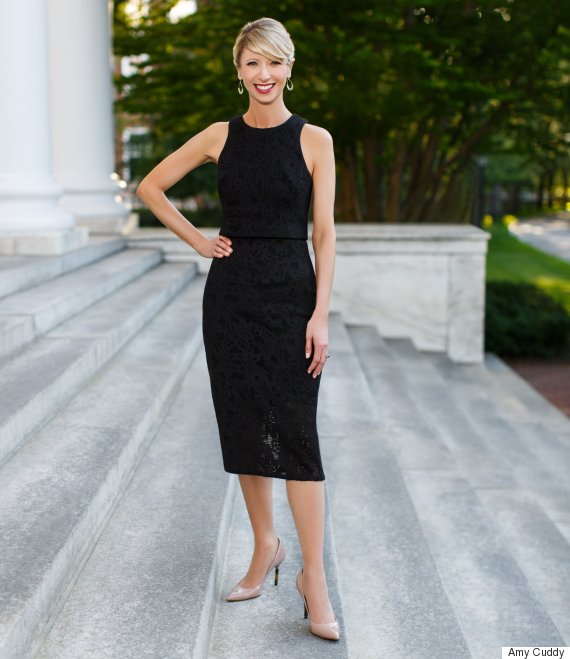 Show warm confidence without arrogance, says Harvard psychologist Amy Cuddy.
I recently had to give a keynote speech at a university fundraising gala. I've given more talks than I could remember, but this time I was a bit nervous. I had no slide deck or notes to lean back against. It was just me baring my soul before the audience.
I practiced and practiced and practiced, but I got to a point where practice was not helping anymore. I knew my material cold. I decided I just had to go out there and give it my best. I also power-posed, i.e. held the Wonder Woman pose, in the washroom prior to my talk -- a tip I picked up from Amy Cuddy, a Harvard psychologist and author of the best-selling book Presence.
In her wildly popular TED Talk, Cuddy says that our body language affects our self-perception. Her research shows that holding an expansive posture for a few minutes causes us to feel more powerful.
The trick worked. I finished my talk feeling that I'd given it my all. In fact, I was so happy with myself that I didn't care much about the outcome -- what the audience thought of my speech. Of course, I was delighted to hear that it was well received but that was icing on the cake. I was fully and wholeheartedly present, as Cuddy would say.
Presence, as she defines it in her book, is the state of being attuned to and able to comfortably express our true thoughts, feelings, values and potential. We feel present when we feel personally powerful and that helps us bring our best and authentic self forward.
Here are some tips from Cuddy to help you achieve presence in high-stakes situations.
Believe your own story
One key factor that influenced my performance at the speaking engagement I mentioned above was that I believed one hundred per cent in what I was saying, and that came through.
In her book, Cuddy cites a study she conducted in which subjects had to speak for five minutes in mock job interviews to convince a panel of judges they were the right person for the job. Interviewees rated as more present were also rated as more authentic, believable and genuine, and those were better evaluated by the judges and recommended for hire.
"The more we are able to be ourselves, the more we are able to be present. And that makes us convincing," writes Cuddy. After all, if you don't believe your own story, how can others believe it?
Practice presence
The good news about presence is that the more you practice being present, "the more you learn to become present and the more present you are every time," says Cuddy. "It's all about that incremental change." Don't expect to achieve presence overnight. Rather, nudge yourself to make small tweaks to your body language and mind-set at every opportunity.
Fake it until you become it
Sometimes you have to fake feeling powerful so you can feel powerful. Ever felt like an imposter? You're not alone. Research shows that two-thirds of Harvard Business School students experience imposterim -- the belief that you didn't earn something and that you don't deserve your success. Overcome imposterim by tricking yourself into feeling confident so you can show your true self to others, explains Cuddy. "You are tricking yourself into being yourself."
Show "warm confidence" without arrogance
Strive to portray "warm confidence." Showing strength without warmth is not sustainable. For others to keep supporting and promoting you, it's important to show warmth and be able to connect with people. "A confident person -- knowing and believing in her identity -- carries tools, not weapons. A confident person doesn't need to one-up anyone else," writes Cuddy.
That warm confidence also comes through online in your pictures on social media. For example, crossing one's arms conveys strength without warmth. It also shows that you're protecting yourself. The best way to pose for pictures is to place one hand on the hip and the other down.
Follow HuffPost Canada Blogs on Facebook
MORE ON HUFFPOST:
Proven Confidence Boosters
When you're in a stressful situation that triggers many emotions and in which you don't feel so confident (such as meeting your future in-laws), ask yourself what's the worst thing that can happen, suggests Shirin Khamisa, founder of Careers By Design in Toronto. "If you can come to terms with what the worst possible thing that can happen is -- which is usually not the end of the world -- then you can come to terms with it and you won't feel as stressed."

Before facing the situation you're feeling unsure about, get out of your own head, says Khamisa. Go for a walk outside or practice some deep breathing. When you stop contemplating and obsessing over every detail, getting out of your head allows you to relax and speak from the heart, the career coach says.

Taking a careful look at where your lack of confidence stems from is the key to formulating a plan to address it. "Often, your fears may not be rooted in reality," says Khamisa, noting she once had a client who'd held onto her insecurity from being an inexperienced entry-level employee, even though she's risen through the ranks and was more than capable in her current upper management position. You can discover where your fears stem from in many different ways. Consider asking colleagues for feedback, says Khamisa, or working with a career coach, as they can give you an outsider's perspective.

Focus on your strengths and they'll take the lead when it comes to your confidence, says psychologist Andrew Shaul. "Perhaps you're a good storyteller and you're funny. Play up those characteristics and you'll feel good -- rather than focusing on how to overcome your negative attributes," says Shaul. This will out you in a better place emotionally, as you'll be less anxious and less sensitive about what you're not good at, he adds.

"Rather than punishing yourself for the things you are not, accept that there are things you're not good at rather than hiding them, and it'll allow your strengths to come through," says Shaul, who works in private practice in Toronto. If you focus on limitations, you could overcompensate for what you're lacking and it'll shake your confidence. But acknowledging that you have areas that need work doesn't mean admitting defeat. When you accept your limitations, you can work on improving them, says Shaul, who uses the example of a tennis player with a bad backhand swing to illustrate. "If you don't accept your bad backhand, and you tell yourself 'I don't want the ball going anywhere near my backhand,' how can you work on it if you don't even want to face it?" he says. Avoiding or denying your weak spot might make you feel better in the short run, but in the long-term, your backhand problem remains. But understanding that it's a weak spot and working on it will help improve both your swing and your self-esteem.

Being well-prepared and well versed in whatever situation you're faced with is a sure-fire way to quell insecurity. This holds true whether it's a job interview you want to nail or you're getting quotes for a home renovation. There are few situations as nerve-wracking a job interview, but doing some thorough research on a potential employer (including the company and the interviewer if you know who it will be) can set your mind at ease by arming you with information to answer the tough questions. As well, researching the types of questions asked in interviews can help you prepare your responses. Employers are impressed with candidates who know their stuff. And candidates who know their stuff are often confident candidates. Similarly, doing some research into the home project you want to tackle will help you ask your contractors informed questions and will let them know you're not a client they can mess around with. Your knowledge skews the balance of power in your favour. And in turn, you'll enjoy safe and secure home renovations you can be confident in for the long run.

Knowing yourself is the first key to boosting your confidence, so don't be afraid to take a magnifying glass to yourself and really get to know your strengths as well as your limits - everyone has both and there is a wealth of resources out there that can help you build on your best bits and improve the parts you'd like to change. So get started! An utterly stellar and radiantly confident version of yourself awaits.
Follow Lina Duque on Twitter: www.twitter.com/LinaDuqueMBA