Our Children Are Listening To Leaders Who Bully
In 2016, as our children watched, bullying became legitimate. What we accept without dissent, what we allow to be framed as normal, alters according to our level of desensitization. Over the past year or so we have become increasingly desensitized to bullying behaviour.
Children are sponges. They watched and listened. Groups of people reveled in the abusive behaviour of one person on TV. They saw some in that large group chiming in with their own forms of bullying; taking misogyny, racism, name calling to new levels of revulsion. Shock and awe would be descriptors for some of the public behaviour we all witnessed over the past year.

Would we have allowed our child's classroom teacher to behave this way?
Telling lies has become the new normal for 2017. Without hardly raising an eyebrow, each new week provides more fodder for the acceptance of lying becoming the new truth. Media outlets laboured over the decision to use the word lie in their news reporting last year and ultimately decided there was no other option. A lie is a lie.
Our new normal sanctions bullies to survive and thrive everywhere including your child's peer group.
All of that has energized bullies and given them validity and an effective platform.
How do we sound credible to our children with the "don't do as I do -- do as I say" parenting line? We don't. I wonder how the adult children of those powerful, bullying people react to that notion. Do they ever look at their parent and say enough is enough? Or do they take notes?
Why did these loud mouth bullies with power not consider that all children, including their own, were listening to them? Parents were left with the distressing task of explaining the more scandalous news bytes.
This conundrum has not gone unnoticed and our children have witnessed all the ugliness. They are quick studies. If adults do it, at one level that is covert permission to behave in the same way. Our new normal sanctions bullies to survive and thrive everywhere including your child's peer group.
There have been and will always be bullies in your child's life in some form. But vigilance is needed more than ever to mitigate their effect. Potential bullies will have constant reminders of how to lie and intimidate. They will be saturated with daily examples of vitriolic and vehement cyberbullying. Why was so much time and effort spent on anti -bullying programming to end up here?
What can you do as a parent to alleviate this bully effect in your child's life?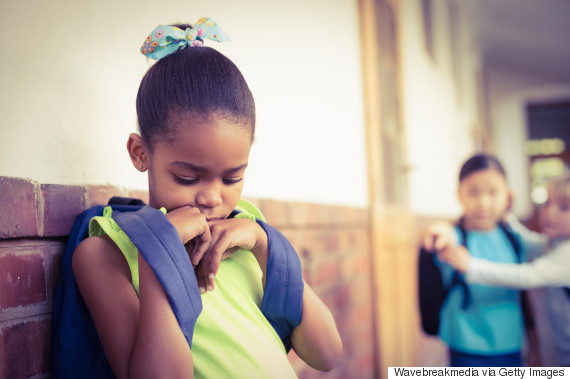 Be aware of your child's peer group. All bullies have similar markers. As a society we've spent a year doing post graduate work -- being schooled in the fine art of bullying.
Bullying is attention seeking behaviour. If we needed any new affirmation of that point, then look at the way those powerful bullies crow, swagger, bluster and gloat.
Bullies are name callers. When the juvenile act of name calling is thrown around by leaders in public office, then it is a license to use the same language. How do you explain to a child it is OK for an adult with considerable power to use denigrating language but not OK for them?
Answer the 'why' in that question for your child.
Bullies are often loud. They use being loud as a method of intimidation. They also have 'staying power' with that loudness. They will be the last person standing shouting at others. Bullies are thin skinned. If you want loud, suggest their ideas might be flawed.
With the flip of a switch, they go from charm to harm.
They invade personal space, mentally and physically, which is another form of intimidation.
They lie with impunity and ignore anybody who dares challenge them on those lies. They scare others with those lies. They might threaten and intimidate your child into submission with acts they have no intention carrying out.
They gather like-minded people around them, pitting one against the other. People who may not have the chutzpah to be the leader are quite happy to be a follower, and bask in the glow of the bully.
They are masters at being a chameleon. Think of a friend of your child's who made a positive first impression. They have assurance, conversation skills, and as a parent you are charmed. Remember, charm is a bully's middle name. With the flip of a switch, they go from charm to harm. As a parent be mindful of that possibility.
When criticized, bullies blame others. Externalizing the blame is the term and bullies know full well how to shine the blame spotlight on others. It is more than just blaming others, it is about absolving themselves of any wrong doing. Bullies refuse to accept responsibility for their actions and they dismiss it out of the narrative.
For years we have advised our children about the bystander effect. Bystanders are just that -- people who stand by and let bullies have their power. However, standing up to a bully is the only way to diminish their power. And stand up we must. Children learn what they live.
Follow HuffPost Canada Blogs on Facebook
Also on HuffPost:
The Best Defense Against Bullying Is Books
Molly Lou Melon makes no secret of her unique appearance. The wonderful illustrations, by David Catrow, also reinforce Molly's quirky yet endearing looks. With the support of her grandmother, Molly exudes confidence and joy, radiating beauty even as her unusual features are emphasized. When Molly moves away from her grandmother and to a new school, she relies on that very confidence as she encounters people who bully her and the way she looks.

A clever parent teaches an important lesson in Enemy Pie. The narrator, a young boy, is certain that the arrival of his enemy, Jeremy Ross, to the neighborhood will make his life miserable. His father offers him some sneaky advice about how to deal with the situation, promising that if his son is nice to Jeremy for a whole day, he will create and serve a pie that will rid the neighborhood of Jeremy forever. Readers will see how kindness can be an effective tool in dealing with difficult peers.

Mean Jean fills the role of the bully, here called the "recess queen," commanding control and power at the playground. The recess dynamics are overthrown, however, when a new character, Katie Sue arrives. Katie Sue's kindness and new perspective teach readers that often even the worst of bullies, like Mean Jean, want to play with others too.

Chrysanthemum is a mouse with an unusual name. Her supportive family loves and embraces both the name and the young mouse, leading Chrysanthemum herself to find her identity magical. When she arrives at school, however, classmates do not respond as kindly to her name, cruelly throwing flower-related terms at her. The continued support of her family, along with the introduction of a kind and uniquely named music teacher, allow Chrysanthemum to embrace her name and all of the individuality that goes along with it.

Otoshi demonstrates how a seemingly simple story about colors can actually become an important tale about bullying and personalities. In this world, Red is "HOT" and mean and begins bullying cool blue. One enters the scene and stands up to Red, teaching understanding through colors and numbers.

Issues of race and friendship are central to this beautifully written and illustrated book. Woodson tells the tale of the friendship between two young girls, Clover and Annie. Their friendship carries the weight of racial segregation: Clover, who is African-American lives on the other side of a fence that separates her from Annie, who is white. Woodson emphasizes the power of friendship and connectedness.

Unhei has just moved to America from Korea and on her first day of school, she is worried about how her classmates will react to her name. She decides to withhold her name and, instead, plans to pick a new name out of a jar. The growing support of her classmates leads to her own acceptance of her true name.

Eleanor Estes' classic book is both heartbreaking and hopeful. A girl named Wanda Petronski wears the same blue dress to school every day. When her classmates make fun of her, she lies and claims that she has one hundred dresses at home. Her classmates see through her lie and their bullying grows more extreme, ultimately causing Wanda to leave the school. Maddie, another student who has watched these events unfold, feels real empathy for Wanda and for the outcome of the situation, vowing always to stand up to bullying in the future. The beauty of the book is not in a perfectly happy ending, but in the sensitive way these subjects are addressed.

A fourth-grader named Jake shares some of his experiences with bullying. Clements conveys important messages on handling bully situations while crafting a story that is as enjoyable to read as many of his other popular books.

Auggie, born with a facial deformity, goes to public school for the first time in fifth grade. My absolute favorite book of the year, and maybe one of my new favorites of all time, reading this book can change lives. The parents and sister all play vital roles in the book, too. The author describes the book as a "meditation on kindness".

Bradley Chalkers is a fifth grader who does not fit in. In many ways, Bradley fits the mold of the school bully: he is mean, unfriendly, and older than the rest of the kids in his grade. But a school counselor, Carla Davis, sees the potential in Bradley and offers him her support and guidance.

Friendship is at the heart of this beautiful novel. Stead's story is laced with elements of mystery and allusions to other significant children's literature (most strikingly, Madeleine L'Engles A Wrinkle in Time). The protagonist, sixth-grader Miranda, is smart and observant, bold but also vulnerable.

Fitzhugh's timeless book documents the adventures of spunky Harriet, who spies on the people around her. Harriet jots down her sometimes biting observations in her notebook, a fun hobby until her notebook and all that is written in it is discovered. Harriet is left to deal with the difficult fallout from this discovery.

A group of four middle schoolers are bonded together by their individual inabilities to fit in. They are all "misfits," in one way or another, and each bring a different perspective and different voice to the concept.

At the age of twelve, Carley Connors has already experienced some of the most difficult of challenges. Raised for most of her life in an unstable family environment, Carley's world is uprooted when she is placed in the care of a foster family, the Murphys. The Murphys provide Carley with care and support, and the novel follows Carley's constant process of learning to understand herself and her place in the world.
Follow Linda Simpson on Twitter: www.twitter.com/LinSimpson66