How To Make Juicy Greek Turkey Burgers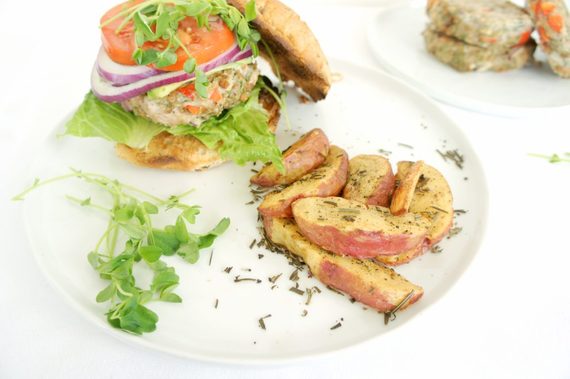 With Canada Day (or Independence Day for my American friends) just around the corner, I knew I needed to arm you guys with my favorite burger recipe. Being in the middle of the glorious summer weather, Canada Day celebrations always include a BBQ of some sort for us, and who doesn't love a good barbecued burger?!
I love making mine with ground turkey, but it can get a bit dried out, so I'm sharing my trick with you guys for the perfectly moist, juicy burgers, no matter what kind of meat you're using. I love the addition of fresh herbs to up the flavor and give an extra nutritional boost. This recipe uses fresh dill, which has the ability to neutralize particular carcinogens from forming. This doesn't mean throw all caution to the wind and char your food to oblivion, but it never hurts to add a little extra health protecting ingredients!
If you're not quite feeling like the BBQ pro yet, be sure to check out my Healthy Grilling Guide for tips on what to grill, how to limit formation of harmful carcinogens and the best tools to get you all set up!
Throw this Kale Caesar Salad on the Side, and maybe a scoop of this Lightened up Creamy Red Potato Salad and you're set!
Happy Canada Day!!
Greek turkey burgers
Serves 4
*Freeze any leftover patties
Ingredients
- ¼ cup milk
- ¼ cup bread crumbs
- 1 lb lean ground turkey
- 1 small clove of garlic, minced
- 2 Tbsp. fresh dill, chopped
- ½ red pepper, diced into small pieces
- ¼ of a small red onion, diced
- ¼ cup feta cheese, crumbled
- 1 tsp dried oregano
- 1 large egg
- 4 whole grain hamburger buns * alternatively can wrap patty in lettuce as your "bun" for a lighter meal
- Coarse salt and freshly-cracked pepper (approx ¼ tsp each)
- Additional topping suggestions: small dollop of tzatziki, thinly sliced red onion, spinach, cucumber, fresh tomato.

Directions
1. Add the breadcrumbs and milk to a small bowl and let the crumbs soak up the milk for 5-10 minutes (* This is the key to moist, juicy burgers! Soaking the crumbs in milk first prevents them from soaking up the juices from the meat).
2. In a medium-sized mixing bowl, combine the ground turkey, garlic, dill, red pepper, onion, feta, oregano, egg, salt and pepper. Gently fold in all ingredients, being careful not to over mix as this will make for tougher burgers.
3. Shape the mixture into four evenly-sized patties, pressing the middles down with your thumb to make a small dip in the center.
4. Cook the burgers on a BBQ or in a non-stick pan over med-high heat, 5-6 minutes each side or until no longer pink inside.
5. Meanwhile, Lightly toast buns. When burgers are ready, fix your bun with desired toppings and burger patty. Serve and Enjoy!
Need help with weekly meal prep and planing? Check out my 3-2-1 Method Program for all the tools you need for successful meal prep.
For more recipes and kitchen inspiration, check out www.lindsayjang.com or find Lindsay on Instagram here or Facebook.
Want a free copy of "Lindsayjang.com Top 10 Recipes Cookbook"? Click here for your free instant downloadable copy!
Follow HuffPost Canada Blogs on Facebook
ALSO ON HUFFPOST:
French Canadian Tourtiere Get the recipe from All Day I Dream About Food.

Caprese Salad Get the recipe from Roxy's Kitchen.

Lobster Poutine Get the recipe from The Girl On Bloor.

Cherry Tomato Tarte Tatin Get the recipe from The Veg Space.

Gluten Free Fried Chicken Get the recipe from Gluten Free On A Shoestring.

Crab And Balsamic Strawberries Salad Get the recipe from Lins Food.

Great Canadian Potato Salad Get the recipe from Living Lou.

Vegetarian Pasta Salad Get the recipe from Fit Slow Cooker Queen.

Maple Meatballs Get the recipe from Real Mom Kitchen.

Mini Bacon Guacamole Cups Get the recipe from All Day I Dream About Food.

Not-A-Beaver Pork Schnitzel Beaver Tail With Maple & Cherry Sauce Get the recipe from The Primal Desire.

Pulled Beef Poutine Get the recipe from Dinner With Julie.

Raspberry Quinoa Salad Get the recipe from Haute & Healthy Living.

Roasted Red Pepper Hummus Get the recipe from Gal On A Mission.

Smoked Salmon And Egg Yolk Spread Get the recipe from J Kitchen.

Smashed Chickpea Salad Sandwich Get the recipe from Vanilla And Bean.

Spicy Dijon Potato Salad Get the recipe from Now You're Cookin'.

Tuna Mozzarella Stuffed Cherry Tomatoes Get the recipe from An Italian In My Kitchen.

Canadian Red, White & Bacon Skewers Get the recipe from Jo and Sue.

Watermelon Feta Chili Salad Get the recipe from Nutritionist Meets Chef.

Potatoes With Pickled Beets & Lime Vinaigrette Get the recipe from She Likes Food.
Follow Lindsay Pleskot on Twitter: www.twitter.com/LindsayPleskot