These Delicious Hangover Cures Will Give You New Life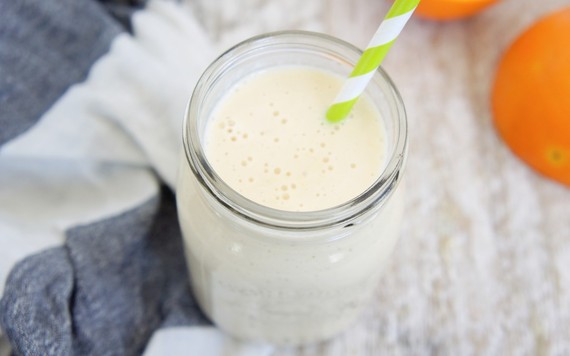 Orange-ginger hangover cure smoothie.
I hope you've all been enjoying an amazing holiday season filled with lots of laughs, love and, of course, good food. As we prepare to ring in the new year, and on the heels of my Ginger Kombucha Moscow Mule to help you ring it in, I've come prepared for you guys. The perfect recipe to have in your back pocket, just in case...
Now this isn't just a hangover cure smoothie. Even if you wake up feeling chipper as ever, it's still a great way to get the year, or any day for that matter, started on the right foot. It's packed with tons of nutrients for a healthy gut, glowing skin and energizing fuel.
If you do happen to wake up January 1 feeling less than stellar, this is definitely the answer.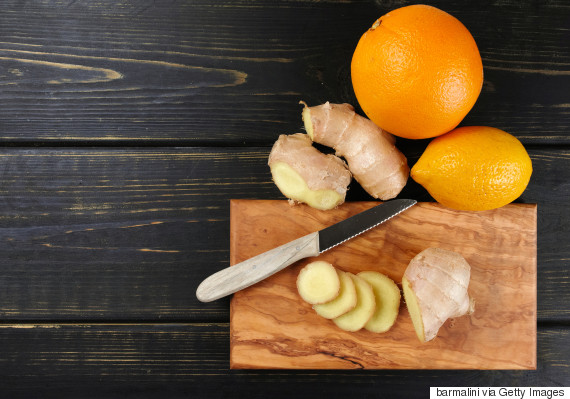 I know they say that the best thing to do is prevent a hangover in the first place, but if you're coming back to this, it might already be too late. I've put together this hangover-curing smoothie to help you get back on track and feeling like yourself again so that you can get excited for everything this year has in store!
If part of your plan to kick off the new year includes getting back to some healthy home cooking, join me here and I'll show you how to get your weekly meal prep done in just one hour.
Hangovers often leave you with a combination of less-than-desirable symptoms. Nausea, stomach upset, headache... no thanks. These are the result of a combination of factors including dehydration, low blood sugars, and inflammation caused by alcohol byproducts and our bodies trying to metabolize them.
Nausea, stomach upset, headache... no thanks.
Although there's no guarantee of a diet that will cure you of your pain, you may be able to offer some relief by loading up on the following.
Hydrating fluids
Alcohol triggers the loss of fluids from our bodies which is often responsible for the pounding headache and feeling groggy and lethargic. Water is a great option, and so are electrolyte-rich drinks like sports drinks or fresh, 100 per cent fruit and vegetable juices.
If you prefer something warm, teas are a good option. See below for my top tummy-taming picks. Broths are another way to get some fluids and salt (which helps you to retain those fluids) into your body.
Fructose
Fructose is a natural sugar found in fruit that may play a role in speeding up alcohol metabolism. Fruits that are particularly high in fructose include pears, apples, cherries, mangoes, bananas and pomegranate seeds.
Vitamin C
This antioxidant helps fight off free radical damage to cells that can be caused by alcohol. Vitamin C rich foods include oranges, strawberries, bell peppers and broccoli.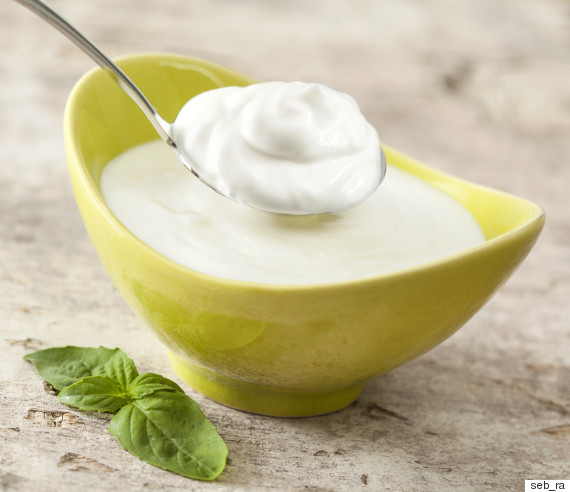 Greek yogurt with mint.
Gut Friendly Foods
Try ginger or peppermint tea, or blending any of these ingredients into smoothies or fresh juices:
Greek yogurt has probiotics that support the healthy bacteria in your gut for good digestion
Ginger is a tried-and-true staple to soothe stomach upset and relieve nausea
Peppermint is another good option to soothe indigestion, although you might want to skip it if you're experiencing any reflux or heartburn (it can make it worse)
Healthy Fats
Plant-based fats like avocados or nut butters can help stabilize blood sugars.
Other considerations
You may consider taking a vitamin C or B complex supplement before going to bed and upon waking. Although evidence is limited, drinking alcohol does deplete our bodies of these nutrients, so supplementing may prove beneficial
Orange Ginger Hangover Cure Smoothie
Serves 1
Ingredients
- 1 banana, frozen is best but fresh will do too
- 1 orange, frozen or fresh
- 1 cup of 0 per cent plain Greek yogurt
- 2 tsp ginger, minced
- 1/2 cup of cold water or cold green tea
- 1 tsp vanilla
Directions
1. Place all ingredients in a blender and blend until smooth, about 30 seconds.
Sit back and enjoy!
Follow HuffPost Canada Blogs on Facebook
Also on HuffPost:
You're still drunk from Carnage, stumbling to your bed, but know you're going to wake up feeling like death and miss all of your lectures. A good sleep will solve it, you tell yourself. You are wrong.

The morning hath arrived, and as you peel open your mascara glued eyes to the full glory of the day at the library ahead of you, you feel...sick. Very sick. Downing every drop of water within the vicinity is the only plausible option.

What did I do? Where did I go? Why did I go there? Why am I in bed with a discounted student meal deal and a member of the rugby team?!

You manage to drag yourself out of the bed and into the light, pick up your phone to text a friend and lo! You've got 6 texts off your ex and a questionable proposition from an unknown number. THE SHAME.

It's akin to law to assess and analyse the entire events of the previous evening with your housemates. Whilst you find out some juicy gossip you also unfortunately have to endure the torture of hearing about your own antics with members of various sports teams. Cue judging looks and hysterical laughter.

You've been awake for a total of 2 hours now: time for a nap.

Whilst clutching a bottle of water and downing a Starbucks you vow to never again touch the sweet evil that is Tesco Value vodka. You also say that you're going to start eating kale, and then remember that you have plans that evening. Did someone say wine?

Everyone else is going out so why shouldn't you? You're only going to have one or two anyway: you've got lectures tomorrow morning and you've learnt your lesson. Ooh, is that a cocktail?!
Follow Lindsay Pleskot on Twitter: www.twitter.com/LindsayPleskot