An Ode to the Man Who Fathered CSIS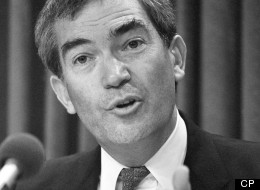 Robert Kaplan who had been Solicitor General and a Liberal MP for years passed on last week. I met him first in 1958 can you believe it when we were among a group of students at a World University Service of Canada seminar in West Africa. Suddenly a group of busy-body appetitive big-people-on campus found themselves with the remarkable privilege and challenge of some weeks in an ancient civilization brand-new to virtually all of us. We were first in student housing in London for a week of orientation and then another in Ibadan and Lagos and finally the University of Gold Coast of course now Ghana.
Almost everyone was new to everyone else but Kaplan made an immediately firm and intriguing impression on me during a tentative somewhat fussy discussion the Canadians and the Nigerians were having one afternoon at the University of Ibadan.
We were all issuing opinions about life and the future and whatever ailed us -- earnest student stuff. When the discussion turned to matters of family I produced a whiny pedestrian aria sung in the most dischordant notes of bad graduate school social science. Was it not grippingly terrible that people got divorced!!! I expected this would instantly depress our group and our Nigerian hosts for the rest of our trip.
But not Kaplan. He listened with appropriate patience and then with confident and muscular clarity said "You are wrong. Divorce is a sign of freedom." I realized that this was the quick statement of a serious person operating with a lot of oxygen and a good running stride, and my impression is he did this forever after Nigeria. Not only that, he had an attitude of warm amusement about things which was delivered often with a smile and big eyes which were charming and disarming.
One of the faculty participants in the seminar (though the dictator Duplessis refused to let him teach in Quebec) was Pierre Trudeau -- a fact which must surely have had some connection to Bob's political career and the lives of others in the group, such as Timothy Porteous who wrote speeches for the Prime Minister and Donald Johnston who served admirably as an ambassador for trade. I happened to be sitting next to PET on the flight to London and when we were served cereal for breakfast. I informed him that "Cereal is just breakfast soup" which he reminded me of for years thereafter. I think he enjoyed violated categories.
Since I no longer lived in Canada while Kaplan was Solicitor General, I'm not clear on how effective he was and how well he stood against the metric of progressive world improvement. But I would see him from time to time in Ottawa or Toronto, and throughout his ministerial career he seemed to employ the same crisp sense of scrutiny reflected in his comment about divorce and retained his sense of the frailty of human arrangements. I wrote some books and to my surprise -- he was busy busy -- he wanted to talk about what was in them and what he thought I had left out. And he was always witty and acerbic-without-meanness as well as an eager companion for the meals a busy fellow could snatch.
And near the end, when he was in New York for treatments at Sloan-Kettering, he would nonetheless have small parties for his friends and any relatives passing through town and everyone loved him for his spirit and commitment to vivacity.
And did I mention funny? One year there was the 25th anniversary of our WUSC seminar which was to be celebrated in Ottawa. Inasmuch as one of our number was now Prime Minister and could provide us modest entertainment, that was arranged.
Timothy Porteous organized Kaplan and me to go in Kaplan's car. That Jeep-like vehicle looked as if it had been on overtime in a construction site experimenting with various kinds of mud. Bob was driving and we pulled up to 24 Sussex Drive. There was a Mountie at the gate. Bob rolled down the window. The official asked "Are you going to the party?" "Yes" said Bob. "Okay" he said and we drove in.
I remarked to the Solicitor-General what remarkable security surrounded the Prime Minister. "You simply don't understand," Bob laughed. "If I had said no, he wouldn't have let us in."
If a CIA operative were caught, he could choose capture or death by this pin. When twisted the right way, the silver dollar would unleash a pin coated in saxitoxin. Its user would die in seconds from the poison.

Spies aren't usually assassins. But some weapons, like this umbrella, have been used in the field. The assassination umbrella is equipped with a pellet of toxic ricin that will infect and kill its target slowly over the course of a few days. Its last known use was on Bulgarian defector and BBC reporter Georgi Markov in London, 1978.

Spies in Moscow in the 60s had a variety of "dead drops" they could use to secretly pass around notes and other contraband, including these hollow bricks.

Rats' hollowed-out bodies also served as an effective dead drop for money, notes and other contraband being moved around Moscow.

Spies would use fake, exploding coal to sabotage supply lines -- and this paint set to make the coal look real.

In the 40s, spies were using cameras smaller than your smartphone!

Think you could be a spy? Try floating a one-man submarine into Singapore harbor and planting mines on Japanese ships in World War II. Not easy, but this submersible is cool.

And they all fit in this handy dandy sheath.

With these bad boys, you could even get away BEFORE the explosion.

The OSS designed the Beano grenade to feel like a baseball and explode on impact -- rather than bouncing away from its target and blowing up elsewhere.