7 Weird And Wonderful Experiences In The Azores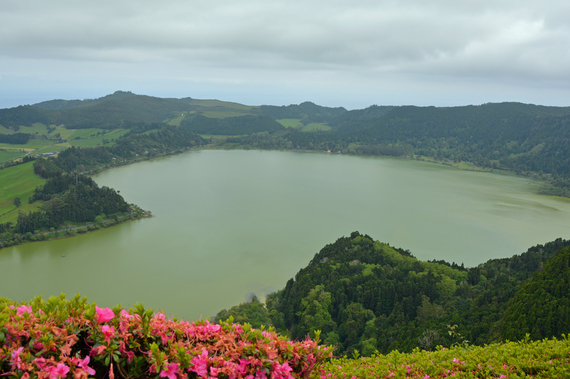 Arriving in the Azores, it feels like reaching an ethereal outer world.
Legend says that these nine lonely islands, 1300 km off the coast of Portugal, are leftovers from Atlantis. In reality, the archipelago was born out of volcanic activity, and first settled by Europeans starting in the 1400s. Since then, the Azores have flown under the radar for many travellers, partly due to their distance.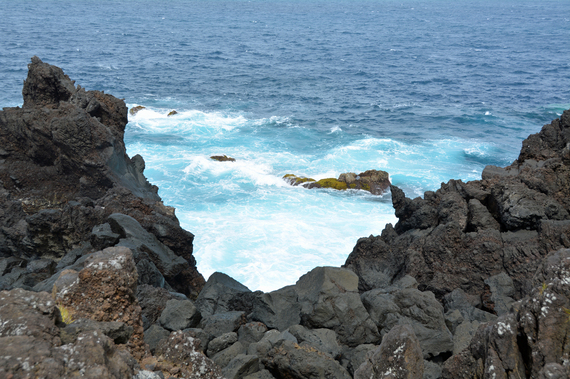 But it's well worth the trek: the "Hawaii of the Atlantic" is teeming with wildlife, outdoor adventure, spa offerings, and incredible gastronomy. It's easy to explore one island, or hop between several, enjoying a plethora of activities and sights. Before you go, here are a few weird and wonderful experiences to be had in the Azores.
1. You can eat lunch cooked by a volcano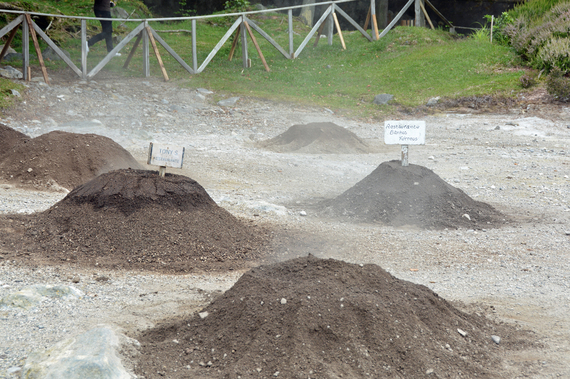 Every morning at dawn, locals drive to the Furnas Valley with cast-iron cauldrons filled with a hearty stew. Gently, the pot is lowered into a hole in the earth using a rope. Then, the pit is sealed with a wooden cover.
This is how lunch is cooked on Sao Miguel Island. Because here in the town of Furnas (Portuguese for "fire"), locals use volcanic heat to slow cook their stews in the ground.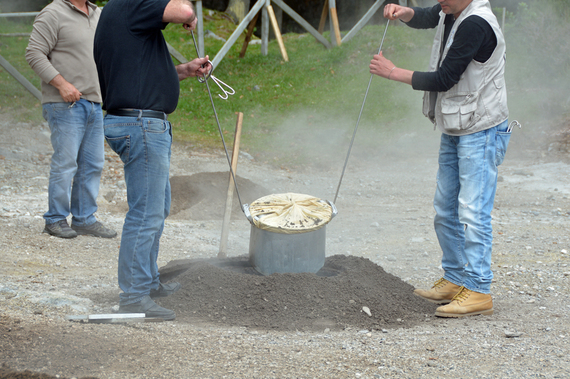 Over six to seven hours, the stew slowly simmers in its own juices at 80 degrees Celsius or higher, until it's roasted and ready at noontime. After the pots are unearthed, the stew is transported to nearby restaurants, where hungry bellies await.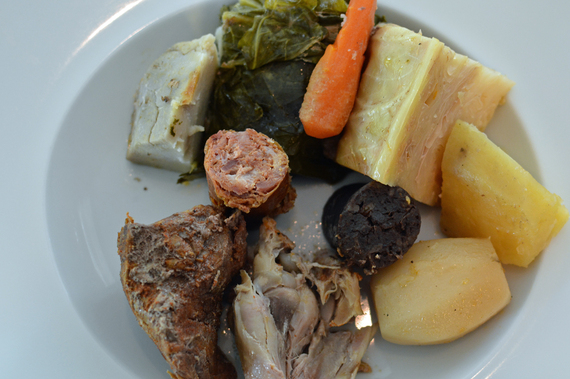 At the Terra Nostra Garden Hotel, stick a fork into the stew and feast on tender meats and vegetables.
2. Venture inside the chimney of a volcano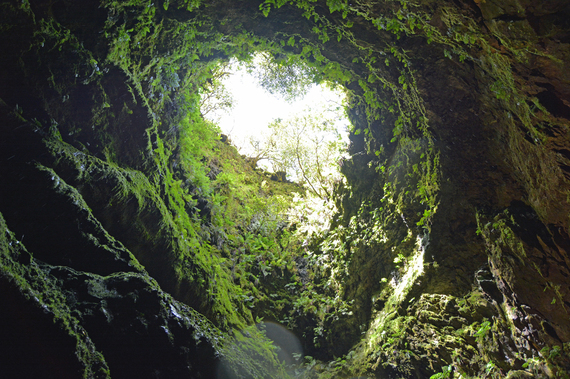 On Terceira Island, the Algar do Carvão is the world's only extinct volcano where you can enter the cone. Descending a steep staircase, you enter a chamber embossed with ancient stalactites and stalagmites, as well as a shimmering lake at the bottom.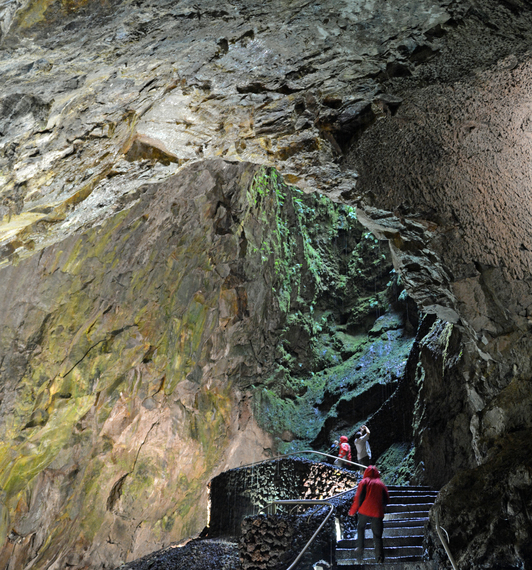 The hot magma drained from the chimney thousands of years ago, but left behind magnificent geological artwork. Performances are held in the cave on special occasions, showcasing the amazing acoustics of this natural concert hall.
3. Feast on barnacles, sea snails, and other ocean critters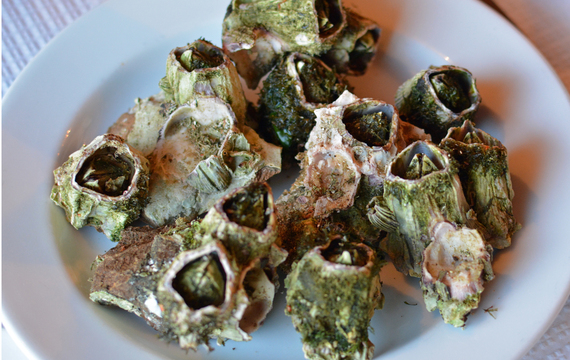 (Above: A platter of barnacles at Restaurant Beira Mar)
It's an "under the sea" buffet on any Azorean island, with chefs featuring endless marine delicacies -- some of which you've likely never tried.
On Terceira Island, barnacles aren't just for pirates. The Restaurant Beira Mar serves a giant platter of these green crustaceans filled with tender, sweet meat.
Or go to the jam-packed Petisca Tidbit House on Pico Island. The waiter delivers a sumptuous plate of erva-patinha (seaweed) and grilled limpets (a sea snail) sautéed in garlic, onion, butter, and spices (below).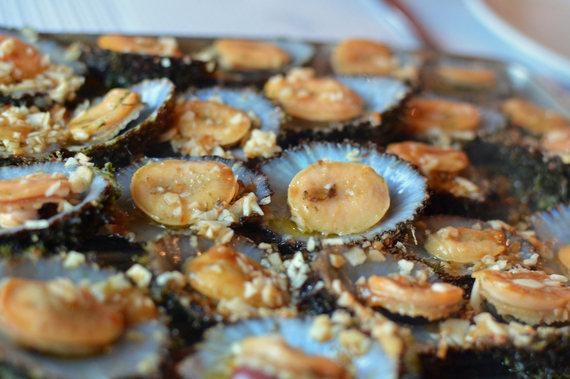 For something more vanilla, order a "Fish on a Stick" - skewered shrimps and white fish dangling from a hook - at the Restaurante Marisqueira Ancoradouroorde on Pico Island (below). You'll want to spend the entire lunch hour playing with your food.
Or take your pick of grilled seafood at
Restaurante Genuíno, considered by many the best restaurant on Faial Island. The dishes are incredible and inspired by the Portuguese chef's multiple sailing expeditions around the world.
4. The cheese is a world champion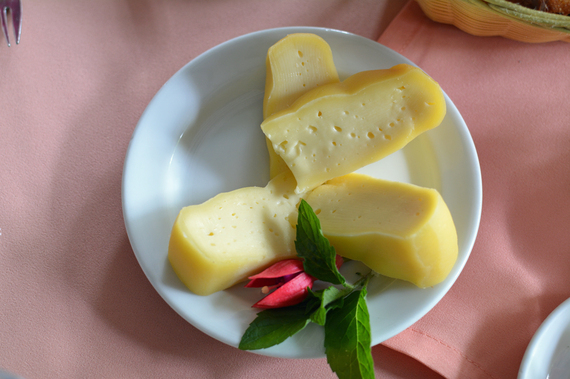 There's one dining tradition that no one balks at: meals always begin with Azorean cheese. Slices of Sao Jorge Island cheddar with little honey pots are served at tables in restaurants. Savour each slice now: this yellow, semi-hard cheese is coveted worldwide for its creamy texture and buttery flavour. It's believed that the cheese-making tradition dates back to the 1400s, when Flemish settlers first inhabited the islands and got their cheese on. When in the Azores, do like the locals and drizzle honey on each piece -- it adds a dash of sweet to the salty.
5. It's an awesome spa-cation destination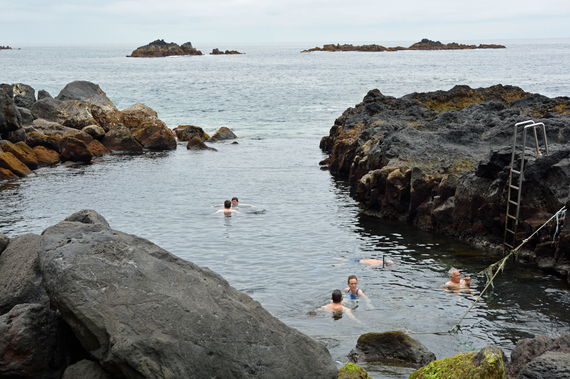 (Above: Ponta da Ferraria)
No matter which island you visit, getting Zen is guaranteed. The Azores have been a popular spa destination since the sixteenth century, renowned for their geothermal springs, waterfalls, and iron water pools.
For starters, how about unwinding in a hot spring adjacent to the Atlantic? Surrounded by ocean and black boulders, Ponta da Ferraria is a natural swimming hole fed by a hot spring. Cool and steamy waters ebb and flow with the tide, and you may even catch a glimpse of (harmless) sea critters in the waves.
For a less rustic experience, book a treatment at luxurious Furnas Boutique Hotel Thermal and Spa, and then float in one of the geothermal pools (above).
6. Their wine has been trending since the 1400s, a favourite among Russian Tsars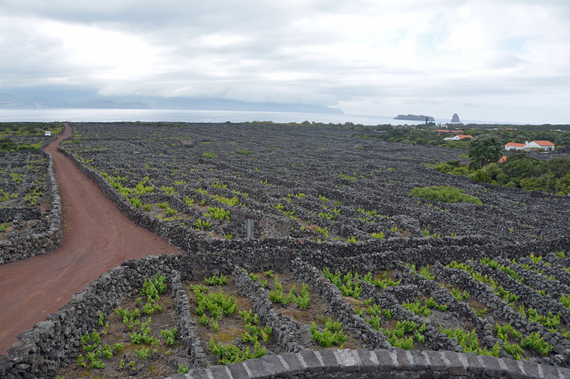 No one in the world makes wine like the Azoreans. Arriving on Pico Island, it may not look like wine country: a 2,350-metre volcano rises from the centre, usurping the landscape. The rocky, volcanic terrain is coal black, and a salty breeze gusts over the isle. Seemingly poor conditions for grape-growing.
Remarkably, locals have learned how to grow grapes in lava rock, producing sensational red and white wines. The grapevines are planted along the coastline and protected by walls of black stone laid out in plots. The walls trap in warmth and shield the plants from wind and salt spray, creating a microclimate ideal for ripening.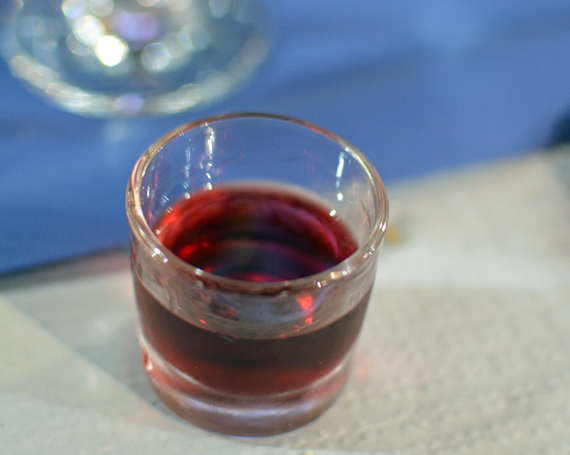 Today, these black walls represent the biggest stone networks built by humans, and the wine-growing practice is so unique that it's now a UNESCO World Heritage Site. Get a taste by taking a wine and biking tour with A Abegoaria.
7. Take a crater walk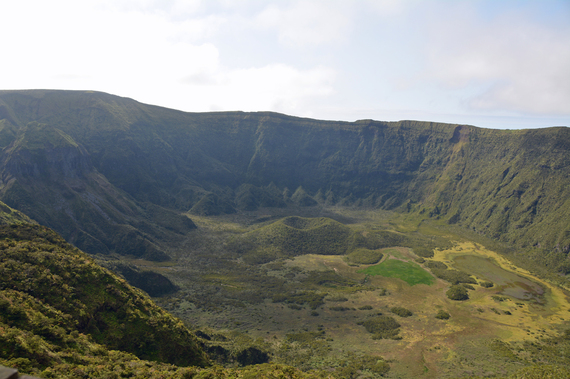 Forget scaling Everest. How about hiking the outer rim of a volcano? On Faial Island, bring a picnic lunch and trek the 7 km lush trail skirting the crater that's 2 km wide and 400 metres deep. Along the way, you'll see the villages on the north coast, rare flora blooming, and if it's clear, the volcano's chimney poking out of the crater.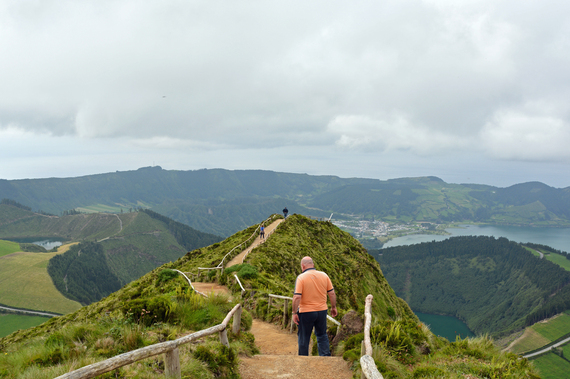 (Above: Hiking on Sao Miguel Island)
For more travel inspiration and advice, mosey on over to Eat Drink Travel Magazine. Get more ideas for planning your trip at Visit Azores.
Follow HuffPost Canada Blogs on Facebook
ALSO ON HUFFPOST:
Best Travel Destinations For Canadians
Best time to travel: April, May, September, October Average price: $700 to $900 Why you want to go: Even if the Euro scares you more than the U.S. dollar does, Spain is still considered a budget-friendly country with low accommodation costs. "Spain has something for every traveller's needs whether it be a relaxing beach vacation in Malaga, exploring the Alhambra Palace in Granada or visiting the famed Sagrada Familia in Barcelona. Spain is also famous for their tapas and you can get tapas and drink for $5," says Rishi Modi of travel deal site Next Departure.

Best time to travel: April, May, September, October Average price: $700 to $900 Why you want to go: For Canadians, Lisbon is one of the cheaper European cities to fly into. "It's a lively city with delicious seafood and cheap drinks. Take advantage of its inexpensive public transit to visit the historic Sintra, go to a winery in Porto and enjoy the Mediterranean weather on a beach in Faro."

Best time to travel: December to March Average price: $900 to $1,200 Why you want to go: Getting to Thailand can be pricey depending on the time you go, but once you're there, everything can fit into your budget. "Food from street vendors and markets costs you $4 to $5 and accommodations can run you as low as $20 a night [depending where you stay]. Thailand has tons of attractions to offer travellers, from trekking in the jungles of Chiang Mai to relaxing on tropical islands like Ko Samui."

Best time to travel: October to May Average price: $900 to $1,200 Why you want to go: Marrakech was named Tripadvisor's number one destination in 2015, according to travellers. "Explore the ancient palaces, shop in the markets of Marrakech and stay overnight in the Sahara desert. Food is inexpensive in local restaurants and street stalls, while accommodations are reasonably priced."

Best time to travel: Depending if you go north or south, you want to avoid cold or rainy seasons. Late December is usually the best. Average price: $900 to $1,100 Why you want to go: If you're an urban explorer or nature lover, Vietnam offers both. "Vietnam is another South Asian destination that continues to be budget-friendly with beautiful sights, including cruising along Halong Bay and visiting the rice terraces. Food is remarkably cheap — a meal and beer can cost under $3."

Best time to travel: April, May, September, October Average price: $900 to $1,100 Why you want to go: If you want to go to Europe and still have spending money, Modi suggests avoiding popular destinations like France and Italy and opting for Eastern Europe instead. "From Hungary to Romania to Bulgaria, these Eastern European countries are rich in diverse culture and its modern and historical architecture."

Best time to travel: April, May, September, October Average price: $700 to $900 Why you want to go: "Peru is known for its geographic diversity, from exploring the vast Amazon jungle to hiking the Inca Trail to relaxing on the beach coast," he says. But Peru's most famous attraction is the ancient site of Machu Picchu — a must-see if you decide to go to this South American country.

Best time to travel: April, May, September, October Average price: $1,000 to $1,200 Why you want to go: Indonesia has thousands of islands and Bali is one of the most luxurious and popular ones. "Food and hotels are extremely cheap, where you can enjoy tasty meals from $1 to $2 and spend as little as $20 per night on accommodations." However, if you do plan on renting out a villa or eating on Seminyak's main tourist strip, it can feel like dining and living in a major Canadian city.

Best time to travel: January to March; September to November Average price: $600 to $1,000 Why you want to go: If you haven't been to Cuba, you probably know several Canadians who have — the Caribbean island is one of the most popular beach destinations for Canucks. "All-inclusive packages are affordable and offer a bang for your buck. If you're really flexible, you can often find last-minute cheap deals on flights and all-inclusive packages."

Best time to travel: January to April; September to December Average price: $350 to $650 Why you want to go: We're not saying you should head to pricey destinations like Hawaii or Las Vegas, but some U.S. spots have taken advantage of our falling currency. "Myrtle Beach, Kissimmee, and Scottsdale are starting to offer deep discounts — around 20 to 30 per cent off accommodations, free meal vouchers and discounts off activities. Also, expect major airline carriers alongside the low-cost carriers stateside such as Allegiant and Sprint to offer discounts and seat sales as well." And when you look at your budget as a whole, many U.S. destinations tend to be cheaper than leaving the continent.
Follow Lisa Jackson on Twitter: www.twitter.com/eatdrinktravels