How Your Digital Footprint Can Hurt You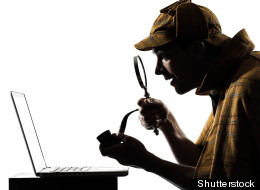 Consider this: anyone, complete strangers included, can tell a great deal about you via your digital footprint; that is, the trail you leave behind when you share updates, post pictures or check into places via social media. It's very likely you're broadcasting what you look like, where you work, where you've been, who you know, what you like to do, and of course, your opinions on a variety of topics.
As the amount of information shared and consumed online continues to grow -- this is something to pay attention to... as it can either really help, or really hurt your reputation, your personal brand and if you have one, your business.
I've seen business owners and personal contacts tarnish their reputations with a few words or a few clicks, not fully realizing the power of the digital world we now live in. Every picture you post, every status or page you like, and every update you share is essentially announcing to the world who you are, permanently.
Over the past few days alone, I've witnessed two pretty major gaffes take place in my network -- both of which were unfortunate and completely avoidable. In the first instance, a business owner publicly called someone out on Facebook in regards to an extremely personal issue, complete with profanity. In the second incident, a professional who works for a major energy company 'Liked' what could be considered an inappropriate public photo. The action showed up on the feed of everyone who followed them.
Think for a moment of the potential repercussions. Before I do business with or consider hiring anyone, the first thing I do is find their social media profiles and find out what they're all about. Do you swear? Stop. Are you overly negative or regularly posting inappropriate things? Don't do it. Published words, and any online actions for that matter, can easily be misinterpreted, so be careful about how you may be coming across online. Whether it's the language you use or the tone of what you say, every word you type, every action you take online is essentially what you are broadcasting publicly, and permanently.
At the same time, you still want to have a presence. So avoiding the online and social space entirely can backfire too. Many companies, including my own, use search engines and social media to dig up information about potential candidates. What are we looking for? We're hunting down information to potentially validate your resume, to find out if you walk your talk and to learn more about you, as a person. Also, when I'm looking to use the services of another business, especially a business which is tied to a personal brand (as today they essentially all are) I do the same thing. I expect and know that potential clients of mine do the same when trying to find out more about my business.
It's critical now, more-so than ever, to educate our employees, colleagues and especially children, that what they say or do online is permanent. It can be a great opportunity for you to build your brand or prove to be the easiest method of self-destruction. Maybe it's time to do a personal digital analysis on yourself? You may be surprised at what you find... looking from the perspective of an outsider.
7 Ways You Might Be Oversharing On Facebook
Remember when you were having that really bad day and blasted Carly Rae Jepsen's "Call Me Maybe" 23 times on Spotfiy? Yeah... well, we witnessed that low moment via your Facebook profile's ticker, the real-time mini feed located in the upper right hand corner of Facebook pages. If you don't want to share your (possibly embarrassing) musical preferences with your Facebook friends, make sure to turn off the "Share to Facebook" button (at the top right of your Spotify desktop app).

Some Facebook apps, like Socialcam, are designed to make you click on content by using sleazy, eye-catching headlines. "Socialcam's 'trending' videos read like a bunch of crossovers between the 'American Pie' franchise and 'Jackass,'" The Washington Post wrote in June. If you're a SocialCam user, remember that the spam-like titles of videos you view automatically pop up on your profile, so your friends all might know when you've watched "CraZy ThReeSom!" or "Two Wasted Chicks" last week.

Glancing at a juicy article on how Miley Cyrus flashed some sideboob? While this wouldn't phase some Facebook users, others would prefer not to have anything with the word "sideboob" published on their profiles or in friends' News Feeds. Facebook's social reader apps track the articles you read, and with permission you grant when first downloading the app, then post the stories automatically to your wall. So be wary of those scandalous headlines promising half-naked pictures.

Some people love getting birthday wishes via Facebook. But putting your your full date of birth on any social networking site means strangers are privy to information that can be used to steal your identity. If you want to keep your birthday up online, consider taking the safe route and nix the year.

Friends or apps can now tag your location via Facebook. But maybe you don't want everyone to know you're visiting that neighborhood dive bar for the fourth night this week. "There isn't a specific setting to block people from tagging you in a post that includes a location," Facebook's site reads. This means if you don't want your whereabouts known, you'll have to change your Timeline setting to approve all tags before they're posted, or manually remove the tags once they've been published.

Photo-sharing app Instagram is relatively direct in telling you where your pictures are posted. But you might unknowingly be photo-spamming your friend's Facebook feeds by letting the app re-post every picture you "like" onto Facebook. And things could get a little dicey depending on what types of images you view. Luckily this feature is easy to change. Just go into the settings options on your Instagram app, click the "Share Settings" tab and turn off the setting that shares "Liked" photos to your Facebook timeline.

Tagging or naming younger children on Facebook can be a dangerous move. Similar to putting your full birthday on the interent, you could be offering up too much information and enabling a breach of privacy. "If your child isn't on Facebook and someone includes his or her name in a caption, ask that person to remove the name," Consumer Reports advises.
Follow Lisa Ostrikoff on Twitter: www.twitter.com/ImLisaO