Wake The F*** Up To What Your Teen's Doing On Their Phone
Dear Parents...
In case you aren't aware, many of your young teens are using their smartphones to not only send nudes, but to keep nudes to be used as revenge material in the future against their peers.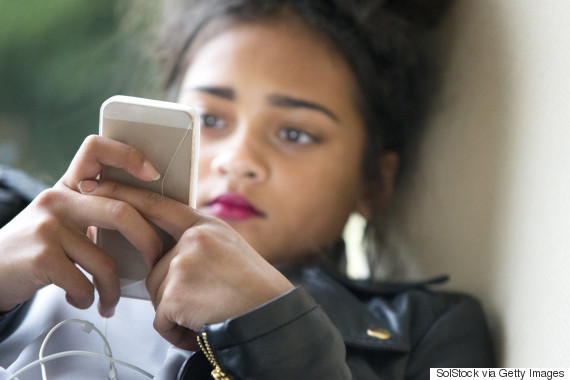 (Photo: Solstock via Getty Images)
1. Nudes...
Can you say child porn? Yep.
2. Revenge material...
Savage.
I get it... life is crazy busy, but how can we be so clueless as to what's happening?
Once, my 13-year-old daughter enlightened me to the fact that at least 50 per cent of her peers were involved in sending nude images and videos, and 80 per cent were involved in saving and further distributing them. I felt a rant coming on and the urgent need to let more parents know what the hell is happening.
So, I flipped my camera around as I was waiting for a soccer game to start and went live on Facebook. At the time of this post, that video has amassed hundreds of shares and 20,000+ views, with hundreds of comments and private messages saying this message needs to get out there more, with many parents sharing their personal stories.
From a boy in Grade 8 sending an ejaculation video to his horrified "girlfriend," to elementary-aged kids watching porn at recess, to boys asking for nudes and racking them up under a points system... the stories tragically go on and on and on.
This is a massive issue whether you live in a small town or a large city. We need to really start paying attention, have this conversation amongst ourselves and with our children. Stat.
Right before I posted this here, my daughter sent me a text saying "omg mom your video is going viral here... one of my friends was getting her nails done and the lady told her about some 'crazy mom' going off about teens sending nudes, and it was the best thing she's seen all day."
Sorry, dear daughter, that crazy mom is yours.
Thank you for having the courage to speak out and communicate with me, so we can let other parents in on what's happening and hopefully save some kids from potential horrific repercussions.
Parents, it's time we clue in.
Talk to your kids. And never stop.
Follow HuffPost Canada Blogs on Facebook
Also on HuffPost:
How To Talk About Bullying
Bullying can be an incredibly isolating experience, and many victims feel that they are alone–that something about them, specifically, has brought this on. Explain to your child that bullying is something that can happen to anyone: boys, girls, preschoolers, high schoolers, kids at large schools and kids at small schools. This means there is a large group of people impacted by bullying, and if we all work together, we can certainly make a difference.

A common reaction to bullying is encouraging the victim to ignore the bully. "They just want a reaction," people say, and if you deny them the reaction, they'll go away. That's not always the case. Sometimes, when the bully realizes they are being ignored, they can feel a sense of power over their victim that can actually make the situation worse.

Asking your child basic questions about their day and their experience at school can help you catch a problem sooner. Ask how a specific class was, or who they sat with at lunch. Ask who is trying out for the team, or who is going to local fair that weekend. These harmless questions tell your child that you care, but they can also help you detect changes in your child's situation that may indicate a bullying problem.

While helping your child prepare a speech or enrolling them in self-defense courses might seem like an empowering solution, you're sending the message to your child that this problem is theirs, and that they have to handle it alone. Instead, discuss what some solutions might be and involve your child in the decision making process.

The National Crime Prevention Council reports that 20 to 43 percent of middle and high school school students have reported being victims of cyber bullying. Encourage your child to protect themselves by following these two guidelines: 1. Never say or do anything online that you wouldn't say or do in person. 2. Never share any information that you wouldn't tell a stranger.

While we'd like to think we know everything about our children and their friends, don't express disbelief if they say someone has done something that shocks you. Your child needs to know that they can trust you. Asking them to provide evidence or saying that someone "would never do that" can come across as you taking the side of someone other than your child. Instead, be as supportive as possible and listen to their side.

A recent study of children ages 9 to 12, showed that 56 percent said that they usually either say or do something to try to stop bullying or tell someone who can help (Brown, Birch, & Kancherla, 2005). Make sure your child knows who he or she can talk to if they have something they want to share, whether that is you, a school counselor, a teacher or a coach.

Explain the importance of keeping online passwords private, even from close friends. Your child may be thinking that sharing a password with a close friend is harmless and convenient, but explain that anyone with their password could impersonate them online and embarrass them. If they insist that the friend would never do that, remind them that the friend could share their password, either intentionally or unintentionally, and someone else would have that same power.

While your first reaction may be to protect your child by calling the parent of the bully or confront the child yourself, this is not always a good solution. Not only is this this rarely effective, it may even prove fodder for additional bullying. Your child wants to feel empowered and involved in the solution, so discuss options with him or her and work together to decide on a plan of action.

Your child may be embarrassed or afraid to talk about what is happening to them. This is normal. Rather than pressuring your child into speaking before they are ready, just make it clear that you are willing to listen and be a source of support for them. Once they feel comfortable, they will know that they can open up to you and seek your advice. Better yet, if you've had this conversation preemptively, before a problem arises, your child will know right away that you can be their partner in finding a solution.

Green Giant's Raise A Giant site includes a page that lets you read letters other parents have written to empower their children. You can write your own letter and explore their other resources, including videos and sharable infographics. PACER's National Bullying Prevention Center site also has a page with resources like informational handouts, fact sheets, educational toolkits, and the "We Will Generation." You can also browse the video page to see if some of their video resources would be helpful for you or for your child. Green Giant's Raise A Giant site includes a page that lets you write a letter to empower your child, but you can also read the letters other parents have written to inspire your talks with your child.
Follow Lisa Ostrikoff on Twitter: www.twitter.com/ImLisaO