Skating Through A Winter Wonderland At Arrowhead Provincial Park
There are few things more Canadian than ice-skating through a forest in February. This past weekend, my friends and I spent a whimsical weekend in the woods at Arrowhead Provincial Park and experienced what has been dubbed as "Muskoka's fairy tale skate."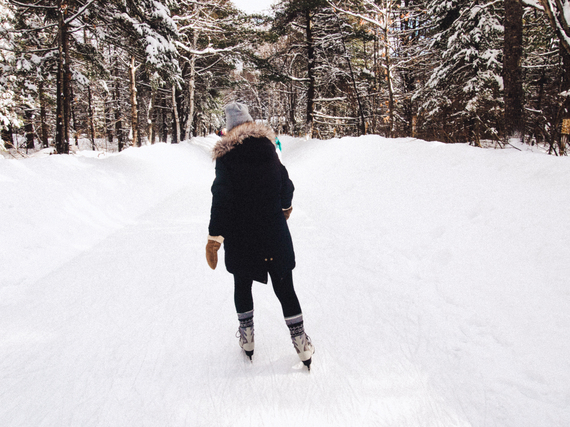 Living in Toronto, I am always on the hunt for weekend escapes from the city, especially to places where I can bask in the beauty of the outdoors. This winter, I was initially interested in checking out the newly opened Woodland skating trail in Lac-des-Loups, Quebec -- a 3.0 kilometre trail about an hour drive from Ottawa. However, I was pleasantly surprised to discover that there was another forested trail even closer to home!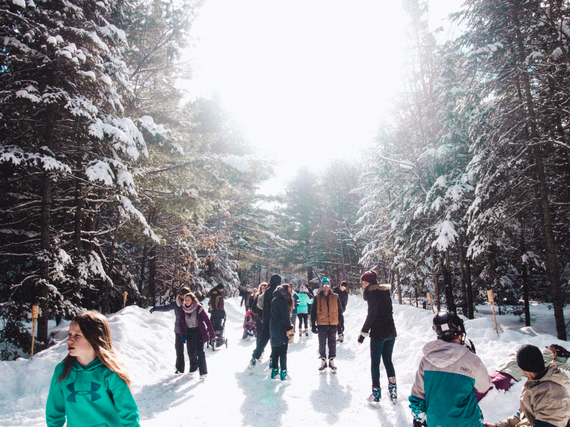 Arrowhead Provincial Park in Huntsville, Ontario opened their ice-skating trail in 2012 and it has since become one of the province's most popular winter activities. This year it was voted amongst the Top 50 Canadian Winter Experiences and named one of the 19 Stunning Natural Ice Skating Rinks Around the World by Travel + Leisure.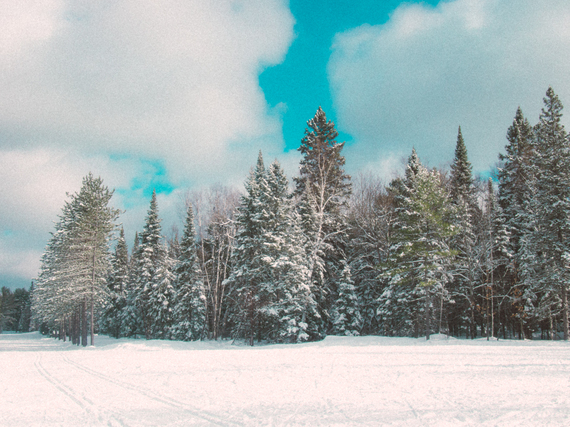 The night before my friends and I arrived, we were hit with a huge snowstorm that blanketed the region with fresh snow. I was worried that the blizzard would continue throughout the weekend, however the sun came out on Saturday and created picture-perfect conditions. Skating under a thicket of evergreens with the sun sparkling through the trees made it truly feel like an enchanted forest.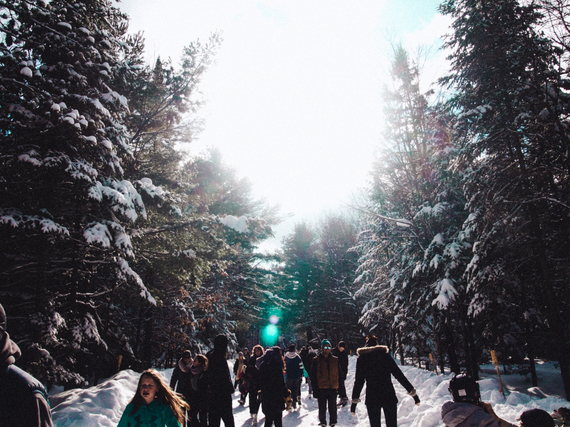 The skating trail is 1.3 kilometres long, which was shorter than I expected, but didn't diminish the experience. The park gradually got more crowded later in the afternoon, but when we first arrived we had stretches of ice to ourselves. After warming up the rusty twinkle toes and attempting some fancy footwork, I couldn't believe it when someone mentioned that we had been skating for nearly three hours.
Time flies when you're having fun (cliché, yet true). Afterwards, we stayed at an AirBnB in Huntsville, about a 20-minute drive from Arrowhead, and for the rest of the night we played games, made a big family-style dinner, drank wine and ate s'mores.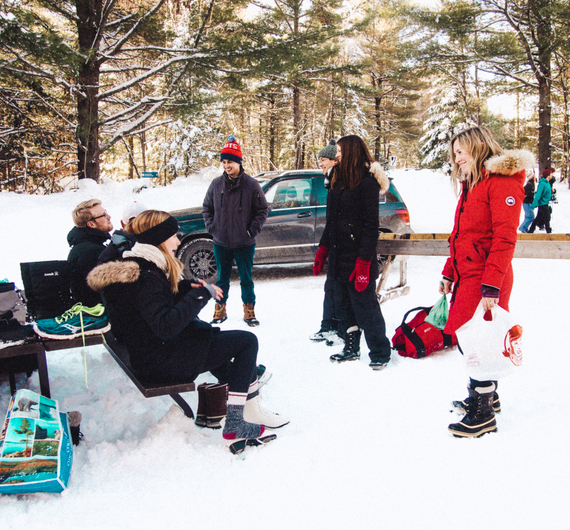 Coordinating busy schedules during the week can be a challenge, especially when it's so tempting to hibernate until spring, but planning a snowy weekend getaway to Arrowhead Provincial Park was worth the three-hour drive! It was an incredible weekend to catch up with old friends and we were able to check off skating through a forest on our winter bucket lists.
Arrowhead Provincial Park from Louise Johnson on Vimeo.
If you're considering a weekend trip, here are some helpful hints:
Getting There
Driving from Toronto, we took the 400 to HWY 11 (Arrowhead Provincial Park is 7 km north of Huntsville)
Take Exit 226 and turn right onto Arrowhead Park Road
After a long winding road you'll arrive at the Park Office
$17 flat rate for a park permit (includes parking and skating) and they'll direct you to one of the open parking lots
Ice Skating Trail Tips
Trail opens at 11 a.m. (arrive early to avoid a line up getting into the park!)
Check out the Ontario Parks website for their Fire and Ice Nights where the park stays open from 6-9 p.m. for a torchlight skate through the forest
Plan a weekday trip if possible, they often hit capacity on weekends so plan to arrive when they open (Sunday is generally less busy than Saturday)
Other Winter Activities at the Park
Tubing (only park-provided tubes are allowed on the hill, no toboggans)
Cross-country skiing (this seemed to be very popular!)
Snowshoeing: 8+ km of marked snowshoe trails
Hiking
Where to Stay
Arrowhead offers cozy camp cabins but they tend to fill up on weekends
The eight of us rented an AirBnB in Huntsville, about a 20-minute drive from Arrowhead. We drove to the park first for skating and then checked into our AirBnB later in the afternoon once the park started to get busier.
Follow HuffPost Canada Blogs on Facebook
Also on HuffPost:
15 Great Canadian National Parks
Where: British Columbia The earliest threads of Haida culture can be traced back 12 millennia to this spectacular rainforest. Its moss-draped cedars, soaring Sitkas and ancient totem poles are jointly protected by Parks Canada and Haida Nation. Look up and you may see eagles soaring above its skies.

Where: Alberta Canada's very first national park spans 6,641 sq. kilometres and boasts mountains, valleys, forests, rivers, meadows and glaciers, making it one of the country's top tourism magnets.

Where: Northwest Territories In Inuvialuktun, Aulavik means "place where people travel." Here, a spiraling 12,000 sq. kilometres of protected Arctic lowlands is home to the highest density of muskoxen in the world.

Where: Nova Scotia Here visitors will find the famed Cabot Trail hugging rugged and rust-coloured cliffs. Whales are a common sight off in the Atlantic, the same water where local merchants pull fresh lobster, crab, and oysters out for lunchtime fare.

Where: Quebec Right at the tip of the province's Gaspé Peninsula, Forillon Park overlooks the Gulf of St. Lawrence and the Bay of Gaspé where thousands of birds and colonies of seal can be found on its steep cliffs.

Where: New Brunswick On its coast, the park is home to the world's highest tides — allowing visitors to walk the sea floor when they recede. Inland, waterfalls and yurts await discovery for those who venture inland.

Where: Newfoundland and Labrador Declared an UNESCO World Heritage Site, this western part of Canada's easternmost province promises dramatic fjords that highlight a "rare example of the process of continental drift." Pristine lakes and treks up to its alpine highlands offer incredible panoramic views of its ancient landscape.

Where: Alberta Called the "gentle giant of the Rockies," 97 per cent of the 11,000 sq. kilometre park is protected wilderness. Well-kept trails invite visitors keen for outdoor adventure.

Where: Northwest Territories Made a UNESCO World Heritage Site in 1978, this is one of North America's most spectacular rivers is marked with spectacular waterfalls and a unique limestone cave system.

Where: Ontario Carrying the title of Ontario's only wilderness national park, this rugged landscape offers visitors 1,878 sq. kilometres of rugged stretches of the Canadian Shield, boreal forest, and Lake Superior vistas.

Where: British Columbia West Coast beach lovers, unite. This coastal shoreline on the western edge of Vancouver Island brings together both sandy and rocky beaches and a mountainous horizon for those who yearn to be closer to the Pacific.

Where: Prince Edward Island Who wouldn't like biking alongside red cliffs and wind-sculpted dunes on a seashore path? In summer, the Island's gentle rolling hills, grown with tall blades of grass, catch the wind and breathe life into its pastoral landscape — bringing satisfaction to those seeking calm.

Where: Newfoundland and Labrador Here lies Canada's most easterly national park. It boasts both dense forest and a gorgeous coastline carved with 12 extensive hiking trails to thrill nature lovers.

Where: Alberta Located in the province's northeastern region, crossing into the Northwest Territories, is the country's largest national park. Spanning 44,807 sq. kilometres, the UNESCO Heritage Site is larger than all of Switzerland. The area protects the country's remaining bison herds and highlights the beauty of Canada's Northern Boreal Plains.

Where: British Columbia Nestled in the western slopes of the Rocky Mountains, this area of land is named after a Cree expression for awe and wonder. And it lives up to the name. Visitors can witness its steep slopes and flat valleys carved from Ice Age glaciers. Make sure to draw deep breaths to take in the cool alpine air.
Follow Louise Johnson on Twitter: www.twitter.com/lcjohns89