Announcing Adopt-a-HuffPet!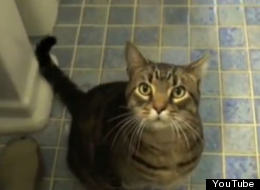 Huffington Post Canada is pleased to announce, in conjunction with the organization C4P Animal Rescue, the launch of Adopt-a-HuffPet. Each week we will feature adoptable rescue pets eager to find a loving home. Click on the pet below for information about the animal Pets will be chosen from shelters across the country. If you wish to find out more about available rescue pets in your area, please visit C4P Animal Rescue.
For more information about these cats contact Heather at Urban Cat Relief.
For more information about Nelly the dog please contact Adopt-a-dog/Save-a-life at 416-787-3862.
Want the most unique cats ever? Meet Seth & Spencer, a young, bonded pair of (moderate) CH cats. Cebellar Hypoplasia is a non-progressive neurological condition that results in balance problems. They are mobile and use the litterbox with ease. They do wobble and fall, but can also run, sit, and groom. They love to wrestle, play in their tunnel, and sleep in their cat beds. Seth is extra cute: as a polydactyl kitty, he has an extra toe on each front foot! Both are alert, happy cats, barely one year and not big boys at all. They are bonded brothers and should be adopted together. Neutered, vaccinated, and well socialized, they are available for immediate adoption. Many CH cats are put down because people believe them to be in pain and they are not. Seth and Spencer deserve live long happy lives just like any other cats. Contact Heather at Urban Cat Relief if you'd like these two unique brothers. www.urccats.com 905-924-2312

Nelly is a beautiful five-year-old German Shepherd. She came from a shelter in Southern Ontario where she was surrendered, as her previous owner was a senior who passed away. Nelly is now being fostered with a family in Toronto. She is in excellent health and weighs about 80 pounds. Nelly is friendly with people; it is clear her owner loved her. We have learned that she was used to a quiet and calm neighbourhood. Nelly is very overwhelmed by the noises and activity of Toronto. Ideally, we are searching for a home that is located in a quiet neighbourhood or rural area. Nelly is house-trained and very well behaved in the house. She is used to being the only dog, but has been fine with other dogs visiting her foster home. Nelly is spayed and her vaccinations are up to date. For more information about Nelly please contact Adopt-a-dog/Save-a-life at 416-787-3862.