Leaving My Severely Disabled Son To Go On Vacation
Raising three children includes non-stop planning, organizing, supervising and worrying. And because one of my kids is severely disabled, the planning, organizing and supervising takes on a whole new meaning. And the worrying, well, that's off the charts. Jacob, my 14 year-old son was born with a rare neurodegenerative disorder that impacts all aspects of his daily life, including walking, talking and eating.
For the past few years, Jacob's primary health challenge has been breathing -- it's agonizing watching and listening to my firstborn struggle to inhale, seeing the colours of his lips change from a healthy pink to a terrifying shade of blue.
But I adapt and what initially seemed overwhelming eventually settles into a routine of sorts. I often coach him to "get your numbers up" (a reference to encouraging him to breathe deeply to increase the levels of oxygen in his blood), talking him through the times when his eyes plead for help, confirming that he needs me to snake a 25 cm plastic tube into his airway and clear the secretions that are making it difficult for him to breathe.
I know I have no choice but to deal with the crap that comes with having a child so medically fragile that the only predictable thing in his life is that his health is unpredictable.
Ensuring his medications are properly administered (the errors that have occurred are mind-boggling), making sure we don't run out of distilled water for his oxygen concentrator and BiPAP machines, confirming nurses are scheduled to arrive are just some of the constant items on my to-do list that never ends. Appointments are made with the understanding that they might be canceled at the last minute if Jacob is too weak to leave the house, or if he can't sit in his wheelchair because he is having too much trouble breathing.
Our friends know that our plans are tentative, dependent on Jacob's health status, and Jacob's swim instructor knows that a last minute cancellation is always a possibility. It's been almost a year since Jacob last attended school, his immune system too weak to risk exposure to even a simple cold. Nothing with Jacob is ever simple.
Life goes on, days stretch into weeks and before I realize it, nine years pass without time away for my husband and I to unwind and relax together.
Sporadic dinners at a restaurant without the kids don't give us the break we need. With my cell phone by my side, I rarely have an hour without a call or text from the caregivers at home.
According to the literature on caregiver stress and health of long term caregivers, I concluded that I was on a path headed for self-destruction. I was used to years of fragmented sleep, being so tired I had trouble forming coherent sentences and left the keys in my car, running, on more occasions than I'd like to admit. It was obvious I needed to take care of myself in order to be the best carer for my kids and as many times as people, both medical professionals and friends, would say that I needed to look after myself, it felt like it was impossible.
As strange as it might seem, I was never a big believer in vacations.
Sure, they were fun, something to look forward to and I loved travelling and experiencing new cultures but I don't remember experiencing the "need" for an escape.
A few months ago my husband, Andrew, was itching for a break. He needed and wanted a vacation, to go someplace where he could kite-surf, spend time in and on the water away from his computer, his job and responsibilities. He wanted me to go but I was hesitant. How could I possibly go on a vacation and leave Jacob? Would my son be OK without me? Would the nursing staff show up? How would my twins manage if I wasn't there? So Andrew started investigating destinations for a solo holiday.
I'm not sure how it happened, but at some point in his trip-planning, I reluctantly agreed to join him. We booked a week at an all-inclusive resort in the Caribbean, a place that was known for wind so that Andrew could kite-surf all day long while I engaged in less-adrenaline filled activities like reading and sipping rum-laced drinks by the pool. Once I made the decision to go, Andrew confirmed our reservation and I had two weeks to get ready.
There were so many times I was ready to scrap the entire plan and stay home.
My daughters' schedule was straightforward -- they have school and their activities. Organizing their care is straightforward, though time-consuming. At 11 years old, they are on the verge of being self-sufficient, able to prepare their school snacks and grudgingly able to make their own breakfasts but still require oversight supervision and someone to remind them to brush their hair and teeth.
But Jacob...that was, and always is, an entirely different story. Although he requires 24/7 nursing care, securing consistent and competent nurses is challenging. And this was the single, most stressful hurdle that needed to be overcome for me to safely leave my son and embark on a vacation.
The "things to know" document was 14 pages long, including backup contacts for the backups. There was a list of 12 people to call in the unlikely event that I wouldn't be reachable by phone or text in the event of an emergency. I designated a medical decision-maker in case something critical happened while we were in-flight, the only time both Andrew and I would be totally unreachable.
Was I excited for our upcoming adventure? No, not at all.
My mind was filled with checklists, things that needed to be organized for the time I was away. I had to ensure my daughters were looked after; someone had to prepare their meals, drive them to and from school and their various extracurricular activities and make sure they showered at least a few times during my absence. And Jacob....the details that needed to be addressed were so numerous, it would have been so much easier to stay home and not even attempt it.
I was filled with doubt -- again. Was it the act of a responsible parent to leave my children while I went away? Was it selfish of me?
Should we cancel or have Andrew go alone? There were so many times I was ready to scrap the entire plan and stay home. It would certainly have been easier to forego the trip.
A week before our scheduled departure, our case manager had the chutzpah to say that she "wouldn't be able to live with herself" if she didn't ask if I'd "considered everything that could go wrong with Jacob in my absence." (For the record, I live each moment of every day aware of everything that could happen!) Now that her conscience was relieved, mine wasn't: I wanted to cancel our trip. I had to be resold on the idea by my husband who was desperate to feel the wind in his kite.
I didn't truly believe I would board the plane and go away but when I found myself lying in the shade under a coconut tree, listening to the sounds of the waves hitting the shore, I realized I did it. I realized that all the hype about vacations had merit. I was convinced. The outdoor yoga class overlooking the Atlantic helped make a believer out of me. Horseback riding in the ocean solidified my resolve to take another vacation in a few months.
Instead of reveling in the post-holiday glow, the day after my return I was informed that four of Jacob's regular nurses quit their agencies to take jobs in hospitals.
It was a jarring return to reality.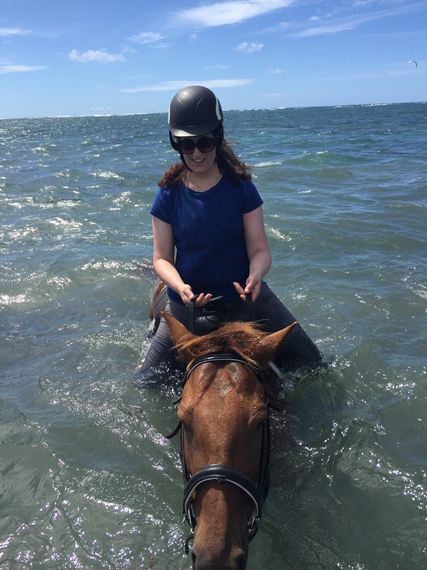 Follow HuffPost Canada Blogs on Facebook
ALSO ON HUFFPOST:
10 Things Parents Of Kids With Special Needs Wish You Would And Wouldn't Do
Say "hi," introduce yourself, ask questions... just be yourself. And don't be horrified if your child asks why our child looks different or "talks funny." Instead of shushing them and pulling them away use it as a teachable moment. You can even ask us to help. "You can tell if someone has good intentions," shares Louise Kinross, the mother of a young adult with a rare genetic condition and creator of the BLOOM blog.

Parents of children with special needs appreciate the help or will tell you if they don't need it (please don't automatically step in and start wheeling our kids around, though). And if you're the friend of someone who has a child with special needs offer a cooked meal, a coffee date or an hour of babysitting. Our stress levels are sky-high and we always appreciate an offer or real, specific help.

Staring is rude, but if you feel compelled to stare at least offer up a smile. But don't worry if you just happen to be staring in my kid's direction while in a sleep-deprived, zombie-like state -– we've been there and we won't hold it against you.

"A friendly smile and/or a hello is so much more welcome and goes a long way in breaking the ice," says Liza Sneyd, mom to two children with cerebral palsy. And teaching your child to smile is a lot easier if you're flashing us a grin yourself.

Invite us to playdates and to birthday parties. If you're not sure how to accommodate our child or how they can participate in activates, just ask us. We're usually experts in modifying or figuring out creative ways for our kids to enjoy the things that other kids like.

"Hold the door for my daughter instead of letting it slam shut on her and her wheelchair," says Lana Jones, who has a teenage daughter with cerebral palsy. "Don't step in front of my son's wheelchair so he can't see," shares Barb DeRoo, mom of a son with cerebral palsy and creator of Zach's List.

Despite the fact that I get asked to write articles like this, I am not a perfect parent. My kid can get on my very. Last. Nerve. She can also warm my heart like no other -– just like any kid. When you say: "I don't know how you do it," my answer will always be: "It's simple. I do it because this is my child and I love her. It is all I know."

More often than not parents of kids with special needs have a strong belief in the strength and resilience of their kids. Our kids face insurmountable odds, often with a smile on their face and a lot of strength in their hearts. They are super heroes, not victims. And while you're at it remember that our lives may have some extra challenges, but we still face the same difficulties you do. Treat us like parents -– it is what we have in common.

Don't use the word retard (replace it with ridiculous instead). Don't ask: What's "wrong" with a child? Initiate age-appropriate conversations and don't automatically use baby talk. Use "people-first" language that puts the person before the disability (e.g a child with autism, not an autistic child). It's not about being politically correct, it's about the fact that words matter. After all you are reading this, right?

Kindness isn't sympathy or pity –- it is being a good person. Teach your children the same. It really is that simple.
Follow Marcy White on Twitter: www.twitter.com/MarcyFWhite