Studying Abroad Is The Key To Success In A Global Workforce
International education is more accessible now than ever before, yet only a margin of North American students pursue this option. Other than it having the obvious appeal of travel, fun and new experiences, how valuable is it to a student's educational and career goals?
As the founder and educational consultant of iSolve Consulting, I work with high school and post-secondary students to create strategic educational plans and career goals.
One of the key points I emphasize for students is the need to understand that after high school they are beginning to build their professional resumes. The education they pursue, the work experience they gain and the skills they develop will be reflected in their resume and will therefore directly impact their career opportunities.
Students need to be strategic in their post-secondary education and pursuits. They need to give careful thought to how their education and experience will reflect their skills, abilities and knowledge.
One of the main questions students need to consider is what will make them stand out from other job candidates. What education, experience, and skills can they list that will give them an edge above others. And this is where international education plays a significant and impactful role. Whether it's a semester of study, an exchange program or an internship abroad, the benefits to a student are many.
From a career opportunity perspective, listing international education on a resume will undoubtedly make it stand out. It demonstrates key skills employers look for, including the ability to challenge oneself, seek out new opportunities, step outside ones comfort zone, have improved communication and global knowledge.
In a 2013 study, AIM Overseas listed the following skills that employers identify and value in candidates with overseas experience:

• Adaptability
• Initiative
• Maturity
• Cultural awareness
• Leadership qualities
• Global perspective
• Confidence
• Strong interpersonal skills
• Cultural understanding
• Independence (autonomy)
• Teamwork skills Resilience

Technology has created an interconnected and globalized world. We live in a global, knowledge-driven economy. It is a key area of focus for many industries, government and corporations. Employers therefore place increased value on international education and experience.
"International experience is one of the most important components of a 21st century education," said IIE's president, Dr. Allan E. Goodman.
"Studying abroad is one of the best ways undergraduate and graduate students gain the international experience necessary to succeed in today's global workforce. And studying in another country prepares students to be real contributors to working across borders to address key issues in the world we share."
From a personal growth perspective, the benefits of an international education experience are significant. A large scale survey was conducted by the Institute for the International Education of Students (IES) to determine the significance and impact that studying abroad had on student's personal, academic and professional life.
Results showed that:
"97 per cent said studying abroad served as a catalyst for increased maturity, 96 per cent reported increased self-confidence, 89 per cent said that it enabled them to tolerate ambiguity and 95 per cent stated that it has had a lasting impact on their world view."
An international education is not merely a "fun experience" but more importantly a key strategic decision toward building a marketable and valuable skill set.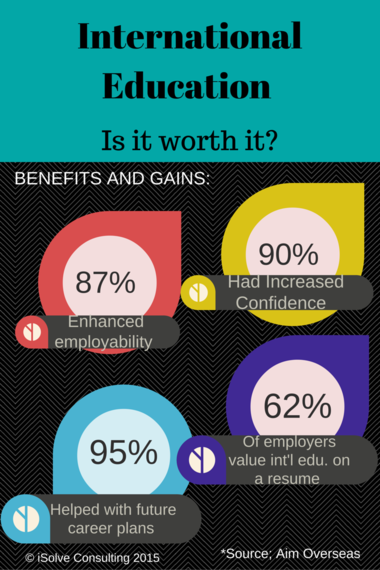 Follow HuffPost Canada Blogs on Facebook
MORE ON HUFFPOST:
Best Countries To Study Abroad
The church of Sant'Eusebio in the countryside of Perti.

Spain's defender Andoni Iraola controls the ball during a training session at Rosaleda Stadium on February 28, 2012.

Petite, France

In the Rathaus crypt in Goslar, Germany.

A Storm Trooper from Star Wars in Japan.

Sergio Parisse of Italy runs in a try during the RBS Six Nations match between Ireland and Italy at Aviva Stadium on February 25, 2012 in Dublin, Ireland. (Photo by Jamie McDonald/Getty Images)

Giant Olympic Rings are launched on a barge onto the River Thames, in London, on February 28, 2012, as organizers celebrate 150 days to go until the start of the 2012 London Olympics. In the background is London's Tower Bridge.

A Brazilian reveller poses during Carnival celebrations on February 20, 2012 in Rio de Janeiro, Brazil. Carnival is the grandest holiday in Brazil, annually drawing millions in raucous celebrations culminating on Fat Tuesday before the start of the Catholic season of Lent which begins on Ash Wednesday.

Hot air balloons take off in the Swiss Alps resort of Chateau d'Oex on January 2012 during the 34th International Balloon Festival. The world capital of the hot air baloon in the Alpine area welcomed some 100 balloons from 14 countries.

A clay statue representing Argentina national football team coach Diego Armando Maradona is seen inside a typical Neapolitan nativity scene in a shop, in downtown Naples on June 23, 2010.
Follow Maria Boublil on Twitter: www.twitter.com/isolve_consult