Improving Girls' Nutrition Unlocks Their Power And Potential
Good nutrition is not only fuel for strong bodies, it also provides power that unlocks potential. This was a lesson I learned from 18-year-old Alima Mbaye, who lives in Thiès, Senegal.
I met Alima and her classmates on a field visit to the remote town of Notto Diobass. At first glance, Alima and her friends looked like typical high-school students. However, when I spoke with them, something struck me. Although they were at an age when Canadian girls would typically be graduating from high school, many of these girls were still years away from hitting that milestone -- if they hit it at all. Their male classmates were heading toward graduation, but they were being left behind.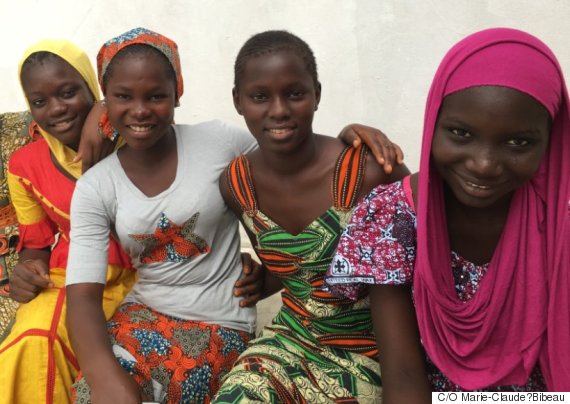 Alima and her friends were at a point in their lives where their future and their potential should have been limitless. Instead, malnutrition -- and in this case, anemia -- was like a brake holding them back.
Three out of 10 adolescent girls around the world are anemic, but in the region I visited in Senegal, it is double that rate.
Anemia is a condition in which red blood cells are abnormal in number or size due to a shortage of iron in the body. If you have anemia, your ability to transport oxygen throughout your body is limited. Even though it is not always visible to the eye, when a girl suffers from anemia, her quality of life can be severely undermined. She may be tired or lethargic. She may be more susceptible to illness. She may not perform as well in school or be productive.
Nutrition not only makes a difference, it is the difference.
A girl with a lower level of education is more likely to marry early and have children, and if she has children, she risks severe complications -- or even death -- during pregnancy and delivery. If she gives birth, her baby is more likely to be small or born prematurely -- a major predictor of poor health, disability and disease later in life.
When malnourished mothers have babies with low birth weight, it can lead to a vicious cycle of malnutrition among their children and also affect their ability to contribute to the economy.
Malnutrition, like poverty, is sexist. In too many regions, women and girls eat last and eat the least. Although women select, prepare and cook the food, gender inequity and cultural norms often mean that they get what little is left after others have eaten.
Nutrition not only makes a difference, it is the difference. It's the difference between giving birth to a child and giving her life. For Alima and her friends, it's the difference between attending school and learning there.
Fortunately, although the causes of anemia are complex, the solutions at hand are simple, and we can make a difference.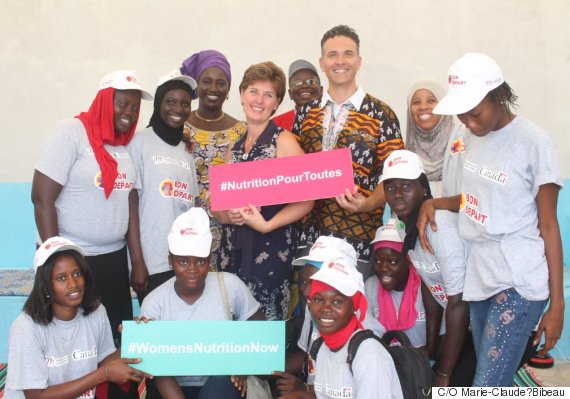 I was in Senegal with representatives of Nutrition International -- formerly the Micronutrient Initiative -- to launch Right Start. This Canada-funded program will reach 1.2 million Senegalese girls with critical inexpensive interventions, such as iron and folic acid supplements, iron-fortified foods, nutrition education and support. Right Start is part of the multi-country initiative that aspires to reach 100 million women and girls with improved nutrition by 2020.
Improving the nutrition of women and girls is key to empowering them, but it also benefits entire communities. That is why Canada is proud to partner with Nutrition International to help Alima, and millions of girls like her around the world, to reach their full potential and become powerful agents of change.
Follow HuffPost Canada Blogs on Facebook
Also on HuffPost:
Hope and Hunger / National Geographic Your Shot
"A young boy is surprised at the sudden dawn of an unusual evening mist, as he heads home after a hard day of work in the agricultural fields of Assam, India."

"A little kid is helping his dad to pull the overloaded van. Even the beautiful background can't distract him."

"This man was just waking and setting up his chai tea stand when he stopped to take a rest. His home serves as a tea stand during the day. There are people sleeping behind him, grasping those last few moments of sleep before they are ready to start the day. This man, to me, symbolizes "Hunger and Hope." He is clearly tired, but he has gotten up to open up his shop and earn a living."

"Women stack bundles of freshly harvested rice in preparation for the annual 'hunger season,' when food supplies run out and people die. In this part of Madagascar, women have formed a cooperative of weavers who work with wild silk harvested from the surrounding forests. Access to global markets for these products is making the 'hunger season' a thing of the past."

"A woman in black preparing food on an anniversary of death. This is a tradition for most people in Vietnam, in the hope that the dead will bless them with all luck in life."

"People are gathering for the Annakut (heap of grains) festival. On Annakut, people worship the Hindu God Lord Krishna out of a belief that He is the supreme controller of nature, crops and food. On the occasion of the Annakut festival in Kolkata, India, rice that has been prepared as an offering to Lord Krishna is showered from above onto the devotees, who eagerly collect the grain to ensure their food security for the rest of the year."

"Before the delicious and healthy vegetable, the potato, ends up on our tables, this is how it is harvested in Poland, in some areas by people on their knees. After spending only a few hours with this nice man and witnessing his hard work, I gained a whole new, more positive attitude about this vegetable that I comfortably shop for in supermarkets."

"Up to four million Haitians currently live in the Dominican Republic. The immigration wave started many years ago in search of a better life."

"Food is distributed to the poor every evening. Through this photography I want to convey the message that poverty still prevails in India. The intense look in this person's eyes conveys it all."

"A man sells coconuts with his son in the village of Joypur in Bengal."
Follow Marie-Claude Bibeau on Twitter: www.twitter.com/mclaudebibeau