The Superpowers of Vitamin D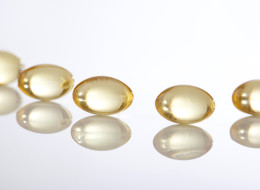 Have you been watching the meteoric rise of vitamin D? Long ago I knew D as essential for regulating bone metabolism and protecting bone health, but today the list of D's benefits is an ever expanding one. At last count, it included not only bone health but protection against arthritis, Alzheimer's, asthma, multiple sclerosis, falls, fractures, depression and some cancers. Recent reports also indicate that higher blood levels of D are linked to better outcomes post-surgery. Lower levels of D in patients with lupus can mean an increase in risk of heart disease.
Now experts are also suggesting that at sufficient levels, D, when taken during winter months, decreases your risk of getting the flu by 58 per cent. Fewer colds, too. Dr. Penny Kendall-Reed, a naturopathic doctor and director of natural therapies at Toronto's Urban Wellness Clinic says that D acts on nearly 3,000 receptor sites in the body. This vitamin is beginning to sound like the lost treasure of the Incas -- priceless.
And since the sun's rays and fatty fish are about the only good source of D, pretty much everybody is on the supplements bandwagon. (In order to receive 1,000 IU of D from food, you must eat seven sardines or 28 cooked egg yolks, or drink 2.5 litres of milk.) So to take or not to take Vitamin D is no longer the question. How much, what for, and what kind, however, is still up for debate. As is testing -- because what's in your blood is what counts and not how much you take in in food, sunlight or a supplement.
One of the latest studies, published in the British Medical Journal, suggests that low serum vitamin D itself increases the risk of death. This is amazing if true, yet despite D's growing claims of effectiveness, a 2013 report by Statistics Canada revealed that vitamin D levels for Canadians is declining.
The thing is, even if you wanted to raise your levels there's still a surprising lack of consensus around how much we need. For example, for adults Health Canada recommends 600 IU daily while the Canadian Cancer Society recommends 1,000 IU. Osteoporosis Canada, however, recommends adults get 400 to 1,000 IU daily, while the American Geriatrics Society says that seniors should take 4,000 IU per day. (Osteoporosis Canada recommends supplementing with vitamin D3 as opposed to vitamin D2; most supplements in Canada contain D3.)
According to the Vitamin D Society 11 million Canadians do not meet Vitamin D blood level requirements as set even by Health Canada, and that figure rises to 14 million during winter months. In a recent survey of Canadians by Jamieson Laboratories who make D, 28 per cent of vitamin D users take less than 1,000 IU and only 14 per cent believe that supplements are the safest and most effective form of vitamin D.
Figuring out how much D to take need not be so difficult, said Dr. Reinhold Vieth, retired director of the Bone and Mineral Laboratory at Mount Sinai Hospital and a professor at the University of Toronto in the Department of Laboratory Medicine and Pathobiology.
"Everyone should try to take a decent amount of vitamin D and not overthink it," he told me. Our vitamin D levels are "up down, up down" and because they rise and fall throughout the year the seasonality of D is a problem unto itself, he adds. "Nature is flushing the toilet on you once fall comes. Taking a supplement is one way of overcoming that." As an expert who has spent decades studying vitamin D, he strongly believes in its safety profile. He doesn't feel supplements need to be taken every day. In fact he takes a bunch of D once a week instead and is done with it.
Vitamin D blood serum levels are measured through the 25-hydroxy vitamin D blood test, but testing is currently a contentious and costly issue. The suggested strategy is that, depending on what the test shows, we should adjust our dosage of D intake so that blood levels are about 50 ng/mL. But vitamin D testing is not covered by most provincial insurance plans except in cases where patients are suspected of suffering from a deficiency-related disease or are taking drugs that may affect vitamin D metabolism. There are home-testing kits available, but they are not all reliable and none are under $50.
Moreover, a report this week by the U.S. Preventive Services Task Force said that there's simply not enough evidence that vitamin D screening is beneficial in routine practice. The report also noted that testing methods vary even between labs and there are few if any internationally recognized standards. "Lab tests are subject to variabilities so you have to allow for different numbers," Dr. Vieth told me. "If you take a decent amount of vitamin D and don't even bother testing you will meet the target."
MORE ON HUFFPOST:
12 Foods Full Of Vitamin D
If you're going to choose a fish dish, go with salmon. An oily fish high in vitamin D, salmon also has omega 3 fats, protein, vitamin B12 and selenium. "If you eat the soft bones in half a can of salmon (105 grams) you will be consuming almost as much calcium as in a glass of milk," says registered dietitian dietitian Shauna Lindzon.

Another oily fish high in vitamin D and omega 3 fats, mackerel is also rich in vitamins A, B6, B12, C, E and K. Lindzon adds pregnant women, however, should limit mackerel consumption because of its high mercury content.

Sardines are loaded with vitamin B12, selenium, omega 3 fats, protein and vitamin D. "Sardines are very perishable, so eat them when they are fresh," Lindzon says. And since they are smaller fish, they contain lower levels of mercury. Watch out for canned sardines, which may be filled with extra sodium.

Beef liver is a high protein, high cholesterol food choice, Lindzon says. It's high in vitamin B6, B12, and also contains a large amount of dietary iron.

Milk is often called "nature's perfect food", because it's a rich source of many different vitamins and minerals, including calcium, vitamin D and B.

The nutrients in egg yolks differ greatly from egg whites. Egg yolks are high in cholesterol, fat and fat-soluble vitamins including vitamins A, D, E and K.

There are a variety of non-cow milks on the market that are also fortified with vitamin D — perfect for those of you who are vegan or have a lactose intolerance. "Certain brands of soy, rice, almond, and hemp milks have similar vitamins to cow's milk because of the fortification process," Lindzon says.

Mushrooms (all of their edible varieties) have many cancer fighting properties and are a great source of vitamin D.

"When reading labels of breakfast cereals, it is important to choose ones with a high fibre content (more than 4 to 5 grams) and low sugar content (less than 8 grams)," Lindzon says. Adding milk or a milk substitute to a breakfast cereal boosts the calcium, vitamin A, D, and protein content.

There are some orange juices on the market that have calcium and vitamin D added to them. "This fortified orange juice provides people with an option to increase their vitamin intake if they don't consume milk," Lindzon says. However, it is important to note that orange juice lacks the fibre that is in the original orange, and some boxed varieties may have an excessive amount of sugar.

"It is important to check the nutrition labels of yogurts to see if they have vitamin D added," Lindzon says. When choosing yogurts, choose ones that are low in added sugar and high in vitamins.

Cheese is derived from milk, and therefore has the same beneficial vitamins and minerals, including calcium and vitamin D.
Follow Marilyn Linton on Twitter: www.twitter.com/marilynlinton1