How the Super Bowl Affects Men's Desire For Porn
With 26 seconds left on the clock, the Seattle Seahawks were one yard from a touchdown that could have made them the Super Bowl champions for the second year in a row. But when Malcolm Butler intercepted Russell Wilson's pass at the goal line, near-certain victory turned into certain defeat; Seahawks fans were left feeling crushed and, at that moment, each and every Patriots fan felt like a champion.
And you know what champions do? They go forth and procreate.
This story actually begins with some birds (and we don't mean Seahawks). Back in 1990 four researchers, led by John Wingfield of the University of Washington, tested a theory which showed that when two male birds competed, the winner of that contest experienced an increase in testosterone while the loser of that contest experienced a decrease in testosterone. That increase in testosterone encouraged the victor to go forth and spread his seed. And the decrease in testosterone encouraged the loser to go spend the weekend with his mother (or whatever birds do when they feel defeated).
When researchers decided to test this "Challenge Hypothesis" in humans, they found that not only did a contest alter the physiology of the actual competitors, but it also altered the physiology of the observers.
To illustrate how this theory plays out in the real world, psychologists Patrick Markey and Charlotte Markey looked at the impact elections had on voters' sexual appetites by comparing the volume of online porn consumed in states that had "won" a presidential election to the volume consumed in states that had "lost" the election.
Why porn? Because evidence suggests that an increase in testosterone encourages men to seek out a large variety of easily aroused sexual partners. And for men without a harem at their disposal, porn is a reasonably good substitute.
Drs. Markey and Markey found that the results of elections impacts the testosterone levels of male voters. In the 2004 election -- where George W. Bush was victorious -- states that voted Republican experienced a significant increase in the demand for online porn. And that states that voted Democrat experienced a significant decrease in the demand for online porn.
Voters in that election behaved in a way that was consistent with the Challenge Hypothesis. This made us wonder, does the outcome of a major sporting event have the same effect on sports fans as elections had on voters?
Prior to the Super Bowl we looked at Google Trends data (that measures changes in search terms) to see if the Super Bowl games had any effect on searching for online porn in 2014 and 2013. We found evidence that was consistent with the Challenge Hypothesis: "winning" states increased their searchers for porn terms and "losing" states decreased their searches for porn terms.
Now that Super Bowl XLIX is over, however, we can do much better. Pornhub, the world's largest website for pornographic material, was gracious enough to send us hour-by-hour traffic statistics for Massachusetts and Washington for game day, and for the next day too. As you can see from the attached chart, traffic in the two states was very similar leading up to, and during, the big game. But once the celebrations (or commiserations, depending on which team you support) finished, traffic picked up in both states. Within hours, Pornhub traffic was up 33 per cent in Massachusetts, and the effect continued into the next day with traffic up 47 per cent late in the morning. On the Monday after the game PornHub traffic was up 17 per cent (on average) in Massachusetts and 7 per cent in Washington.
Does this evidence support the Challenge Hypothesis? Well yes, and no. The spike in traffic in Massachusetts is entirely consistent with the theory; that celebratory Patriots fans experienced elevated testosterone levels that encouraged them to consume more porn. The increase in the traffic in Washington is not, however, since the theory predicts that losing the game should have caused the testosterone levels of Seahawks fans to drop, causing them to consume less porn, causing PornHub traffic in that state to drop below average.While we don't have a clear answer for this second result, one possible explanation is that regular consumers of online porn in Washington State were making up for valuable lost porn-watching time during the game.
Obviously any study that combines two very popular things -- the Super Bowl and porn -- seems interesting by itself. But the interest in this study goes beyond the subjects examined. This study indicates that sports fans are definitively impacted by the outcome of the games we observe.
For non-sports fans it is easy to claim that sports really don't matter. The lives of sports fans are the same whether a favourite team wins or loses. But it appears sports have a bigger impact than may be commonly believed. Because sports fans are so often living vicariously through their team, the outcome of these games have the power to impact the physiology of fans. And that means when a team intercepts a pass in the final seconds of the game, biology that has developed over thousands of years of evolution encourages fans to seek satisfaction in an entirely modern way.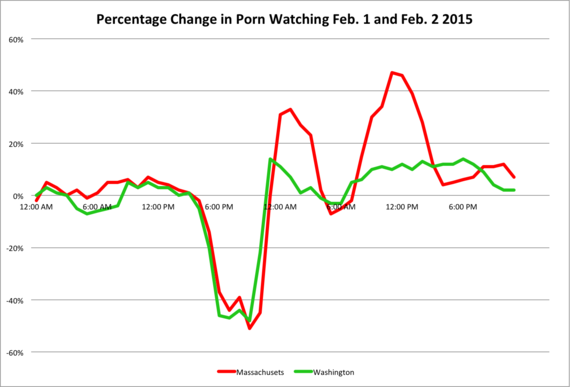 This post was co-authored with David Berri and first appeared in the Globe and Mail.
ALSO ON HUFFPOST:
2015 Super Bowl Commercials
Wix.com's ad features Brett Favre, Emmitt Smith, Terrell Owens, Larry Allen & Franco Harris, as these NFL greats trade in their jerseys for new uniforms as small business owners. #ItsThatEasy

Get inspired by the #UpForWhatever messages on Bud Light bottles and you might get led into a real-life game of PacMan like one Bud Light fan who was #UpForWhatever. #SB49

Watch Katie Couric and Bryant Gumbel talk about the Internet in 1994

Superbowl Commercial: Clash Of Clans with Liam Neeson

Super bowl Commercial: Doritos, When Pigs Fly

Superbowl Commercial: Microsoft

Super Bowl Commercial: Loctite

Superbowl Commercial: T-Mobil Wi-fi Calling

Superbowl Commercial: Toyota #letsgoplaces

Superbowl Commercial: Nationwide (Mindy Kaling)

Superbowl Commercial: Sprint

Superbowl Commercial: Lexus Lets Play

Superbowl Commercial: Geico #pushit

Superbowl Commercial: Smith And Forge Hard Cider

Super Bowl Commercial: Dodge Challenger

Superbowl Commercial: Redd's Apple Ale

Superbowl Commercial: The Voice

Superbowl Commercial: Sketchers with Pete Rose

Superbowl Commercials: Pepsi

Superbowl Commercial: Nissan #withdad

Superbowl Commercial: Discover

Superbowl Commercial: Doritos

Superbowl Commercial: Fiat

Superbowl Commercial: Skittles, "#SettleIt"

Superbowl Commercial: Esurance Breaking Bad

Superbowl Commercial: Go Daddy

Superbowl Commercial: Weathertech.com

Superbowl Commercial: Weight Watchers

Superbowl Commercial: Budweiser

Superbowl Commercial: Dove Men

The supermodel does her best Game of Thrones turn in this Super Bowl ad

Watch the official Super Bowl NO MORE ad (the first-ever Super Bowl commercial addressing domestic violence and sexual assault).

Superbowl Commercial: Coca Cola

Chevy Big Game Commercial

Jerry Rice and Doug Flutie introduce the #FirstDraftEver during the #BigGame

Superbowl Commercial: Nationwide

Superbowl Commercial: Lexus

Superbowl Commercial: Carnival

Minions Big Game Spot

Superbowl Commercial: Turbo Tax

Lindsay Lohan spoofs her driving miscues in this Super Bowl commerical for Esurance

It's A Full House Reunion In Dannon Oikos Super Bowl Commercial

M&M's Super Bowl Ad

Too Much Puppy Love In Budweiser Super Bowl Ad

Laurence Fishburne Reprises Morpheus Role In Kia Super Bowl Ad

Sarah McLachlan Mock Own PSA In Super Bowl Audi Ad

Terry Crews Stars In Toyota Super Bowl Ad With The Muppets

Bob Dylan Appears In Chrysler Super Bowl Ad

GoDaddy Super Bowl Ad Is Full Of Bodybuilders

Bruce Willis And Fred Armisen Hug It Out In Honda Super Bowl Ad

Kingsley, Strong and Hiddleston Play British Villains Jaguar Ad

Michael Phelps And Apolo Ohno Featured in Subway Superbowl Ad

Sonos Super Bowl Ad

RadioShack Takes Us Back To The 80s In Superbowl Ad

Stephen Colbert 's Pistachios Commercial Is Hilarious, Features An Eagle

David Beckham Being David Beckham In H&M Superbowl Ad

Adorable Cheerios A Gets A Superbowl Sequel

GEICO Super Bowl Ad

Emma Stone Keeps Falling Off Things In Superbowl Spiderman Teaser

America the Beautiful Gets Multilingual Treatment In Coca-Cola Ad

Size Matters In Volkswagen's Angelic Superbowl Ad

CarMax Pays Tribute To 'Rudy' In Super Bowl Ad

Stephen Colbert Really Knows How To Sell Pistachios In Superbowl Ad

Tim Tebow Mocks Contracts In T-Mobile's Superbowl Ad

GoDaddy's 'An Epic I Quit' Superbowl Ad Features John Turturro

Bank Of America Partners With U2 For Superbowl Ad

Chevy Partners With American Cancer Society In Superbowl Ad

Brooklyn Nine-Nine Teases Post Superbowl Show

Hyundai Genesis Pays Ode to Dads In Superbowl Ad

Ellen DeGeneres Dances With Anthropomorphic Animals In Beats Superbowl Ad

Bud Light Superbowl Ad Features Don Cheadle, Arnold Schwarzenegger,

Need For Speed Superbowl Ad Features Lots Of Smashing Cars

Turbo Tax Superbowl Ad Compares The Game To Terrible Prom Night

Chevy Silverado Superbowl Ad Features Sexy Cows

Adorable Doritos Superbowl Ad Takes On Time Travel

Maserati Superbowl Commercial Features Quvenzhané Wallis

Bud Light Superbowl Ad Features An Unsuspecting Man On Hidden Camera

Ford Fusion Superbowl Commercial Features James Franco And Tiger

Ford Fusion Superbowl Commercial Features Rob Riggle

New Girl Superbowl Preview Features Prince

T-Mobile Superbowl Commercial

McDonalds Superbowl Commercial

Noah Superbowl Trailer

Volkswagen is making its return to the Super Bowl for the fifth straight year in a new advertisement entitled "Wings." Vinay Shahani, vice president of marketing at Volkswagen, explains the plot of the commercial and what message the automaker hopes to get across to the millions of viewers who will be tuning in.

Audi is releasing the full version of its 'Doberhuahua' Super Bowl ad. It will keep your attention, to say the least. Lindsey Granger explains what a 2015 Audi A3 has to do with a crazy, and kind of scary looking, dog.

Met Life Commercial Features Charlie Brown

Mountain Dew Superbowl Commercial

Johnny Galecki's pickup lines don't seem to work, in this Super Bowl ad for Hyundai.

Advertising expert Cheril Hendry shares which Super Bowl ads already have people talking.

Check out why Scarlett Johansson's super hot SodaStream commercial is banned from airing during the Super Bowl.

Don't lie: you like the commercials better than the game. Join us as we count down our picks for the top 10 Super Bowl commercials of all time.

Jaguar posted its "Rendezvous" TV spot online on Tuesday, which features Ben Kingsley, Tom Hiddleston and Mark Strong in the Tom Hooper-directed commercial set to air during the fourth quarter of Super Bowl XLVIII.
Follow Marina Adshade on Twitter: www.twitter.com/dollarsandsex