The Fight Against Maternal and Child Undernutrition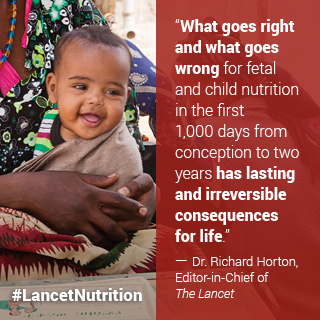 In January 2008, The Lancet, the world's leading medical journal, published its ground breaking series on maternal and child nutrition, which successfully identified to the world the damaging effects of undernutrition.
The Series focused on interventions that could effectively and affordably reduce undernutrition, and played a key role in shifting the development agenda and spurring international action, helping to create global interest, leadership and commitment. Attention was also drawn to the first 1,000 days, from conception to two years of age, as a critical window of opportunity for growth and development.
At the time, I had recently begun working with mothers and their young children in the highlands of Ecuador with nutrition interventions, as part of my PhD research. It was an exciting time for nutrition and I felt part of a great global movement. I was also constantly reminded of what those 1,000 days meant for each of the growing babies in my project.
Five years later, I am even more committed and connected to the global nutrition movement and The Lancet is, too, as it continues to support the global nutrition agenda. The Lancet's 2013 nutrition series, launched in London, U.K., on June 6, looks at the unfinished agenda and how new ways must be found to reach mothers, children and young adults in the coming five years. Venkatesh Mannar, President of the Micronutrient Initiative, where I'm working now, is a co-author of one of the four papers, focusing on innovative ways to reach those most at risk.
We know that much has been accomplished to reduce the burden from undernutrition in the past five years; however, our work is far from over. Let's roll up our sleeves, everyone, and dig deeper is the main message coming from the new Series. There is more to be done.
This is definitely the case in Guatemala, where I'm working with our Grand Challenges Canada project team right now. Guatemala is a country where nearly every other child under five years old is chronically malnourished, with even higher rates among Indigenous communities.
Undernutrition is the underlying cause of far too many deaths, and also leads to long term developmental and health problems, including weakened immune systems that can no longer fight off diseases, like diarrhoeal disease. In this vibrant country, diarrhoeal disease kills close to 1,000 children under the age of five every year. For those who survive, it wreaks havoc on their young bodies, holding them back from play and limiting their ability to grow and learn. Using zinc, in combination with oral rehydration salts, to treat diarrhoea helps children get better faster, at only about 50 cents for a full course of treatment. Affordable and simple, the Government of Guatemala has been working to scale up this important nutritional health program.
We are listening carefully and working to meet the needs of mothers when their child is sick from diarrhoea. We are working with health care workers, so they can be the agents of change for their communities and for the young children they treat. We are working to ensure that effective and inexpensive nutrition interventions are available and being used by the families who need them.

The Lancet series may not be well known to families throughout the world, but it is setting the stage for the next act of a global movement whose impact will be felt as we successfully reach the most vulnerable, those who are hardest to reach. In the daily reality for families, parents may not care very much about research and stats when their child is fighting for his or her life, but they are living the experience of being one of those numbers. They just want their child to be healthy and happy, again.
The Lancet provides valuable information and its important research will be incorporated into the work of policy makers, program people and decision makers. It will help keep the global nutrition momentum moving forward, as we continue to work hard in countries like Guatemala. And I am proud to be a part of that momentum.
Most Challenging Places To Be A Mother
Levels of maternal mortality, child mortality, education status, poverty and women's participation in parliament are among the most challenging in the world. The DR Congo performs in the bottom 12 percent of countries across all indicators, and bottoms out as the single most challenging place to be a mom. • Lifetime risk of maternal death is one in 30 • One in six children will die before his or her 5th birthday • Less than nine years of formal schooling is expected • $190 gross national income per person • Women hold 8 percent of seats in national parliament Pictured at left: Florence, who gave birth to her 10th child, Aksante, within a camp near Goma after fighting broke out in their village and they fled. While she had prepared for this child by bringing baby clothes and other items, they were unfortunately stolen after her arrival at the camp.

Only 2.4 years of formal schooling is expected. Pictured at left: Asmara, who is eight months pregnant, with her two children in a camp for internally displaced people in Bosaso, Puntland. It took her 10 days and 10 nights to travel from her home in Belet Weyne in Hiran to Bosaso, and she had to leave her other daughter behind. They were robbed on the way.

Lifetime risk of maternal death is one in 23. Pictured at left: Hawanatu Koroma, 21, with her newborn son, Abbas, outside her home in Susan's Bay. Abbas developed a skin infection shortly after being born and has received treatment from the health clinic in the community.

One in six children will die before his or her 5th birthday. Pictured at left: Awa waits at a health post with her son Modiba, 2, for medication to treat severe malnutrition and malaria in Sakasso Region, Mali. Modiba weighs 11 lbs. and is 2.3 ft. tall -- 8 inches shorter than he should be at his age.

Only 5.3 years of formal schooling is expected. Pictured at left: Mourganatou, 17, decided not to give birth at the health centre because it was too expensive. As a result she came to the government-run, Save the Children-supported maternity unit.

One in six children will die before his or her 5th birthday. Pictured at left: A woman from the Central African Republic holds her baby in a refugee camp in neighboring Cameroon. The young woman was pregnant when she fled her hometown for Cameroon with her husband and three children, where she gave birth to her child.

Women hold 8 percent of seats in national parliament. Pictured at left: A young woman in Western Gambia bending to wash her family's clothes in a bowl before hanging them outside to dry in the yard of their house.

Lifetime risk of maternal death is one in 29. Pictured at left: This newborn baby was put to his mother's breast within 30 minutes of delivery to ensure good attachment and to allow the mother to nurse her child properly. Unfortunately, in this region, mixed feeding (breast milk plus fura, animal milk or water and glucose) is common for infants, which frequently puts their lives at risk.

Lifetime risk of maternal death is one in 15. Pictured at left: Hassan and Hassania, 8-month-old twins being held by their mother in Abeche, Chad. The twins were suffering from malnutrition because their mother didn't have enough milk to breastfeed them.

One in nine children will die before his or her 5th birthday. Pictured at left: With her maternity health record in her hands, Solange, 38 and nine months pregnant, looks at the room where women rest on the floor with their newborn babies after delivery. "Midwives prescribed medicines for me, but they didn't provide any... I don't have money to buy any medicine," she says.
Follow Marion Roche on Twitter: www.twitter.com/micronutrient