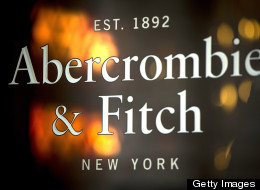 Abercrombie & Fitch is back with another apology, is it?
That's probably to be expected.
Going on the record as a brand that wants attractive, skinny, popular kids in its clothes (and by inference would rather the fat loners of the world buy and wear something else) is the sort of thing that causes people to take offense.
I get that.
But honestly, I feel a bit sorry for A&F CEO Mike Jeffries, whose recently recirculated 2006 remarks are of the root of the current controversy. Because all he did was say out loud, and without apology, what the vast majority of clothing lines out there already seem to be thinking and practicing.
"We go after the attractive all-American kid with a great attitude and a lot of friends," Jeffries told Salon writer Benoit Denizet-Lewis. "A lot of people don't belong [in our clothes], and they can't belong."
Mean, cynical, and a recipe for poor self-esteem?
Probably.
But take a little cyber stroll over to the websites of virtually any of A&F's competitors and you'll find a visual depiction of exactly what Jeffries articulated. Aéropostale's home page is a parade of slim, cheerful, conventionally attractive young men and women in shades. Not a wrinkle or love handle in sight. Over at American Eagle Outfitters, the models are similarly smiley, social, and devoid of the acne, sags, and bags (not to mention mopey moments and isolation) that make self-acceptance such a challenge in the real world. The "cool kid" scene is similar, if just a teensy titch older (we're talking 23 instead of 18), in the J. Crew and Banana Republic online realms, despite the fact that these brands are presumably marketing to a wealthier and older crowd.
We know this, right? The reason we're attracted to the glossy clothing catalogues featuring naturally beautiful 19-year-olds sipping cafe au laits (that happen to be the exact same creamy shade as their flawless skin) is because somewhere in our reptilian brains we believe that if we put on the same pair of capris, we'll suddenly acquire the sleek bodies, photogenic friends, and worry-free lives being pictured. It's not logical. It's partly based in a sense of dissatisfaction with ourselves, our shapes, and our circumstances -- a dissatisfaction that is compounded with every page flip to another lithe model casually stretched out on an artfully cluttered chaise lounge. (Wow, if I get a trainer, buy those ballet flats, and learn to be more stylishly messy, that could be me.) But come on. Who hasn't been swayed toward a purchase by this kind of brand image play? And -- perhaps more to the point -- what brand doesn't make use of this technique on a near-constant basis?
At least Mike Jeffries is being upfront about it. Usually clothing companies make awkward gestures toward inclusivity that are, if you ask me, more insulting and depressing than anything Jeffries said.
I remember flipping through a J. Crew catalogue a few years ago when I was hitting my mid-thirties and wondering whether I was getting too old for the brand (there was suddenly a lot more lamé than I could make sense of).
"It's ok," a little voice inside my head said. "You can be like the old one."
It was true. There was always an "old" model hanging out there among the 20-year-olds, and she looked fantastic. Just as happy, self-possessed, and perfect as the others. If I bought the white linen tuxedo pants and wore them with classic sneakers, I could be her.
"Are you nuts?" another voice inside my head replied. "The 'old' one is Lauren Hutton -- LAUREN FUCKING HUTTON! She's been on the cover of Vogue 25 times. You're not going to look like her just because you're both closer to menopause than childhood."
The same goes for the "ethnic" ones or the "fat" ones who show up occasionally in clothing marketing. They're supposed to be evidence of the brand's inclusivity, but it's not like seeing an impossibly gorgeous and perfectly coiffed Asian woman who wears a size 8 instead of a size 00 is all that helpful or empowering to a painfully shy, overweight teen, struggling to find her place. Or to most of us, when it comes right down to it.
It's like Tina Fey said in her book Bossypants, when discussing the fact that female celebrities no longer have to be skinny white women to be considered attractive:
"All Beyonce and JLo have done is add to the laundry list of attributes women must have to qualify as beautiful. Now every girl is expected to have Caucasian blue eyes, full Spanish lips, a classic button nose, hairless Asian skin with a California tan, a Jamaican dance hall ass, long Swedish legs, small Japanese feet, the abs of a lesbian gym owner, the hips of a nine-year-old boy, the arms of Michelle Obama, and doll tits."
What the cool kids look like may change, but it'll still always be the cool kids clothing lines go after because the cool kids are who most of us want to be in our heart of hearts. We can reason with ourselves and work toward overcoming this tendency with our intellects. We can, and should, help young people in particular to realize that there are many profound satisfactions to be had in life that do not rely on achieving a certain appearance or level of popularity (a fact that becomes comfortingly obvious as we age, yet is often difficult to grasp in high school). But we shouldn't blame A&F for being honest enough to articulate an omnipresent elitist marketing strategy no one else wants to own up to. We are, after all, the ones that make such strategies pay off.
Meet Our Body Image Heroes
The Golden-Globe winner told HuffPost Live how her father shaped her perspective on beauty: Beauty was very much on my mind. I had a father that would -- we would look up at billboards and he would say, "That's one version of beauty. You're another version of beauty. And she's a version of beauty. And that girl? She's another version of beauty." He always said that beauty came from within, and as much as you're younger and you're [sarcastically] like, "Yeah, beauty comes from within" -- no, beauty does come from within. I've met some of the most beautiful people, and sadly their heart is just not smiling, and that destroys it all. And then other people that aesthetically aren't considered as beautiful are the most gorgeous people I've ever seen in my life.

After the media focused on her alleged weight gain in September 2012, Gaga hit back at critics by baring her body in photographs, sharing her struggles with an eating disorder, and inviting her fans to join her in a "body revolution."

Adele says she tries not to worry about her body image and doesn't want to be a "skinny minnie." "The first thing to do is be happy with yourself and appreciate your body -- only then should you try to change things about yourself."

The actress took to Twitter to say, "I'm not trying to be hot. I'm just trying to be a good actress and entertain people."

In a powerful 2012 piece for Jezebel, the comedian responded to people who criticized her appearance: I grew up hard and am still hard and I don't care. I did not choose this face or this body and I have learned to live with it and love it and celebrate it and adorn it with tremendous drawings from the greatest artists in the world and I feel good and powerful like a nation that has never been free and now after many hard won victories is finally fucking free. I am beautiful and I am finally fucking free.

After the March 2012 frenzy around Judd's "puffy face," the actress fought back in The Daily Beast, calling the media out for making women's bodies "a source of speculation, ridicule, and invalidation, as if they belong to others."

The "Orange Is The New Black" actress wrote a powerful essay for Glamour about her struggles with self-esteem and journey to body love. She's now dedicated to making sure all body types are seen on-screen: "Ideally, I want to see all beauties, all shapes, all sizes, all skin tones, all backgrounds represented in my profession. Now that I am blessed to be that reflection I was once looking for, I'm making a promise to speak out for that little girl that I used to be."

Tate's essay about body image and motherhood not only broke the Internet; it has sparked a movement of "moms who stay in the picture."

The fitness blogger and personal trainer posted a poignant video in response to online commenters' criticism of her physique. "In this video, you will experience what it feels like to be constantly bombarded with outrageous negativity," Ho wrote in a blog post introducing the video. "You will see what it looks like to have your self-esteem stripped away. You will read real comments left by real people. You will see me struggle with my own appearance."

The "Precious" actress had the most incredible comeback to cruel comments about her weight.

On her informed, thoughtful blog "The Beheld," Autumn writes about beauty, body image, appearance and her two -- that's right, two -- mirror fasts.

Gruys went on a year-long mirror fast during which she did not study her reflection in mirrors or other reflective surfaces, or look at photographs of herself.

"I am always in support of someone who is willing and comfortable in their own skin enough to embrace it," the singer said in a recent interview.

At the 2012 New Yorker Festival, the magazine's TV critic, Emily Nussbaum, asked Lena Dunham, producer, creator and star of the hit HBO show "Girls," why Dunham is naked in so many scenes. Dunham responded, "I realized that what was missing in movies for me was the presence of bodies I understood." She said she plans to live until she is 105 and show her thighs every day.

Chung responded to critics who suggested that her slight frame made her a bad role model for young women, saying: "Just because I exist in this shape doesn't mean that I'm, like, advocating it."

The NYU student started the amazing Body Love Blog, where she posted this picture of herself and wrote an open letter to those who feel entitled to shame others for the size or look of their bodies.

This 5-foot-tall, 200-pound singer spoke openly about her weight to The Advocate, saying, "I feel sorry ... for people who've had skinny privilege and then have it taken away from them. I have had a lifetime to adjust to seeing how people treat women who aren't their idea of beautiful and therefore aren't their idea of useful, and I had to find ways to become useful to myself."

In 2013 interview with Parade, Kaling said that she was tired of being discussing her appearance: "I always get asked, 'Where do you get your confidence?' I think people are well meaning, but it's pretty insulting. Because what it means to me is, 'You, Mindy Kaling, have all the trappings of a very marginalized person. You're not skinny, you're not white, you're a woman. Why on earth would you feel like you're worth anything?'"
Follow Marni Soupcoff on Twitter: www.twitter.com/soupcoff