What Super Tasty Superfoods Can Do for You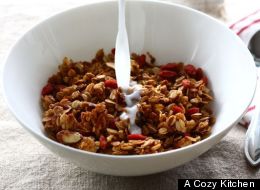 It seems like more and more lately we keep hearing about superfoods. The question is, do you know what a superfood is and what qualifies it as a superfood?
What are superfoods?
Superfoods are a category of foods found in nature; they are superior sources of essential, super-power nutrients -- nutrients we can't make ourselves. They are the most powerful foods on the planet, and are powerhouses for the transformation to a slender, healthier you. If you are what you eat, why not be super?
Where Can I Find Them?
Superfoods can be found everywhere. You are likely using many of them already everyday. Not all superfoods come from exotic places like Costa Rica and Thailand. Many are right here in North America and can be found at your local health food store, grocery store or farmer's market.
Everyday foods such as kale, quinoa, sweet potatoes, blueberries, and raw honey are amazing superfoods and if you want to get exotic, try nori seaweed, cacao, goji berries, maca, Maqui and mesquite.
BLOG CONTINUES AFTER SLIDESHOW
13 Of The Healthiest Superfoods
You don't have to rely on fall to get a taste of pumpkin. Pumpkin (even canned pumpkin) is full of fibre that's good for both your skin and body, says Joy Bauer, a health and nutrition expert for the TODAY Show. EAT IT: Add pumpkin slices to your yogurt or oatmeal mix with a drop of sugar or honey. You can even use pumpkins with tomatoes as taco or pasta sauces — you won't taste the difference!

"A lot of people may get nervous about arsenic in rice," Bauer says. Quinoa is an easy (and tasty) way to replace rice or pasta dishes, she says. It's full of protein — almost twice the amount of protein and fibre compared to brown rice, in fact. EAT IT: Try an easy quinoa oatmeal by mixing low fat milk or soy milk with berries, walnuts and bananas.

"Spinach does not have calcium for your body but it does have beta carotene (inactive form of vitamin A) and vitamin C," Bauer says. Spinach is also known as nature's multivitamin — it's full of iron, potassium and fibre. EAT IT: Don't like the taste of spinach? Mix it with your pasta sauce or fruit smoothies to mask the taste.

How many oranges would you have to eat to the get the same vitamin C content as one red bell pepper? Two. "Red peppers are sweet and can also help boost your immunity," Bauer says. EAT IT: Cut a pepper in half and fill it with hummus or bean dip. Yes, you can (and should) eat the bowl.

"The best part about chia seeds? Their impossible to dislike, they taste like nothing," Bauer says. Chia seeds, like flax seeds, are full of omega 3 fats, fibre and helps lower cholesterol. EAT IT: Take two teaspoons of chia seeds and mix it with your oatmeal or bread crumbs for chicken.

Raspberries in particular, have the highest amounts of fibre for berries, Bauer says. Berries boost brain health by helping our brains function better and make them sharper. EAT IT: Add your favourite berries on top of oatmeal or pancakes.

Pistachios in particular have about 30 calories per handful and make a great snack, Bauer says. Most nuts and seeds are low in carbs and good for your heart's health. Their also good for people who have blood sugar issues, just make sure you avoid salted or flavoured nuts and seeds, Bauer adds. EAT IT: Two words: naked popcorn. Just add kernels in a brown bag and pop it in the microwave.

Salmon has to be one of the top superfoods for any health benefit. Salmon is packed with omega 3 and even found in canned form (just make sure you read the ingredients and avoid preservatives, Bauer adds). EAT IT: Mash up salmon and avocado for a great spread.

Turmeric should be added to everyone's medicine cabinet, Bauer says. "Turmeric has the powerful ability to suppress inflammation and boost your body with anti-oxidants," she says. EAT IT: You can't go wrong with a turmeric infused curry. Try turmeric in chickpea and cauliflower curry or even over a chicken salad.

There's a reason why lentils are the king of legumes. Lentils can be your source or protein and starch in one, Bauer says. It's also more environmentally friendly — it takes less gas to produce lentils compared to meat. EAT IT: Lentils taste great cooked in salads, curries or try a soup.

Edamame has about 150 calories in two cups. Soybeans are a high quality carb that are also filled with plant-based omega 3 fats, Bauer says. "Edamame is also good for your brain, energy levels and mood." EAT IT: Steam the beans in the microwave, add lemon juice and you got yourself a tasty snack.

Adding two table spoons of balsamic vinegar to any salad is virtually calorie free, Bauer says. EAT IT: Replace all those salad dressings with balsamic vinegar.

Contrary to popular belief, bananas are not fattening, Bauer says. A medium-sized banana has about 105 calories, she says. Bananas are loaded with potassium and can even help with constipation. EAT IT: Freeze your bananas and serve with a a scoop of low-fat ice cream or blend sliced frozen bananas with a bit of almond milk — it's just like ice cream.
Superfoods also include:
• Raw foods -- (food not heated above 48 degrees Celsius or 120 degrees Fahrenheit)
• High enzyme foods -- (foods that easily break themselves down are easier on our digestive system, such as mangoes, pineapple, papaya and avocados)
• Organic foods -- (foods grown without pesticides, herbicides, and chemicals)
• Fresh, local foods -- (visit local farmers markets and taste the difference that local foods make!)
When choosing your superfoods:
Look for foods with a variety of colour, texture, flavour and shapes. This makes your meals and snacks exciting! No one wants a boring meal that doesn't taste good.
Focus on high nutrient-dense foods over low calories. Calories don't determine how many vitamins, minerals, enzymes or overall nutrients are in a food item. Superfoods have concentrated nutrients (protein, carbohydrates and fats) and provide an abundance of nutrition in every bite. It's also important to get away from focusing on calories all the time. It can become obsessive and you may lose sight of actually consuming good quality food!
Why superfoods?
They make you happy! They help you to actually lose weight because you will be eating foods that satisfy and satiate, rather than make you crave other foods. Your cells become saturated with nutrition. Plus:
• They give you energy
• They help your body to detoxify
• They give you mental clarity
• They promote activity and weight loss
• They improve immunity
• They clear and brighten your skin
Get started today and make some super recipes! Or, if you need some help and you're serious about getting more superfoods in your diet, let me help you in my Superfoods for Super Health workshop.
Superfood Power Balls

What's in it?

1/2 cup pumpkin seeds
1/2 cup sunflower seeds
2 tbsp hemp seeds
1 cup chopped dates
1/4 cup goji berries
2 tbsp cacao nibs or cocoa powder
1 tbsp raw honey or coconut nectar
1/2 tsp vanilla powder
1/2 tsp cinnamon
1/4 tsp sea salt
2 tbsp Sun Warrior Protein Powder 

Here's how to find some of these ingredients easily: Upaya Naturals & Navitas Naturals

How it's made!

Place all the ingredients into the bowl of a food processor and pulse until you get a thick "doughy" consistency. Roll into bite sized balls for quick power bites -- perfect for your purse or a midday snack or after a workout.
Follow Marni Wasserman on Twitter: www.twitter.com/@marniwasserman