A Letter To The Daughters About To Enter A Crazy World
Not only is it International Women's on March 8, it is also that time in my daughter's life when she has to find her first summer job. She has grown up the daughter of an entrepreneur and has a very healthy respect for work. My husband and I told her she had to save for her university education, so she had better get a job.
Yes, I am that mom who makes their child contribute to the cost of their education.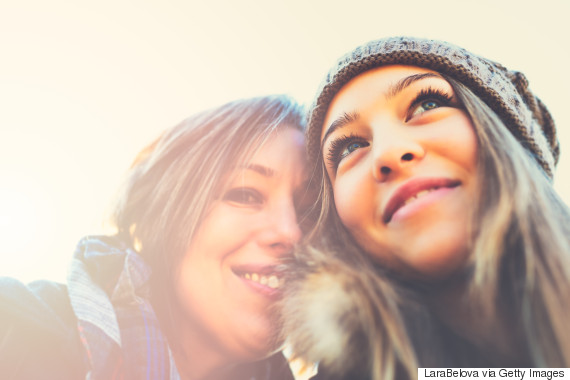 (Photo: Larabelova via Getty Images)
When my daughter asked me for advice about what a job involves, I wrote her a letter, and a few people asked me to share it, so here it is:
Dear Daughter,
You are about to enter the adult world. It's crazy, fun and, if you do it right, you will jump out of bed every morning and race to work. Yes, you will have days that suck, and you will have the occasional boss that sucks, but my only advice to you as you go out into the world, without me, because I can't do this for you, is this. Smile; shake a hand and mean it; don't be afraid to not know something; it's not about you, but it is about passion.
1. Smile, no matter what you are doing or who you are interacting with.
When you smile, you start the conversation or meeting off on the right foot. When you answer the phone, don't answer it in a moment of anger. People can hear it and we have enough anger in the world today. Be the smile you need to see.
2. Shake a hand and mean it.
No matter how clever you are with technology (and you are very clever), you will lose the respect of others if you don't take someone's hand firmly and look them in the eye and (see point #1) smile! A handshake is like a fingerprint. It tells people a lot about your personality.
No matter what you end up doing, have passion for it, learn from it, and be joyous doing it.
3. It is SO OK to not know something.
It's not OK to remain silent about it. Don't be afraid of looking dumb. The biggest mistakes of my life have occurred because I was afraid of asking questions. Think about what has happened recently. A person couldn't understand what was written on a card at the Oscars, and instead of saying, "Hey, this doesn't make sense," that person passed the card to a co-presenter who again did not question what was on the card. You know what happened. Did anybody look good? NO. Don't be the one who never asks questions. It's not cool. Trust me -- kids who pretend to be cool and know it all never end up being the boss.
4. It is NEVER about you.
When people hire you they want you to solve a problem for them or do something they don't have time to do. They don't want to hear you talk about yourself. They want to hear how well you listen. So listen carefully and take notes as a sign of respect. Then use those notes to think about your answer. You don't have to answer a question as fast as you text a response. People respect contemplation. Give people time to finish their thought. Listening is the second most delightful activity we can do for another person -- besides giving them chocolate, of course.
5. It is ALWAYS about passion.
No matter what you end up doing, have passion for it, learn from it, and be joyous doing it. Work is hard, and loving your work makes you grateful. Your passion will make 20-hour days feel like 20-minute days.
Love
Mommy
Follow HuffPost Canada Blogs on Facebook
Also on HuffPost:
Photos Of Mothers And Daughters Around The World That Show that Daughterhood is Universal
Saciido Sheik Yacquub, 34, poses for a picture with her daughter Faadumo Subeer Mohamed, 13, at their home in Hodan district IDP camp in Mogadishu, Somalia on February 11, 2014.

Indian mother poses with model daughter in contrasting outfits; the mother in traditional Indian garments while the daughter wears a black, sparkling leather body suit in January of 1999 in Mumbai, India.

Lucy Buell's daughter helps her 76-year-old mother get ready for her wedding in 1974 in Claremont, California.

Lucia Mayta, 43, and her daughter Luz Cecilia, 12, pose for a photograph inside their bodega in La Paz, Bolivia on February 24, 2014.

Farmers/florists Karly Plarisan, left, and her mother, Karen, cut dahlias from their flower garden at Verbena Flowers and Trimmings in Roseville, CA, on July 1, 2014.

Mother and daughter ride an all-terrain vehicle in Shishmaref, Alaska on September 26, 2006.

Francis Lovino, mom at 15, with her daughter Peggy Higgins (her ninth child) working the 6am shift at her family's sub shop in Bedford, MA on May 9, 2014.

Manami Miyazaki, 39, and her daughter Nanaha, 13, holding her alto saxophone, pose for a photograph at their home in Tokyo, Japan on February 3, 2014.

Rosaura Realsola, 51, poses for a photograph with her daughter Alexandra Yamileth, 13, in front of their home in Tepito in Mexico City, Mexico on February 20, 2014.

At left, Betty and Alison Dwolfa, mother and daughter from Australia on a trip to Cape Town, South Africa on September 27, 2013.

Mother and daughter having a relaxing day outdoors in Toronto's waterfront on a beautiful summer day.

Eighteen-year-old Siu Ye and her mother in Da Zhou village in China.

Gusti Ratu Kanjeng Hayu, is bathed by her mother Gusti Kanjeng Ratu Hemas, during a Royal Wedding on October 21, 2013 in Yogyakarta, Indonesia.

Julie Becker spreads brittle mixture with her daughter Laura Becker, on trays as they make candy with a recipe for brittle that's been in the family for four generations on November 16, 2014 in Denver, CO.

Lucy Oyela, 42, poses for a photograph with her daughter Abber Lillian, 14, at their home in Onang in northern Uganda on February 16, 2014.
Follow Mary Donohue on Twitter: www.twitter.com/DrMaryDonohue