Embracing Nexen Deal? Trudeau Prefers Shock Factor to Leadership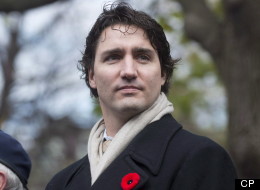 Why do political handlers confuse contrarianism with "substance"?
The Justin Trudeau campaign, keen to put to bed allegations of its candidate being a lightweight, just put out an opinion piece embracing the takeover of Nexen by China's state owned CNOOC.
Unexpected, eh? It must therefore be substantive.
It doesn't help that the federal Liberal Party is still running against Stephan Dion. That whole green thing was a temporary hiccup. Best now to cosy up to the tar sands to prove it.
Don't worry about throwing those Katimavik-style hopes and dreams of the next generation under the bus. They'll need to take cover there anyway as Sandy after Sandy bears down on them, in between droughts, that is.
It also doesn't help that the other "serious" Liberal candidate, Martha Hall Findlay, is also wanting to out-substance Trudeau also with shallow contrarianism. Supply side management? We're against it. Surprise! Now, take us more seriously. And, screw those thousands of Canadian dairy farmers -- it's not like they're part of that middle class we keep talking about representing, right?
And, before this turns into Liberal-bashing, the federal NDP is also at risk of falling into the same trap. By wanting to be seen as pro-trade, they tip-toe around deals cut by the Conservatives to give corporations even more rights to beat back democratically-elected governments at the municipal, provincial, and federal levels instead of calling them out for what they are. When did "pro trade" end up meaning "anti-democracy?" And, when did we become numb to this in our national political discourse?
To progressive politicians of all stripes: being substantive means more than being contrarian and saying the unexpected -- it means levelling with Canadians about the real challenges and opportunities in front of us. For example, it means:
Serious stuff. Substantive, even. Who knows, a real debate about Canada with real options beyond the current narrow bandwidth may open up and engage Canadians in politics again. Goodness knows that what's currently on offer isn't exactly inspiring.
Surprising Justin Trudeau Facts
With talk of Trudeau making a bid for the Liberal leadership reaching a fever pitch (again), HuffPost takes a look at some surprising facts about Canada's perpetual PM-in-waiting. (CP)

Trudeau's maternal grandfather James Sinclair was a Liberal MP and cabinet minister in Louis St.-Laurent's government in the 1950s. (House of Commons) CORRECTION: An earlier version of this slide incorrectly said Sinclair was a Progressive Conservative MP.

Trudeau was only the second child ever to be born while a parent was prime minister. The first was John A. Macdonald's youngest daughter Margaret Mary Macdonald. Trudeau's younger brothers, Alexandre (Sacha) and Michel were the third and fourth. (CP)

Trudeau has a Bachelor of Arts degree from McGill and a Bachelor of Education from UBC. He also studied engineering at the Université de Montréal and environmental geography at McGill, but never finished degrees in those fields.

While fathers Brian Mulroney and Pierre Trudeau were rivals, sons Justin and Ben are friends. Mulroney attended Trudeau's wedding to Sophie Grégoire. Grégoire has worked as Quebec correspondent for CTV's eTalk, which is hosted by Mulroney. (CP)

Trudeau didn't have cake at his wedding, with Sophie arguing that people never eat it anyway. (Shutterstock)

Trudeau entered the world on December 25, 1971.

Trudeau has a large tattoo on his left shoulder. The planet Earth inside a Haida raven. Trudeau got the globe tattoo when he was 23 and the raven when he turned 40. (Media Ball)

Trudeau and his wife Sophie have two children, Xavier James (4) and Ella-Grace Margaret (3). Both are partially named after family. Xavier James is named after Trudeau's maternal grandfather James Sinclair (the politician) and Ella-Grace Margaret is named after Trudeau's mother Margaret and Grace Elliot, Trudeau's paternal grandmother. Xavier also happens to share a birthday with Pierre Elliott Trudeau. (CP)

Trudeau played Talbot Mercer Papineau in the 2007 CBC miniseries "The Great War."

Trudeau is prime minister in the dystopian future portrayed in the video game Deus Ex: Human Revolution. (CP)

Sophie used to visit the Trudeau family home when she was a child. She was a classmate and friend of Trudeau's youngest brother Michel, who died tragically in a B.C. avalanche in 1998. Justin and Sophie made contact again at a fundraiser in 2003 and soon after began dating. Trudeau was so smitten that he declared they would spend the rest of their lives together on the very first date. (CP)
10 Facts About Canada's Oil Industry
The oil and gas industries accounted for around $65 billion of economic activity in Canada annually in recent years, or slightly less than 5 per cent of GDP. Source: Canada Energy Research Institute

Canada exported some 12,000 cubic metres of oil per day in 1980. By 2010, that number had grown to 112,000 cubic metres daily. Source: Canadian Association of Petroleum Producers

Canada refined 300,000 cubic metres daily in 1980; in 2010, that number was slightly down, to 291,000, even though exports of oil had grown tenfold in that time. Source: Canadian Association of Petroleum Producers

Despite talk by the federal government that it wants to open Asian markets to Canadian oil, the vast majority of exports still go to the United States -- 97 per cent as of 2009. Source: Natural Resources Canada

Canada's proven reserves of 175 billion barrels of oil -- the vast majority of it trapped in the oil sands -- is the second-largest oil stash in the world, after Saudi Arabia's 267 billion. Source: Oil & Gas Journal

One-third of Canada's oil sands bitumen stays in the country, and is refined into gasoline, heating oil and diesel. Source: Natural Resources Canada

Despite its reputation as the undisputed centre of Canada's oil industry, Alberta accounts for only two-thirds of energy production. British Columbia and Saskatchewan are the second and third-largest producers. Source: Natural Resources Canada

Alberta' government will reap $1.2 trillion in royalties from the oil sands over the next 35 years, according to the Canadian Energy Research Institute.

Thanks to improvements in energy efficiency, and a weakening of the country's manufacturing base, oil consumption in Canada has had virtually no net change in 30 years. Consumption went from 287,000 cubic metres daily in 1980 to 260,000 cubic metres daily in 2010. Source: Source: Canadian Association of Petroleum Producers

The National Energy Board says oil and gas employs 257,000 people in Canada, not including gas station employees. And the Canadian Association of Petroleum Producers says the oil sands alone will grow from 75,000 jobs to 905,000 jobs by 2035 -- assuming, of course, the price of oil holds up.