The Food Bank Will Always Be Part Of My Family Story
It's winter in Pickering. Cold. Wet. Grey. The wind moves off Lake Ontario, rips through your jacket and makes a home in your bones.
It's Tuesday. My mother and I drive to Saint Paul's On-The-Hill Church in her rusty old Ford Taurus. I can't remember why I'm home from school, but I do remember rarely wanting to be there. We're on our way to the food bank.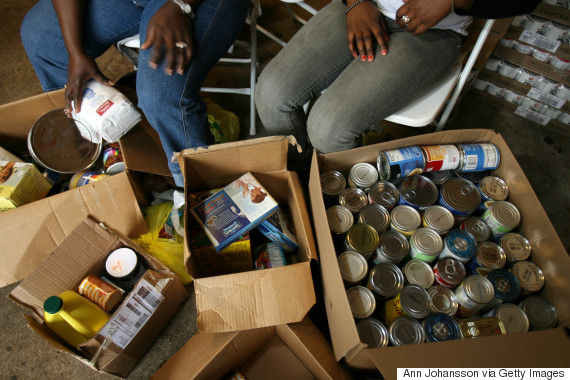 (Photo: Ann Johansson/Corbis via Getty Images)
I often went with my mom. I guess it was for practical reasons. She couldn't carry the box of food herself. But I could also feel that she didn't want to go there alone. She was a single mother with two kids on welfare. She was already alone.
For my family, there was a sense of shame in taking from the food bank. I was a kid and even I could understand it. I could feel it. I could see it.
We didn't want charity, especially when we needed it the most.
While other families went to the grocery store for food, we were in the basement of a church for hours. My mother's shame cut so deep that she would remove the food from the box and place it in grocery bags just so the neighbours wouldn't see.
We didn't want charity, especially when we needed it the most. Yet it was the blind kindness of strangers that made the toughest of times a little less daunting. A full belly was one of our first steps towards a fuller life. What was once a source of shame for my family is now an important part of our story.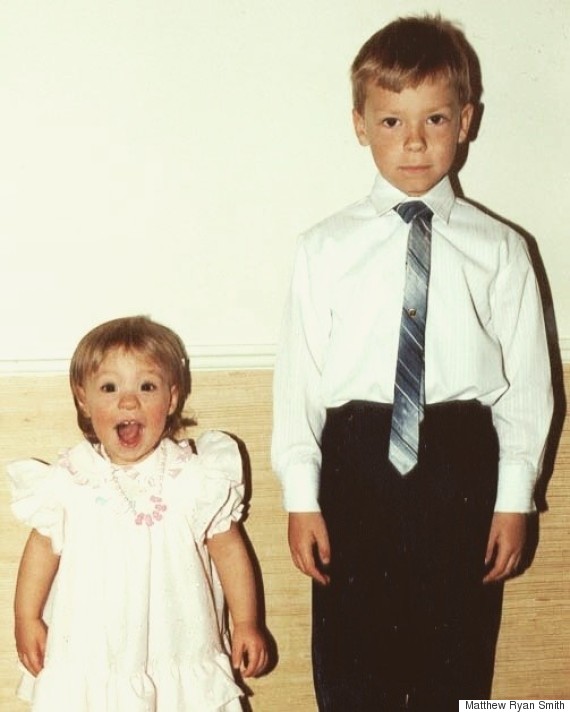 (Photo: Matthew Ryan Smith)
The Christmas holidays were only a few weeks away. I remember the boxes of food including stuff like pasta, tomato sauce, Campbell's Soup, tea, sugar, canned beans and frozen milk. After we received our box that day, I was invited to pick a present from a pile of wrapped presents. I chose the biggest one they had.
Weeks later, on Christmas morning, I opened the present. My little sister opened hers as well. To my surprise, it was a train set. My first train set. My only train set. Four or five cars were towed by an engine powered by AA batteries. They circled a simple oval-shaped track. Round and round it went, over and over again. Spectacular.
It's easy to slip into forgetting that hunger exists year-round.
Here was a gift that came from someone I never met and someone that I'll never know. I write this several years later, at age 33, closely remembering every little detail. That act of giving held so much weight as a child that I carry it on my back as an adult. Thank you, whoever you are.
It's easy to slip into forgetting that hunger exists year-round, not just during the holidays; it's up all day and awake all night.
Recently, I unloaded trucks of food at the local food bank warehouse. It was my first encounter with the food bank in years. In many ways, being there was painful. It opened old wounds that I thought were closed shut. The food bank was only a small part of my childhood, but is still a big part of my life.
A version of this blog originally appeared on Food Banks Canada.
Matthew Ryan Smith is a writer, curator, and educator based in London, Ontario. He can be contacted at: matthewryansmith733 [at] gmail [dot] com
Follow HuffPost Canada Blogs on Facebook
Also on HuffPost:
Fun Ways To Give Back To Your Community
Animal shelters are almost always looking for extra help, and volunteering has never been so cute. While there might be some unglamorous tasks, on occasion, you'll also get to spend some quality time with some really loving, adorable animals, and nothing beats that!

If you've got a flair for fashion, consider organizing a clothing sale. Ask locals to donate new or gently used clothing and accessories, and re-label them for reasonable re-sale prices. Donate all the proceeds from the sale to a local charity—like a soup kitchen or animal shelter—then donate any of the remaining un-purchased clothes to a local shelter.

If you've got an eye for design and a steady hand (or hey, even if you don't!) consider organizing a mural painting somewhere in town. There's bound to be a blank wall that could use some TLC somewhere along your daily route. Gather a few friends, approach the owner with your idea, and see about making a masterpiece that everyone can enjoy!

Got a green thumb? Considering taking up a plot at the community garden or volunteering to help maintain the unclaimed or common areas. No community garden in your town? Gather your fellow greenies and get one started!

Your pet makes you smile, so maybe he can make someone else smile too! Consider bringing your pet to a local senior center, veteran's club or hospital to bring some joy to the residents. Of course, this may not be the right choice for every pet or every location, so be sure to consider the demeanor of your pet, the needs of the patients, and the policy of the location before you try giving back in this way.

If you're the artsy type, then you may be able to find volunteer work you'll enjoy at a community theater or school. Tell them your artsy specialty and ask if they've got any sets that need painting, costumes that need sewing or props that need building.

There are lots of places looking for volunteers to help with activities for kids—schools, after school care programs, day care centers, camps, church groups, the YMCA, mentorship programs and more. Even if you don't think you're particularly talented, you may be able to help a child (or several!) learn to paint a picture, ride a bike, make a free throw, fold origami, jump rope, grow a plant, braid hair and more. It just takes a phone call and a little patience.

Next time you're baking for a family or work event, consider doubling your batch and bringing the extras to a local police station, veteran club, senior home or soup kitchen. You're already baking your specialty, and there are plenty of places that will appreciate your skills!

We've all got something we're good at, and if you're lucky enough to be good at long division or skilled in Spanish conjugations, consider sharing your smarts with local students. Many schools and after school programs would be happy to take on a volunteer to help students improve.

Senior Centers will almost always take volunteers, and sometimes you don't have to do anything other than say hello and listen to some pretty cool stories. But you can also read, play cards, dance, run an art class, give residents manicures... whatever!

Got a way with words or a sharp eye for detail? Consider helping your fellow residents with their careers by volunteering as a resume editor. See if local high schools, transitional houses, shelters or veteran assistance programs might be interested in having you come in and offer a workshop. You might even be able to get a local business to donate resume paper.

Looking for some other way to give back in your community? Head to VolunteerMatch.org to find opportunities closest to you. You might be surprised how many ways there are to give back right in your neighborhood!
Follow Matthew Ryan Smith on Twitter: www.twitter.com/matthewrsmith