This Is The Worst Reason To Have Strong Federal Ministers
Following last week's cabinet shuffle in Ottawa, La Presse's editorialist-in-chief François Cardinal complained that Stéphane Dion's departure was a big loss for Quebec. Not because Dion was good at his job as foreign affairs minister. Not because his renown reflected well on Quebec. Rather because, according to him, Dion was one of the few important ministers who could knock at the prime minister's door and pressure him to make a decision favourable to Quebec on various files.
From subsidies to Bombardier to increased health transfers and Ottawa's contribution to Montreal's transport infrastructure, there are several files where more federal money would be welcome in the province. As the editorialist noted, citing historical examples from previous governments, the presence of strong ministers often results in a province or a city being "showered with dollars."
To me, that's not a good reason to have strong ministers -- it's the worst!
Each region can point towards many examples to bolster claims that the way the pot is being divided is unfair.
This is based on the view that the federal government is essentially a big pile of cash and that every region and special interest group should try to grab as much of it as possible for its own benefit.
One of the arguments of those who defend this perspective or say it is inevitable is that we need our share of the loot because others got theirs and the money will be spent anyway. "Manitoba got such and such investment," "Toronto benefited for this program," or "Nova Scotia got that amount of money." If we don't lobby hard enough, the money will again go to them instead of to us.
Since Ottawa has been throwing money in all directions for decades, it is very difficult to argue with that view. Each region can point towards many examples to bolster claims that the way the pot is being divided is unfair.

So, to calm down frustrations and buy support in vote-rich regions, governments double down on the spending. Each passing decade, the federal government spends more and more on equalization, on health transfers, on large regional infrastructure projects, and other programs. They send hordes of ministers and MPs to cut ribbons and make sure local populations are aware of their "generosity."
This is the dynamic that has brought us to today's intolerable situation of having a huge government that spends money it doesn't have on everything. And the Trudeau government is making things even worse.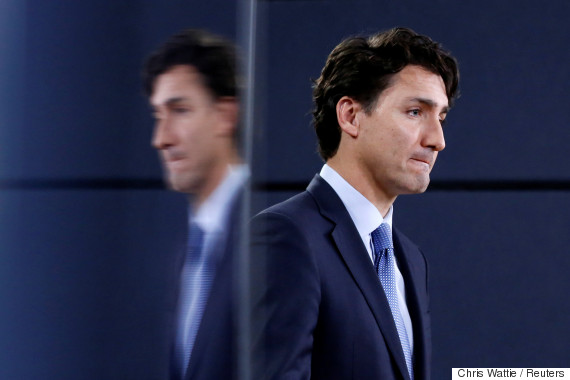 Prime Minister Justin Trudeau speaks during a news conference in Ottawa, Ontario, Canada, November 29, 2016. REUTERS/Chris Wattie
It has to stop. We cannot continue to pass our children the bills for all the projects that we cannot afford to pay for ourselves. We cannot continue to distribute ever larger amounts of money to please everyone and buy social peace, while refusing to face the consequences. We cannot ask governments to manage our money in a responsible manner while at the same time constantly demanding more money for ourselves.
To get out of this dead-end, as Conservatives, we should be defending the principle of subsidiarity, which is inherent in our Constitution. This means that issues should be handled by the most local competent authority, the one closest to the people. This way, each province, each region, each community, develops according to its citizens' preferences and priorities, and is forced to act responsibly because it pays for what it wants.
Big government leads to unfairness and irresponsibility.
The federal government has important national functions to fulfill. It would be better able to fulfill them if it stopped trying to solve every problem in the country, especially by violating our Constitution and intruding on provincial jurisdictions.
This is why I have proposed to get Ottawa out of the business of funding health care through transfer payments. Freed from federal conditions and unable to shift the blame to another government, provinces would also be more inclined to experiment in finding better ways to deliver health care services.
For the same reason, Ottawa should stop funding local infrastructure, and leave cities and provinces responsible to deal with their own needs. Apart from infrastructure of national importance, there is no reason for the federal government to get involved.
As the great economist Frédéric Bastiat wrote in 1848, "Government is the great fiction through which everybody endeavours to live at the expense of everybody else." Big government leads to unfairness and irresponsibility. It's time to reverse that trend.
Follow HuffPost Canada Blogs on Facebook
Also on HuffPost:
Trudeau Cabinet's Order Of Precedence
Prime Minister Justin Trudeau's gender-balanced cabinet does not include a deputy prime minister or clear second-in-command. The official order of precedence is instead determined by length of time in the Privy Council, and the order by which ministers were sworn into the ministry. Here's the official order...

Minister of Public Safety and Emergency Preparedness The finance minister under Paul Martin's government, Goodale is the only Liberal elected from Saskatchewan.

Minister of Agriculture and Agri-Food An MP since 1988, MacAulay has served as solicitor general of Canada, minister of labour, secretary of state for veterans and secretary of state for the Atlantic Canada Opportunities Agency. In the last Parliament, MacAulay was the critic for fisheries and oceans.

Minister of Indigenous and Northern Affairs A family physician who has been an MP since 1997, Bennett was Canada's first minister of state for public health and oversaw the 2003 response to the SARS epidemic. In recent years, Bennett has served as the party's vocal critic on aboriginal affairs.

President of the Treasury Board An MP since 1997, Brison was the public works minister and receiver general of Canada in Paul Martin's government. He had been the Liberal spokesman on economic issues and the vice-chair of the Commons' committee on finance.

Minister of Fisheries, Oceans, and the Canadian Coast Guard LeBlanc served as the Government House leader until August 2016, when he was replaced by Bardish Chagger. LeBlanc was sworn in as a privy councillor in 2004 when, under Paul Martin, he served as parliamentary secretary to the leader of the government in the House and deputy government whip. He is a childhood friend of Trudeau's.

Minister of Innovation, Science, and Economic Development An MP from 2004 to 2011, Bains regained his seat this year. In addition to being a certified management accountant, holding an MBA, and teaching at Ryerson University, Bains was an important Trudeau organizer and also served on the Liberals' national election readiness committee.

Minister of Finance Morneau is the former executive chair of Morneau Shepell, one of Canada's largest human resources firms.

Minister of Justice and Attorney General of Canada Wilson-Raybould is a former Crown prosecutor and regional chief of the B.C. Assembly of First Nations.

Minister of Public Services and Procurement An MP since 2008 and the party whip, Foote previously held several cabinet portfolios in Brian Tobin's provincial government.

Minister of Foreign Affairs An MP since 2013, Freeland was courted by Trudeau's team when she was a senior editor at Thomson Reuters in New York City.A Rhodes scholar, she is a well-known author and journalist. She was part of Trudeau's team of economic advisers.

Minister of Health Philpott is a family physician, associate professor at the University of Toronto, and former chief of the department of family medicine at Markham Stouffville Hospital.

Minister of Families, Children, and Social Development Duclos is a renowned economist who taught at at Laval University.

Minister of Transport The former astronaut, navy engineer, president of the Canadian Space Agency and Liberal leadership contender was first elected in 2008. He has served as an industry and foreign affairs critic.

Minister of International Development and La Francophonie Bibeau worked for the Canadian International Development Agency (CIDA) in Ottawa, Montréal, Morocco and Benin, Africa, before settling and launching her own business in her riding.

Minister of Natural Resources Carr, a former Manitoba MLA and deputy leader of the Manitoba Liberal Party, served as president of the Business Council of Manitoba from 1998 to 2014.

Minister of Canadian Heritage Joly made a name for herself by finishing second to ex-Liberal cabinet minister Denis Coderre in the Montreal mayoral race in 2013. She's a lawyer and communications expert.

Minister of National Revenue A small business owner who has been an elected warden for the Regional County Municipality of Rocher Percé since 2010, Lebouthillier won a seat in Gaspé that the Liberals haven't held in more than a decade.

Minister of Veterans Affairs and Associate Minister of National Defence Hehr was an Alberta MLA from 2008 to 2015, was one of just two Liberals elected in Calgary. In 1991, he was the victim of a drive-by shooting that left him confined to a wheelchair.

Minister of the Environment and Climate Change McKenna was a former legal adviser for the United Nations peacekeeping mission in East Timor and founded Canadian Lawyers Abroad (now known as Level), a charity focused on global justice issues.

Minister of National Defence Sajjan is a retired lieutenant colonel who served in Afghanistan and was the first Sikh to command a Canadian Army regiment. He also served as a Vancouver police officer for 11 years.

Minister of Infrastructure and Communities An Edmonton city councillor since 2007, Sohi immigrated to Canada from India 35 years ago. He spent time as a political prisoner in India in the late 1980s.

Minister of Status of Women Monsef, a community organizer, fled the Taliban in Afghanistan and came to Canada as a refugee with her widowed mother and sisters in 1996. She was shuffled out of the democratic institutions portfolio in Jan. 2017.

Minister of Sport and Persons with Disabilities Qualtrough is a lawyer and former Paralympian. Legally blind, she won three Paralympic and four World Championship medals for Canada in swimming and was president of the Canadian Paralympic Committee.

Minister of Science Elected in 2008, Duncan taught meteorology, climatology, climate change, and medical geography at the university level.

Minister of Status of Women Hajdu was executive director of Shelter House, Thunder Bay's largest homeless shelter.

Leader of the Government in the House of Commons and Minister of Small Business and Tourism Chagger, 35, worked for the Kitchener-Waterloo Multicultural Centre. She also worked on Trudeau's leadership campaign.

Minister of International Trade Champagne had a hugely successful international business and law career, living in Europe for many years before running for office. The World Economic Forum dubbed him a "young global leader" in 2009.

Minister of Democratic Institutions Sworn in at 29, Gould is the youngest female Canadian cabinet minister in history. She previously worked as a trade and investment specialist for the Mexican Trade Commission.

Minister of Immigration, Refugees, and Citizenship The first Somali-Canadian elected to Parliament, Hussen came to Canada alone as a 16-year-old refugee from Mogadishu. He was a successful lawyer and president of the Canadian Somali Congress before running for office.
Follow Maxime Bernier on Twitter: www.twitter.com/@MaximeBernier