If You Had To Live From A Backpack, What Would You Bring?
If you had to live out of a backpack, what would you bring? I've had to ask myself that question quite a few times in my wandering life. Recently, I found myself asking it again, as I sifted through photos and stories of Syrian refugees and the few belongings they carried from home.
A carrier of memories
I am a little obsessed with my backpack. It's one of those early generation Mountain Equipment Co-op Pika packs, the kind every college girl had about five years ago. Everyone else seems to have moved on to the uber-cool Herschel or the tried-and-true Jansport, but not me. I'm still rocking my cobalt blue, threadbare MEC pack.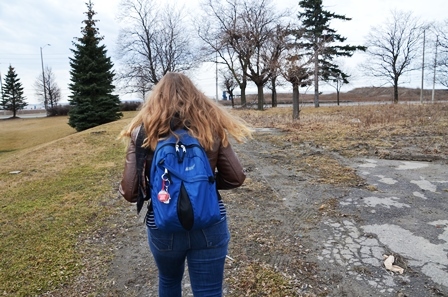 Whether trekking overseas or walking to work, I'm rarely without my backpack. Photo/Debbie Wolfe
There's a reason I'm holding on to it, though. We've been through a lot together. I bought my backpack six months after I finished university. I was about to move back to Senegal to live with my family. Soon after that, it came with me to my very first job as a writer at a news organization in Tunisia. I can still remember packing it with my Moleskine notebook, my favourite pens and a very loud whistle in case I should run into trouble.
My backpack has also been with me on adventures in Egypt, England, Wales and France. Most recently, it was on my back, filled with presents, when I met my fiancé at the airport in Bolivia for our wedding. I've stuffed a lot of my life into this little blue bag, and in return, it's been there for many, many memories.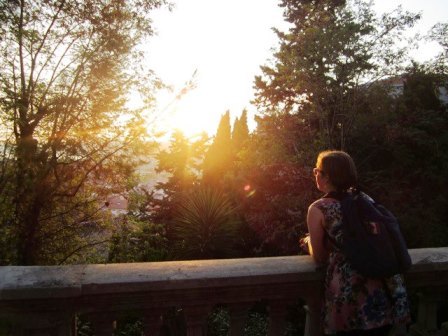 In Nice, on the French Riviera, with my Pika pack. Photo/Megan Radford
Many of you university students just came back from reading week. I hope you were able to have great adventures, carrying your own backpacks! And if you're a high school student about to enjoy a much-needed March break, I wish the same for you.
Isn't it fun to decide what to pack? Whether it's a canoe trip, a hike around the hostels of Europe, a volunteering experience or just an overnight with friends, living out of a backpack gives us a sense of freedom like nothing else.
When one bag is all you've got
But there are times where living out of a backpack is forced upon us. Homelessness, war or even a mundane loss of luggage in transit make our backpacks less of an accessory and more of a lifeline. When I was living with my family in Senegal in 2012, I almost had one of those circumstances happen to me.
A political situation in my adopted home was about the boil over -- the president was attempting to change the laws of the land and run for a third term. Senegal has historically been a peaceful country, the only African nation to never experience a coup. But protests and violence had the Canadian embassy on high alert. They advised us to pack an "evacuation pack" in case we needed to flee.
My family sat down and made a list. Each of us wrote down those few things that were so precious to us that we couldn't bear to leave them behind. Then we added necessities like clothes, water, health and hygiene. Each of us knew where the things we would need to grab were. I went one step further and put most of my items into my little blue backpack, ready to grab if the worst should happen.
The things we leave behind
It never happened. Not for me, at least. But for millions of people fleeing the conflict in Syria, the worst did happen. Some families have had time to sit down, as mine did, and make that painful list. Others probably grabbed things in the middle of the night as bombs rained down on them. Many have been living on those few things they managed to grab for months, and even years.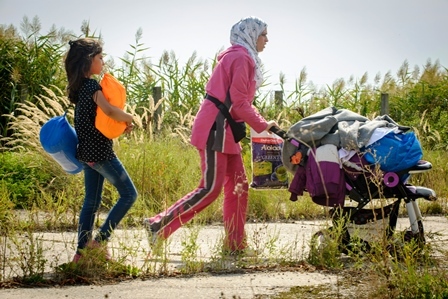 A mother and daughter carry all that's left from their home in Syria, as they head for the Croatian border. Photo from World Vision
Living out of a backpack doesn't sound so good when it's put like that. How would you make the decision between a precious family heirloom and a warm blanket? What if you had to leave behind a favourite toy from your childhood so you could bring medication for your grandfather instead?
The loss that people, people just like us, have suffered demands a response. Many Syrians are without even the most basic necessities -- that's what our Syria relief fund is all about, and you can be a part of that.
We can't replace the priceless things now buried in the rubble. But we can provide blankets, food, toys for children and other helpful items that will make life a little easier.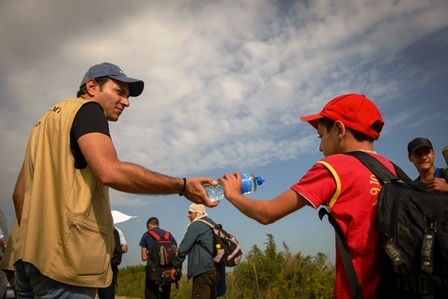 Water is heavy to carry in a backpack, and you can't always find it on the road. World Vision has been helping get necessities to Syrian refugees who have fled their country. World Vision photo
You can also keep the conversation about the Syria crisis going by talking about it on social media, to your friends and to your government leaders. Don't let them forget Syria. An end to the war can be more than just a dream.
If you had to live out of a backpack, what would you bring? We would love to hear your answers, and your stories about your own backpack experiences in the comments section below. You can also tweet us or message us on Instagram @worldvisioncan.
Follow HuffPost Canada Blogs on Facebook
MORE ON HUFFPOST:
Great Things Canadians Have Done So Far For Syrian Refugees
Joe Woodsworth, a senior manager with Surrey, B.C.-based Options Community Services picks up dozens of backpacks, each filled with school supplies for Syrian children. Operation Backpack is the idea of former 24Hours columnist Laila Yuile.

Malak arrived with her family in July after living in a Jordanian refugee camp for two years. Her teeth were so decayed the 5-year-old girl was kept up at night because of the pain until a local dentist stepped forward to help the family for free.

"Hopefully, together, we can prove that Canada in general and the Maritimes in particular are as generous and welcoming as the rest of the world thinks we are," P.E.I. artist Amy Seymour told HuffPost Canada.

In November, the Edmonton Oilers captain gave $10,000 to Edmonton's Mennonite Centre for Newcomers to support their work in helping to resettle incoming Syrian refugees. The donation helped the group meet its two-month goal in a single day.

The Guelph businessman made headlines last month after stepping forward to say he intended to spend $1.5 million to privately sponsor 50 Syrian refugee families to come to Canada. Estill explained he was tired of seeing refugee applications get snarled in long, bureaucratic processes. "I'm a businessperson, I'm very impatient, and we should just do it now," he said.

"It's really good to know that we're so compassionate and that we want to help," said Darrell McLeod of St. Clare's refugee family sponsorship group. "Everybody's very excited about it. Everyone's been really excited to make things happen."

Westbank Developments founder Ian Gillespie is behind many of downtown Vancouver's glitziest skyscrapers.A descendant of Irish immigrants, he made a pledge in November to furnish a 12-unit West End apartment complex and open it to incoming refugees. He also said he's exploring ways to help Syrians get jobs after they arrive in the city.

A small group of from the Keewatin Otchitchak traditional women's drum group gathered by baggage carousels to greet 17 Syrians to Treaty 1 with a song of welcome.

"I need to point out that the people who are desperate refugees are fleeing from the exact same people who perpetrated the kind of violence we saw in Paris and Beirut last week," the Calgary mayor told reporters a week after deadly attacks in France and Lebanon. "They're running away from the bad guys and, as such, we need to be able to open our arms to make sure that we can provide safety to these folks."

Christine Youssef (pictured) greets newly arrived Syrian relatives on a bus near Pearson International Airport in Mississauga on Dec. 11. Youssef and her mother are sponsoring 43 of their Syrian relatives to come to Canada. Thirteen have arrived and are staying at the family's small Scarborough, Ont. bungalow. Soon, nine of the relatives will move out, making room for more relatives to come in.

When CBC News reporter Eman Bare interviewed Mohamed Al-Noury, 21, and Athar Farroukh, 23, she realized the Syrian refugee couple had no wedding pictures. So Bare put a callout on soical media to surprise the high sweethearts with a wedding. Her request spread and within 24 hours people came forward donating a venue, suit, dress, and cake. "Grateful for a community that makes beautiful things happen," wrote Bare on Instagram below a photo taken at the couple's Saskatoon ceremony.
Follow Megan Radford on Twitter: www.twitter.com/MegRadford