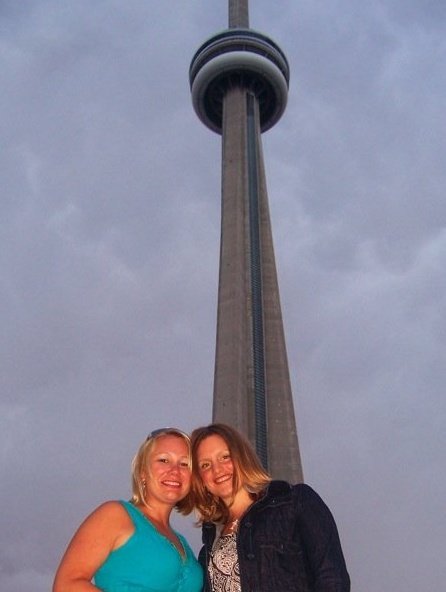 That's me and my longest standing Toronto friend, BFF Kim, circa 2008, in front of the world's tallest free-standing structure, both integral parts to my life in Toronto!
What would you do if you only had 130 days left? 130 days in Toronto, that is?
The countdown has begun to my departure from the city I have called home for 12 years, and with that comes a titch of sadness, a ton of excitement, and a desire to taste all this city has to offer before I pack up and say toodle-loo. I have officially given notice to my landlord and have a possible new tenant coming to see my flat next week, who, I hope, will want to take on both my place and some of the furniture it houses! I have started offering up my belongings to friends, tossing the items that can't be up-cycled, donated, or gifted. Goodwill has now seen a good majority of my winter wear, and I have finally ditched my full body parka purchased way back in 2003. Yes indeed-y, I am in full preparation mode for my massive move...my move to Costa Rica in the fall, where I will be living my dream, teaching raw food classes and yoga full time. And the always cold, it's never humid enough parts of me hope to never have to see another Canadian winter again!
Lately, every time I find myself walking, or more recently, biking, through the different areas, neighbourhoods, and coves of TO, it comes to my attention that there are plenty of things that I have not experienced in this city since moving here at the ripe old age of 20. I have lived a full and thrilling life as I forged through one decade and into another, learning, living, and I thought, leaving no stone unturned. But now as I plan to uproot, it is evident that there is still plenty that I have not seen; much ado about something. So as I revel in my last summer as a full time resident of the T-Dot, I am excited to start crossing some things of the long-overdue TO-DO list that has held presence in the back of my mind for so many years.
As day 129 approaches, I am committing myself. I will make time to do as much as I can in what spare time I can find away from working, teaching my summer yoga programs and planning for my Costa Rican retreats, to see this city like I haven't ever seen it before. And I am going to try and complete as many as I can, in the time that I have, for as little cost as possible. Wish me luck!
Oh, and I am taking suggestions as well, as I am sure there is loads more to explore than I am listing here. And I can't wait to write all about it here on HuffPost! I bet there are so many hidden gems, holy haunts, and have-to's that I am in the dark about, and I want to hear about them! So if you want to let me know what else I should give a go, tweet me at @MAPWellness, and I will add it to the summer planning! Time to make some dates with my city!
My T-Dot To-Dos:
Re-learn how to sew (so I can make my own clothes!). I think I will check out The Sewing Room in my 'hood!
Learn Spanish - I am excited to be working with local school The Spanish Studio for this one - already in progress.
Hit the TSO.
Check out the National Ballet
.
Go to Medieval Times. I know; kind of lame, but I lived right around the corner from there for YEARS!
Polson Pier - bungee jumping anyone? Do they even still DO that there?
Indoor rock climbing - I have planned to do this since my early 20's.
Enjoy dinner at Splendido (I know, shame).
EdgeWalk (can someone hook me up!?).
Bike ride to Niagara on the Lake (I know, not really city-centric, but a must do!).
"Officially" run a 5K. You know, like in a race.
Salsa lessons.
Got an idea for me? Tweet me the deets at @MAPWellness!