Life With An Autistic Son Gave This Mom A Voice And Strength
Parenthood is a journey where we learn to embrace and enjoy the beautiful moments and we learn to cope with the challenges that parenthood brings us.

It is an honour to share this story of a truly inspiring woman and mother of two who has learned to alter her life with an autistic son.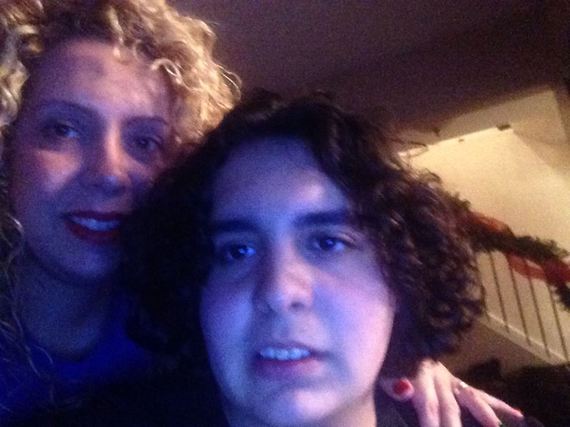 So what exactly is Autism Spectrum Disorder (ASD)?
According to Autism Ontario, ASD is a life-long neurological disorder that affects the way a person communicates and relates to the people and world around them. ASD can affect behaviour, social interactions and one's ability to communicate verbally. ASD is a spectrum disorder, which means that while all people with ASD will experience certain difficulties, the degree to which each person on the spectrum experiences these challenges will be different.

Onset is early childhood and the presentation changes with development over the life span.
Adele and Aidan's Story
In 2001, a life-changing event occurred within Adele's immediate family, and at the same time Adele noticed changes in her youngest son, Aidan, who was only 14 months at the time. The changes she noticed were: he completely stopped talking; he would not respond to his name; had many night terrors; made no eye contact and he would get much more frustrated.
With these concerns, she took Aidan to the pediatrician and from there they were referred to a developmental pediatrician. After a six-month wait to be seen, they were seen by the developmental pediatrician. Many tests and assessments were done. In the meantime, Adele kept track of the changes as the behaviours started to get worse. In 2003, Aidan was diagnosed with autism. By this time he was two years old.
Aidan received Applied Behaviour Analysis (ABA) through Erinoak Kids Centre for Treatment and Development for only two years, as they were on a waiting list for four years (this is government-run program). While Aidan was on the wait list, Adele and her husband paid for private ABA therapy on a part-time basis (this was all that they could afford at the time) and Aidan was also enrolled in preschool.
On top of this, Adele, did a lot of work with Aidan at home and she was able to help him a great deal as she is what I like to call a "warrior." Adele did a lot of research to better educate herself on autism and she came across a community organization called Community Living Mississauga that provided her with resources and workshops to help her.
Once Aidan was discharged from Erinoak Kids Centre for Treatment and Development for ABA therapy and transitioned full time to elementary school, the teachers at his school were amazing and supportive. But of course Adele never gave up and ensured that the hard work at home continued, too.
"This did not change my life but it altered it. This is all I have known."
This experience has made Adele realize that there is a lot more that she could do. She was no longer shy and became more assertive. This motherhood path that she was on gave her a voice and strength, and she became fair but firm. "I never gave up and will always be there for my sons," Adele stated.
When reflecting on her journey, I asked Adele what she felt was the biggest accomplishment for her and her son. Adele responded with such pride in her voice and said, "He is able to use the bathroom on his own at the age of 13."
Some may not understand the significance in this, but as a mom who has heard from experts that her son will be in diapers for the rest of his life, to have him do this on his own is just an amazing accomplishment!
Parenthood is a tough job to begin with, so I asked Adele what advice she can give to a family who has a child with Autism. Adele stated: "It's not the end of the world and there is hope! Don't believe everything you hear. It is hard work and it isn't easy but it can be done."
She further added, "Your children do grow up and you need to adapt with their growth. Get past the judgement and develop a thick skin."
Being a working mom with a busy household does not stop Adele from helping others. Often she helps and guides other moms of autistic children. She comforts them and is always ready to answer any questions that they may have. On top of it all, she gives back to the organization that has helped her family by organizing and executing an annual fundraiser. Money raised from the event supports programs and the summer camps for kids with intellectual disabilities at Community Living Mississauga.
"You go through so many feelings when you first hear that your child has autism. You feel a fear of the unknown; guilt; denial and then acceptance. It is tough but the rewards are priceless. Never give up! The best moment for me is when you finally hear 'mom' when you were told you would never hear it." Adele lastly adds, "I wouldn't change him for anything!"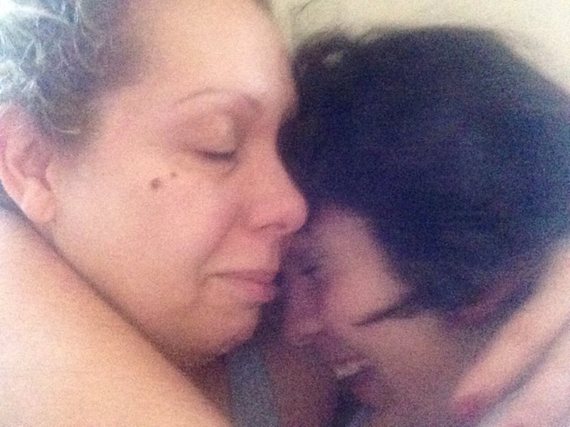 Adele's journey is inspirational and a great lesson for us to love one another no matter how we may be perceived by others. Someone with autism is just a person with individual needs. A person with loving family members. A person who needs to be accepted and included in her or his community. As this person grows into adulthood they need to be given equal opportunity preparing for and succeeding in adulthood. Autism does not end in childhood and it stays with them for the rest of their lives. Let us be more supportive of them and their amazing families that exemplify pure strength.
Thank you Adele for sharing your story of hope, courage and never giving up. Thank you for all that you do for your family and community.
Follow HuffPost Canada Blogs on Facebook
MORE ON HUFFPOST:
At first autism meant "scary" to our family. As time went on autism became normal. The littlest things like your child eating a new food puts you in a good mood and warrants a brag post on Facebook!

It means seeing the world through a different set of lenses.

It would take at least a dozen pictures. Him reading a book at 3-years-old, even though no one taught him how. Crying because the sun hurts his eyes or his brothers were just too loud. Laughing. Snuggling. Riding his bike. He has taught us so much. He is truly our sunshine.

Our daughter has Down syndrome and autism and is a small piece of the puzzle. Autism means a little more unique than the rest...

Autism is enjoying swings, rides and slides!

Autism means your child can be your hero.

Autism to me means cherishing every milestone, every bite of food, every babble, every time my son points to something to share interest, every hug, every kiss. We rejoiced when he would tolerate eating a sucker! It was a big deal! Literally every moment or stride brings me joy and hope.

To our family autism means compassion and patience. It inspires me to see the uniqueness in all children, even "typical" kids.

Autism means building from our strengths and what brings us joy.

Taking family vacations like everyone else.

Autism means that moments like these are rare and treasured and completely unforgettable.

Autism means looking at the world through a magnificent set of lenses that only he can provide.

Autism is celebrating the accomplishments that others overlook -- even something as simple as touching sand!

Autism means sometimes she wants a big hug -- just not from her mommy. Autism means understanding all her nonverbal cues and never taking it personally.

It means never having the socially accepted "appropriate" answer, but always being a delightful surprise and a ray of fresh sunshine. Also it means hating babies but loving his little brother unconditionally.

It means taking a completely different path on the journey you had in your mind, all while learning that beauty is nothing like you ever imagined, it's better.

Autism to us means knowing that not everyone will understand and that's OK.

Autism means learning and changing. I never expected to be here, but I will do everything I can to help my son.

Autism means that it's not going to be how I thought it would be. It means taking a different path than most. It means I will hold his hand and walk with him through whatever struggle we face or success we have.

Autism means finding joy in each and every accomplishment! Autism means challenges, loving so much it hurts, growth, setbacks, memorizing every line from a movie, picky eating, laughing, innocence. This kid's future is so bright that he needs his shades indoors.

It means the rules change every day, food usually doesn't get eaten, and I was lucky enough to give birth to the bravest Superman I've ever known.

To us, autism means not assuming that ASD kids are unhappy or un-bonded to their families. Drew is the sweetest, kindest, most loving little boy. In our life, autism means getting stuck in every entrance door because Drew has a fixation on doors. It also means protecting our sweet baby from the mean people who have cussed at him when he's had a meltdown in public.

It's about living out loud; he never censors himself to make anyone feel more comfortable, he is unapologetically himself. When you're a freshman and your sister is a senior and she takes you as her date to the winter formal, that's a pretty fantastic thing. Sure, he may have both Down syndrome AND autism, but he's also got some killer dance moves; neither diagnosis defines him.

It means we learn to take on this crazy world in a whole different way together, we teach each other and the people around us to think and learn a different and unique way. My favorite saying: " I would not change you for the world, but I would change the world for you"

I believe autism means to have more patience and be more patient and to have an open mind for new ideas to overcome challenges. I believe every child has a story, they are unique and beautiful in their special ways.

We are a military family with two beautiful boys on the spectrum and to us autism is just love.
Follow Melanie Braga on Twitter: www.twitter.com/melmbraga