5 Reasons To Take Your Family To Toronto Island's Centreville This Summer
Growing up in Toronto, there were many things to do as a family but one of my ultimate favourite places to go to was Centre Island, or more specifically Centreville. I remember loving the ferry ride to get to the island and then spending the day on all the fun rides. Those are the moments that I remember and cherish to this day.
Now with a family of my own, it was my turn to provide these same fun memories to my daughter who now at the age of two can enjoy more of them.
Here are my five top reasons why Centreville is a great place for families to visit.
Escape from the Big City
It is hard to believe that Centreville is only a ferry ride away from the busy city of Toronto, Canada and gives guests a scenic ride to the Island with unbelievable views of the city with planes flying overhead into the airport. Once you arrive at the Island you can already feel such a calming atmosphere. The scenery is landscaped beautifully and there is so much to see on the island. It is a great place to see and a great escape from the hustle and bustle of the big city. Click here to see a map of the island.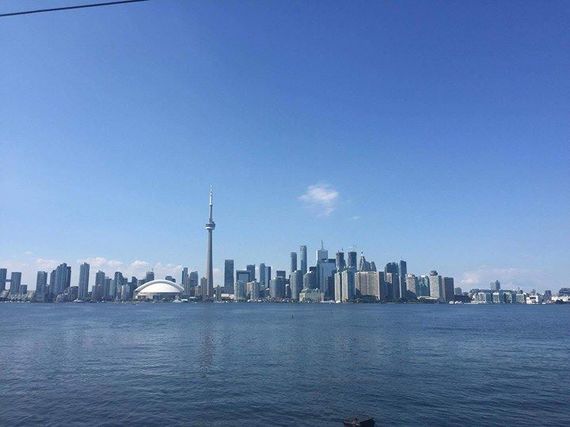 Momma Braga Tip: To avoid long line ups, it is best to purchase your ferry boat ticket online as it will save you time.
Centreville Amusement Park
From rides and games to a wide selection of food outlets, there is something for everyone at Centreville, like they say! Centreville celebrates 50 years of fun this year and has been a hot spot for families with young children for many years. Even though many know about Centreville Amusement Park, I think families don't realize how toddler-friendly it is. There are many rides and attractions for toddlers and that is the best part! There are of course some rides that are not recommended for toddlers but I find Centreville full of many more options.
Momma Braga Tip: When planning your visit, check out the website to see what type of rides they have and it also lists how many tickets you need to ride each one. The neat part of this section is that it lists the intensity of the rides under: Smooth, Moderate and Extreme. I also recommend to check the hours of operation as well before visiting, click here.
There is no entry fee to enter Centreville Amusement Park (which is fantastic!) but to enjoy the rides and attractions payment is required. There are different rates depending on what you would like to do. Each ride requires a certain amount of tickets to ride them and you can also buy a pass that will provide you unlimited access to the rides for the day. You can learn more about the available passes here. Please note that some rides require an adult to accompany a small child and therefore the adult will require tickets. Keep this in mind when making your decision on what to purchase.
Momma Braga Tip: We purchased the Family of 4 All Day Ride Pass and we purchased it online to save some money ($105.50 CDN) as this way we didn't have to worry about how many tickets we needed. If you are looking to buy a pass, I recommend to purchase it online to save yourself some money.
Nikki Favourites: Our daughter had a few favourite rides that she recommends for all her young toddler friends which are: Centreville Train; Antique Carousel; Kiddie Boat; Fire Engines; Touring Cars; Twirling Teacups; and the Pony Express.
Far Enough Farms
A staple of Centre Island is the Far Enough Farms and a must see with your little ones. My daughter loves animals so of course, this was on our must see list. Far Enough Farms is locating just east of Centreville Amusement Park and is open daily 365 days a year from 10 a.m. to 5 p.m. and completely free to enjoy! Yes! I said FREE!
There are 40 different species to see at the farm and you can learn about them through the farmers and farm hands that are always on hand to answer any of your questions. We truly enjoyed this part of our visit and of course so did my daughter!
Fun Games
Can't forget about all the games that you can play to win some stuffed toys to add to your collection! Check out all the games they have on site by clicking here.
Great Food Outlets
Plenty of yummy food to eat at Centreville and they are all great! We didn't bring our own food as we decided to fully experience Centreville. Here is a list of all the available food outlets. We ended up eating at the Carousel Café which we just adored. It's located a short walk away from Centreville.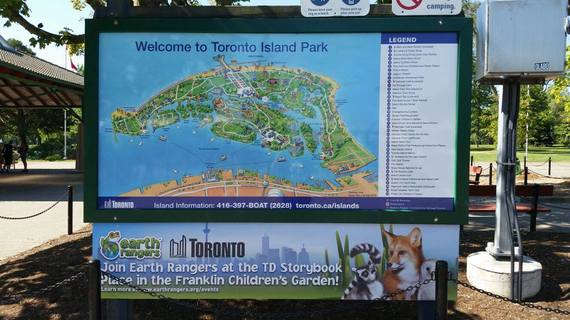 These are my top five reasons to visit the Centreville Amusement Park and if these reasons are not enough... I think the most important part was it provided a city escape to spend time together as a family. Overall, we all had a great time and what tugged at my heart strings was seeing the pure joy in my daughter's constant smile as she enjoyed every minute of Centreville. I got to see what my parents use to see in me and for that, I am truly grateful for. Our family tradition continues and that is what makes Centreville a great place for families!
Follow HuffPost Canada Blogs on Facebook
ALSO ON HUFFPOST:
19 Free Things To Do In Toronto With Kids
The Toronto Public Library often hosts free yoga and meditation classes throughout the city all year round. This is a great way to help kids get in tune with their bodies and minds, and can help relieve any stress they may have. More info here.

Who doesn't love free movies and music? This spring, take the kids to Yonge-Dundas Square for some great entertainment. Every Monday from May 9 to June 15 there will be musical performances between 12:30 p.m. and 1:30 p.m. You can also catch more free music every Friday night at 8 p.m. from June 14 to Sept. 9. As for movies, a free film will screen every Tuesday evening from June 28 until August. Since the movies don't start until 9 p.m., this would be a great outing for families with older kids. Movie listings have not yet been posted. More info here.

Take a walk in the park this May to see High Park in all its beauty. According to BlogTO, High Park's cherry blossoms are expected to peak in early May this year, making the perfect backdrop for some fun family photos. While at the park, the kids can also enjoy a fun nature scavenger hunt. Try one of these ideas here.

Speaking of High Park, one of the park's other highlights is the Jamie Bell Adventure Playground. Located right beside a duck pond, this magical playground is filled with slides, swing ropes and multiple things to climb! The kids are guaranteed to love it. More info here.

Teach kids about Parliament by taking a tour of Ontario's historic Legislative Building. Various guided tours are available all year round. More info here.

Every Wednesday, the Art Gallery of Ontario is free to the public from 6 p.m. to 9 p.m. Take advantage of this and bring your kids to see some unique exhibits. Children under five years old are also free all year round. More info here.

The kids will love visiting Riverdale Farm. This historic ranch is located in the heart of Cabbagetown and is home to various barnyard animals and butterfly gardens. More info here.

The Scarborough Bluffs are 15 km long and absolutely gorgeous! Take the family there to admire the views and enjoy a picnic on a beautiful, sunny day. The bluffs also have trails and beaches that the whole family can enjoy. More info here.

Who doesn't love the circus? Bring the kids to the Harbourfront Centre's "Sea to Sky Circus Show," which features dancing mermaids, clowns, aerial performances and of course, acrobatics! Multiple shows will run over the Victoria Day long weekend, from May 21 to 23. More info here.

Take advantage of a beautiful day and stroll along Toronto's waterfront. While there, check out the Harbourfront Centre and some of their family-friendly activities, too. And although this isn't free, you could also treat your family to some delicious BeaverTails at their newest location on Queens Quay W. More info here.

The CBC Museum is actually cooler than it sounds. The museum features archival materials dating back to 1936, but its highlight is definitely the Tickle Trunk from the beloved children's show "Mr. Dressup." Visit this museum with your kids and share some of your childhood memories with them. More info here.

If your kids are animal lovers, take them to High Park Zoo, which is open all year long. Surprisingly, this free zoo dates back to the early 1900s and features bison, peacocks, emus and even reindeer! More info here.

Take the kids to roam Kensington Market on a weekend. In this multicultural neighbourhood, they'll get a different experience of the city and will enjoy popping into all sorts of neat shops.

There are actually quite a few beaches in Toronto, so take your pick. The kids will enjoy the sun, sand and water, while you can relax on shore. Be sure to check out Centre Island Beach in particular, which is located close to Centreville Amusement Park and Far Enough Farm. Activities here will keep kids busy all day long. More info here.

Regent Park screens free films every Wednesday from July 13 to August 17 at 9 p.m. Before the movies begin, the park also offers free music and activities, such as yoga and soccer games. More info here.

Allan Gardens Conservatory is a century old and is home to a variety of tropical plants from all over the world. Take the kids here to explore the 16,000 square-foot greenhouse and get back to nature! More info here.

Celebrate Canada Day on July 1 by taking the family to watch fireworks at Mel Lastman Square. But before night falls, the special celebration will also feature live music and dance performances. The city is also expected to have fireworks in celebration of Victoria Day at Ashbridges Bay this year. More info here.

There are tons of farmer's markets around the city. The kids will enjoy looking at all the various knick-knacks the vendors have to offer. Plus, they'll get some good exercise walking around all day. St. Lawrence Market: Saturdays, 5 a.m. to 3 p.m. Trinity Bellwoods Farmers' Market: Tuesdays, 3 p.m. to 7 p.m. Evergreen Brick Works: Sundays starting June 5 More farmer's markets here.

City Hall offers the public free tours that explains the construction of the building and the history of Toronto. The kids will be fascinated to learn about their city. More info here.
Follow Melanie Braga on Twitter: www.twitter.com/melmbraga