'Lost Girl' Season 4, Episode 11 Recap: The Dead Start To Walk In Their Masquerade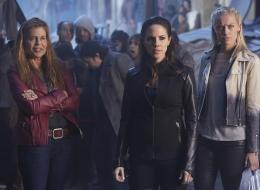 Buckle up, Faenatics. You're in for a bumpy ride with this recap, but do not read any further until you've watched "Lost Girl" Season 4, Episode 11, "End Of A Line."
Acacia Lives! Let's Give Her A Hand
Bo crashes Kenzi and Tamsin's movie night. Their attempt at fun is quickly interrupted by the arrival of a zombie-like creature, and who walks in behind it? ACACIA! I knew we'd be seeing her again. Acacia kills the creature, then introduces herself to Bo.
The elder Valkyrie recounts how Rainer had Hugin and Munin cut off her hand because Tamsin didn't deliver Bo quickly enough. Her new hand is courtesy of Massimo the Druid. Wait a sec -- did Massimo help Acacia before he fell into the fiery pit? Or is he still alive and kicking?
Acacia is now a Revenant hunter, tracking down dead Fae that have been re-animated like the one she just killed. Tam checks the Revenant's body for clues and finds a Wanderer card. Acacia and Tam need to talk to Rainer, but Bo tells them he's gone to the battlefields to pay his respects to the dead. TamTam snarkily implies that Rainer has gone to reanimate the dead instead, but Bo insists that Rainer's a good guy. Before they head off to learn more about who's behind the Revenants, Tamsin mentions Rainer's absence from Trick's history books, so how can Bo trust him? Of course we know it's because Trick wrote him out of existence! Bo joins Tamsin and Acacia so she can prove Rainer isn't behind the walking dead.
The trio head to a Fae shantytown, and Tamsin mentions that something called the "Cult of the Dead" hangs out there. It's not long before a Revenant sends everyone running and screaming. Bo's about to take it on when Dyson shows up and rips out its throat.
Dyson and Tamsin pair up to question the locals, which leaves Bo and Acacia together. They meet with a skeezy dude named Harvey, show him a Revenant head in a bag, and ask if he knows who sent it. When he doesn't respond to Acacia's aggressive interrogation, Bo lets her inner Succubus shine and gets him to cooperate. He empties the contents of the bag into a glass and drinks it like a fine wine. Apparently drinking the blood is the only way to gain dominion over a Revenant. This Revenant isn't being controlled by any of Harvey's people, but he says this body belongs to Acacia, who quickly defends herself -- it may be one of her dead, but she didn't reanimate him, which leads to a minor tussle between her and Bo. Dyson and Tamsin interrupt Bo and Acacia's catfight with a lead, and someone named Laveau is behind the Revenants. Nice little nod to the voodoo queen of New Orleans, "Lost Girl" writers! (Ahem, "Coven.")
On the way to Laveau's, Tamsin confides to Acacia that since Rainer got off the train, she's been remembering things from her past lives, particularly that she may have been the one to give Rainer's soul to the Blood King instead of bringing it to Valhalla. Acacia tells Tamsin they have to find Rainer and take him out. Oh, and the Revenants aren't actually after Bo, they want Tam.
Laveau greets them at her trailer and says that she knows Bo is the one who took out the "Council of Hate" and is involved with a "man of mystery." Bo asks Laveau who's behind the Revenants, and Laveau responds that she can wake up all of the dead, which does some crazy stuff to Acacia's new hand. Why am I not surprised that Ass-imo lied to Acacia about growing her a new hand? Laveau is behind the Revenants and tells bo that she wants the remaining papyrus seed that contains the power of the slain Una Mens. Bo has no clue what Laveau is referring to. Dyson tires of Laveau's ramblings and knocks her out cold. Good one, Wolfie!
When they return to Harvey to tell him Laveau was behind it all, it turns out he and Laveau were in on it together. Cue an homage to Michael Jackson's "Thriller," complete with creatures busting through windows and black goo dripping from the mouth of a Revenant. Laveau is also dead, so Bo beheads the priestess and sucks blood from the severed head to control the Revenants.
Later, Acacia and Tamsin say their goodbyes, and Tam lets on that she knows Acacia wasn't hired to track down the Revenants; it was a way for Acacia to place the Wanderer card so Tamsin would rally the others when it's time to end Rainer. Acacia first denies it, and then reminds Tamsin what the Wanderer is capable of, but Tam wants to be certain about the Wanderer before taking any action. Before they part ways, Acacia warns Tamsin that Massimo is up to something. Tam still believes Massimo is dead, but Acacia tells her that dead doesn't always mean dead. Acacia plants what looks to me like a Judas kiss on Tam's cheek. Has Acacia betrayed Tamsin?
At the loft, Bo is defending her feelings for Rainer to Tamsin when a book opens up and Rainer's face appears on a page before their eyes. Tamsin asks who the hottie is and when Bo says it's Rainer, Tamsin says that is definitely not her boss. Could I be right about a misdirection? Have we yet to meet the Wanderer?
Family Reunion
Kenzi's cousin Dmitri shows up at the loft with Kenzi's mom. KENZI'S MOTHER, you guys! Kenzi is dealing with the unexpected guests when Hale arrives. Kenzi tries to persuade him to leave -- she's clearly embarrassed by her family -- but Hale says that he invited them.
We learn about Kenzi's mama issues, specifically that Kenzi's mom chose a boyfriend over her daughter. Mama gives Kenz the old "I don't know how to be on my own" speech, and Kenzi tells her mom what she had to do to survive because of that choice. Kenzi's mom claims the boyfriend is history and it was time for a reunion. Kenzi kind of falls for it, but I don't trust this woman at all.
Kenzi's mom makes dinner and Hale sings her praises, but she gives some credit to her daughter, saying that Kenzi will make a good wife. Kenzi is weirded out by that comment, but Hale takes the opportunity to propose. SAY WHAT, SIREN?!? A sweet moment is interrupted by Dmitri's phone, and Kenzi learns that her mom lied about the boyfriend. Not only is he still in the picture, they've asked Hale for money. Kenzi orders her family to leave, but first has some parting words for her mom: she's a coward that doesn't value herself. As Dmitri leaves, he tells Kenz not to let Hale get away, that he's a good one. I almost think Dima is being sincere.
Kenzi and Hale have a heart-to-heart and Kenz wants them to slow down. She assures him she's not letting him down. When Bo returns, Kenzi runs out of the room to show her the ring. Kenzi hasn't said yes yet, but Bo assures her bestie that it's not crazy to consider the proposal.
Drinking Buddies
Trick summons Vex for a pow-wow. Vex questions Trick's abilities as leader of the Light, and Trick replies that he wasn't a very good king, either. Trick shares that Rainer wasn't evil, just defiant. Trick also shares that Vex's father was one of his best generals, and a hero, which is news to Vex since he only knew his dad's cruel side. They get their drink on and as Trick shares stories about Daddy Mesmer, a book on Trick's shelf moves, which means Rainer is being written back into history. At this point, Trick reveals his reason for inviting Vex over: the sixth Una Mens seed is missing, and Trick thinks Vex is behind it. As an angry Vex leaves, Trick says that he sees the good in Vex and that it's not too late to do the right thing.
Fortress Around Your Heart
Laveau says something interesting to Dyson about a cage around his heart and he's the one that put it there; he allows Bo to keep him on the sidelines. Dyson later questions Bo about Rainer's motives, and although he's always been there for Bo, if Rainer turns out to be the bad guy, Dyson won't rescue her. Bo replies that they were always more than just lovers, and Dyson asks what they are to each other now. Bo is destined to be with Rainer, but she would have stood by Dyson -- and Dyson interrupts. She would stand by him if she was still in love with him. I feel for you, wolfman. Dyson takes solace in a bottle of booze and when Tamsin shows up, they get friendly with each other.
Goodbye, Lover
Another unexpected visitor shows up: Massimo. He attacks Kenzi, physically and verbally, because she and Bo tried to end him. Kenzi tries to defend herself but he's ahead of her every move. Hale comes to Kenzi's rescue and fights Massimo with his fists and his and his Siren sonic blast. Massimo's incapacitated, but Hale has another ear bleed like he did at the start of the season. Hale heads toward Kenzi, and just when we think it's going to be OK, Massimo skewers Hale with a sword. The Twig of Zamora has once again saved Massimo's life, and he has it because of Kenzi. As Massimo leaves, he tells Kenzi that her debt to him is paid in full. Kenzi goes to Hale, and his last words are, "I love you."
Bo returns to find Kenzi cradling Hale's body. Kenzi blames herself because she gave Massimo the twig as payment for her spark "power." Kenzi pleads with Bo to bring Hale back, but Bo says there's not enough chi in the room for it to work. Kenzi implores Bo to take her chi, and although Bo tries, she can't save Hale without killing Kenzi. Kenzi's breakdown is truly heartbreaking, especially her words: "I was going to say yes." Ksenia Solo -- you get a standing ovation for that performance! I cried so many tears.
Fae-vourite Lines:
Kenzi: "You had me at A-hole."
Acacia (to Tamsin): "Just cause he's boning sugar snatch out there doesn't mean he's gonna leave you be."
Random Thoughts:
Is Hale's death what the Leviathan alluded to in "Destiny's Child"? Or is more carnage on the way? And is it connected to Acacia's betrayal of Tamsin, or coincidence?
Can Hale can be brought back? As Acacia said -- dead is never really dead.
Is there more to Dyson and Tamsin's hook-up? Acacia did make a comment about Tamsin settling down with a wolf and popping out some puppies.
You can read this recap -- and much more -- at The Televixen.
Anna Silk in season 3 of "Lost Girl."

Zoie Palmer as Lauren in season 3 of "Lost Girl."

Rachel Skarsten as Tamsin in season 3 of "Lost Girl."

Meet the crew of season 3.

Ksenia Solo as Kenzi in season 3 of "Lost Girl."

Kris Holden-Ried as Dyson in season 3 of "Lost Girl."

Anna Silk as Bo in season 3 of "Lost Girl."

K.C. Collins as Hale in season 3 of "Lost Girl."

Richard Howland as Trick in season 3 of "Lost Girl."

Kris Holden-Ried as Dyson in season 3 of "Lost Girl."

Zoie Palmer as Lauren in season 3 of "Lost Girl."

Some of the cast members from season 3.

Anna Silk and Rachel Skarsten in season 3 of "Lost Girl."

Dylan McDermott and Maggie Q star in this psychological thriller from executive producer Kevin Williamson ("The Following," "The Vampire Diaries") about Los Angeles police detectives in the Threat Assessment Unit (TAU). Based on an actual division of the LAPD, the TAU is an elite unit that handles all stalking and threat cases in the city.

From Dick Wolf and the team behind "Chicago Fire" comes "Chicago PD." District 21 of the Chicago Police Department is made up of two different groups: uniformed cops who patrol the beat, dealing with street crimes; and the intelligence unit, who combat the city's major underground offenses.

"Big Brother Canada" will be back for Season 3, and the hit reality show is moving to Global from Slice. The houseguests move into the "Big Brother Canada" house, outfitted with 85 cameras and over 80 microphones tracking everything from strategies to showmances.

Set in Gracepoint, this 10-episode mystery event series stars David Tennant, Anna Gunn, Jacki Weaver, Nick Nolte and Michael Peña. The riveting mystery follows the tragic and mysterious death of a young boy found dead on an idyllic beach surrounded by rocks and a jutting cliff-face, from where he may have fallen.

John Constantine (Matt Ryan) is a man waging war against the forces of darkness -- from both within himself and the outside world. An irreverent, working-class con man and occult expert, he's an experienced exorcist and demonologist with an extensive list of supernatural contacts, with their own paranormal talents and abilities. Following the aftermath of a tragic incident, Constantine has voluntarily checked himself into an asylum and sworn off investigating matters of the supernatural. But when a cryptic message calls him out to reluctantly resume his old life, he finds himself saving the life of a young woman, Liv (Lucy Griffiths), whom he's never met -- but is connected to in a very important way.

"NCIS: New Orleans" is a drama about the local field office that investigates criminal cases affecting military personnel in the Big Easy, a city known for its music, entertainment and decadence. Leading the team is Special Agent Dwayne Pride (Golden Globe Award winner Scott Bakula), aka "King," a native of NOLA who is driven by his need to do what is right. Working with Pride is Special Agent Christopher LaSalle (Lucas Black), who plays hard but works harder; and Special Agent Meredith "Merri" Brody (Zoe McLellan), a charismatic and tough interrogator who transferred from the Great Lakes office in search of a fresh start.

This high-octane drama gives viewers an edge-of-your-seat glipmse into the lives of everyday heroes at Chicago Firehouse 51. No occupation is more stressful or dangerous, yet so rewarding and exhilarating. These courageous men and women are among the elite who forge headfirst into danger when everyone else is running the other way and whose actions make the difference between life and death.

"Chopped Canada" is a high stakes culinary competition show where four chefs compete before a panel of expert judges. Armed with skill and ingenuity, chefs race against the clock to turn mystery ingredients into an extraordinary three-course meal. Course by course the chefs will be chopped from the competition until only one remains. There's $10,000 on the line in this cut-throat competition and everybody wants to win. Who will survive the chopping block?

"Outlander" spans the genres of romance, science fiction, history and adventure in one epic tale. It follows the story of Claire Randall (Caitriona Balfe; "Escape Plan"), a married combat nurse from 1945 who is mysteriously swept back in time to 1743, where she is immediately thrown into an unknown world where her life is threatened. When she is forced to marry Jamie Fraser (Sam Heughan; "Batman Live"), a chivalrous and romantic young Scottish warrior, a passionate affair is ignited that tears Claire's heart between two vastly different men in two irreconcilable lives.

"Helix" is an intense thriller about a team of scientists from the Centers for Disease Control who travel to a high-tech research facility in the Arctic to investigate a possible disease outbreak, only to find themselves pulled into a terrifying life-and-death struggle that holds the key to mankind's salvation or total annihilation.

This action-adventure drama is a modern-day retelling of Washington Irving's classic tale. Ichabod Crane (Tom Mison, "Parade's End") is resurrected and pulled two-and-a-half centuries through time to find that the world is on the brink of destruction, and that he is humanity's last hope, forcing him to team up with a contemporary police officer (Nicole Beharie, "42") to unravel a mystery which dates all the way back to the founding fathers.

For decades, ex-government agent Raymond "Red" Reddington (James Spader) has been one of the FBI's most wanted fugitives. He has mysteriously surrendered to the FBI with an offer: he will help catch a long thought to be dead terrorist, Ranko Zamani, under the condition that he speaks only to Elizabeth "Liz" Keen (Megan Boone), a new FBI profiler. Zamani is the first of many on a list that Red has compiled over the years: a "blacklist" of politicians, mobsters, spies and international terrorists. He will help catch them all... with the stipulation that Liz continues to work with him as his partner.

Each day the President is faced with hundreds of life and death decisions, and to prioritize the biggest international crises facing the country, one top CIA analyst – Charleston Tucker (Katherine Heigl) — assembles the President's Daily Briefing (PDB). This list of the most vital security issues facing the nation brings with it moral and political judgment calls for Charleston and her trusted group of brilliant analysts at the agency. Aside from the political minefields she has to walk, Charlie has a close personal relationship with the President (Alfre Woodard) because she was once engaged to her son before a tragic terrorist attack took his life.

The hit scripted drama series "Vikings" centres on Ragnar (Travis Fimmel), a restless young warrior and family man who longs to find and conquer new lands across the sea and claim the spoils as his own.

"Remedy," a unique, high stakes medical drama that follows the Conner family, goes beyond the operating room and the ER to offer a distinctive 'upstairs/downstairs' perspective on the people who make the healing happen. Everyone who enters Bethune General will be taken care of, but not always by whom they might expect.

Our favourite succubus returns -- and things are very different in Season 5.

Based on the best-selling Nick Hornby (High Fidelity, An Education) novel comes the series "About a Boy," a different kind of coming-of-age story produced and created for television by Jason Katims ("Friday Night Lights," "Parenthood").

"Madam Secretary" stars Téa Leoni as Elizabeth McCord, the shrewd, determined, newly appointed Secretary of State, who drives international diplomacy, battles office politics and circumvents protocol as she negotiates global and domestic issues, both at the White House and at home.

Recently single actress and mom of three Jennie Garth is starting over. Together with her contractor Scott, she's stripping a Hollywood Hills home to the studs and building it back up to be her ultimate dream house. It's a room-by-room transformation filled with Jennie's sleek and modern style and sensibility.

Before David Blaine and David Copperfield, there was one man whose name was synonymous with being the master of illusion and escape - Harry Houdini. Houdini traces the arc of Harry Houdini's life from desperate poverty to worldwide fame, following the man behind the magic as he finds fame, engages in espionage, battles spiritualists and encounters the greatest names of the era, from U.S. presidents to Sir Arthur Conan Doyle and Grigori Rasputin.

"Timber Kings" reveals the extensive and gruelling jobs of the master log smiths at Pioneer Log Homes in Williams Lake, B.C. as they build massive, multi-million dollar log homes under tight deadlines and intense pressure from an elite clientele. From design to shipment and completion, watch the extreme hurdles the crew handle as they complete massive and magnificent homes like nothing you've ever seen on HGTV.

Dating and destiny intertwine in this whimsical, new single-camera comedy series starring Ben Feldman and Cristin Milioti that takes a comprehensive look at a relationship – the highs and lows – from A to Z. Andrew, a smart and sarcastic guy's guy who secretly believes in "the One," knows with certainty that skeptic lawyer Zelda has entered his life for a reason. Believing their initial meeting is more than just coincidence, Andrew intensely searches for and presents Zelda with evidence suggesting they are meant to be. Albeit a little overwhelmed, Zelda is a realist, and facts and evidence are the only things she values – so she gives him a shot.

Pro-football player turned contractor Sebastian Clovis is going on the offensive and tackling failed DIY projects with homeowners who are in over their head. After showing them their mistakes, Sebastian works with desperate homeowners to help them fix their mess.

Set in New York City, "Mulaney" is based on the life and stand-up comedy of "Saturday Night Live's John Mulaney. From Executive Producer Lorne Michaels, the series follows aspiring comedian (John Mulaney) as he is hired to write jokes for Lou Cannon (Emmy Award winner Martin Short), an over-the-top game show host who used to be a major stand-up comedian in the 1980s and '90s.

No excuses, no apologies, no compromises. Wild child Rebecca Wright (Kate Walsh) knows how to have a good time, but she also happens to be one of L.A.'s toughest and most respected criminal court judges. She has a reputation for unorthodox behaviour in the courtroom, including creative rulings and saying exactly what's on her mind. Her private life, on the other hand, is anything but innocent.

Hosted by Noah Cappe ("Bitten"), "Carnival Eats" is an exciting look at the mouth-watering and outrageous "stunt foods" famously found only at fairs and carnivals, the wacky characters who create them, and the culinary thrill seekers who devour them.

Based on characters from the film Legion, "Dominion" is an epic supernatural drama set in the year 25 A.E. In this transformed post-apocalyptic future an army of lower angels, assembled by the archangel Gabriel, has waged a war of possession against mankind. The archangel Michael, turning against his own kind, has chosen to side with humanity against Gabriel.

After six years of dating, Jake (Ken Marino) and Annie (Casey Wilson) are finally getting engaged, which is all Annie seems to want. But Jake and Annie approach things completely differently; Annie is a four-alarm fire, while Jake is calm and laid back about everything. When Annie manages to insult their every friend and family member, the hard-won engagement is in jeopardy. As they begin the journey to their wedding day, they'll discover that getting engaged was the easy part.
Follow Melissa Girimonte on Twitter: www.twitter.com/thetelevixen