'Underneath The Lintel' Has Air Of Unintended Anti-Semitism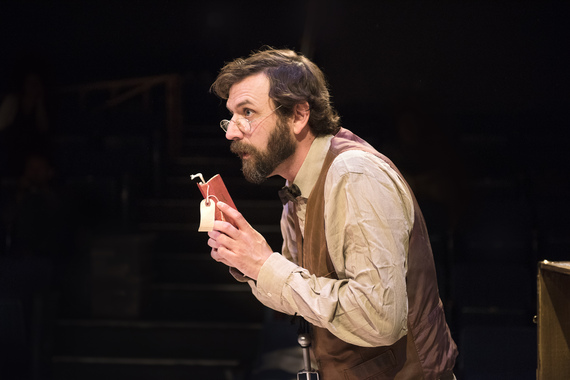 Nathan Schmidt as the Librarian holds the overdue book (Photo credit: Emily Cooper)
"Underneath the Lintel" is Pacific Theatre's first production of 2015, an entertaining play that loses its energy at the midway point, where the theme is altered and the ending is telegraphed. The 2001 play by American Glen Berger also reveals an air of (unintended) anti-Semitism.
The character called "Librarian," an excellent Nathan Schmidt, is the play's only role. He is a socially awkward librarian with a passion for arcane bibliographic rules. Tonight, he has called us together for a lecture about his lengthy travels. He is armed with a slide projector and an old-fashioned home-movie screen. Working up the courage to face us, he prepares the audio-visual equipment as the audience enters. Then he beings his story.
For years, Librarian has been searching the world for the person who returned a book to the library 113 years late. The obsession that has driven him is slowly revealed as he shows us slides and produces what he calls "evidences," or clues, that he has collected from the various cities he has visited. In each city he finds a clue that leads him to the next city, and then the city after that. What kind of person would travel so frequently, he wonders, and leave such mysterious clues?
After about 30 minutes, this pattern of travelling and finding a clue grows tedious. But the playwright is committed to the structure, so the balance of the play unfolds in like form. By the midway point of this 75-minute monologue, a prop and an anecdote give away the ending.
The comedy is plentiful. Schmidt has devised a complicated clown. He makes good use of the small Pacific Theatre stage, allowing it to appear to be a small school classroom. Schmidt's Librarian is disorganized, eager to be liked, certain (like many experts are) that his passion must be yours. He is entertaining in his awkwardness and endearing in his enthusiasm. He always seems a little bit confused, a little bit overwhelmed. He's a sedentary man who has embarked on a great adventure. He's outside his comfort zone and is nervous and excited. Librarian's jovial naivete is reminiscent of Sacha Baron Cohen's Borat character.
Surprisingly, Berger adds a subplot that turns out to be the main plot: Librarian tells us the anti-Semitic legend of "The Wandering Jew." To reveal more would be to reveal too much of the plot, but this is the point where the story shifts, the theme changes, the purpose of the pursuit becomes darker and more serious. And it all gets confusing.
In a way, we have been duped. The comedy was all a set up for a dramatic element that feels self-important and is managed poorly. It's too bad because the play until this point was pretty fresh and amusing. Berger's sloppy treatment of the Jewish and anti-Semitic materials gives the play itself an air of anti-Semitism. This naïve, somewhat lazy writing effort seems to go out of control and winds up in unintended territory. Bright comedy devolves to dark disorder.
Since 2001, "Underneath the Lintel" has been produced all over North America and in London. Berger's most recent credit is as one of the writers on the ill-fated Broadway musical "Spider-man: Turn Off The Dark."
"Underneath the Lintel" by Glen Berger, produced by Rosebud Theatre (Alberta), at Pacific Theatre in Vancouver until Jan. 31. Buy tickets here.
Follow Michael Groberman on Twitter: www.twitter.com/mgroberman