Living With Chronic Pain, A Healthy Sex Life Can Take Creativity
Getting Intimate with Ankylosing Spondylitis (AS)
Let's not hold back on this. You've got Spondyloarthritis and your back and joints hurt, a lot. You've lost some flexibility and simply can't get into the positions you used to be able to. Furthermore, what with the fatigue and bouts of depression, you don't feel like doing "it." But, you are still young and you know it's healthy for couples to have regular sexual intercourse. What's to be done?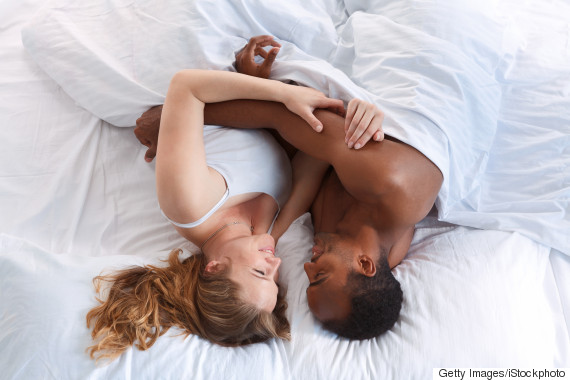 (Photo: Getty Images)
As a married man of close to 44 years living with Ankylosing Spondylitis (AS) for nearly 36 of them, I have faced the challenges of keeping my relationship intimate and romantic. That's why a presentation by Iris Zink "Sex and Intimacy in Chronic Disease: at the American College of Rheumatology annual meeting in Washington, DC this past November truly resonated. As a nurse practitioner with a speciality in rheumatology, Ms. Zink noted that sexual dysfunction is often the first manifestation of physical illness. Yet few health care practitioners bring up the subject with their patients, many of whom are also too embarrassed to talk about it. They shouldn't be.
For people with AS and other rheumatic diseases, not only may their disease cause pain with sexual activity but their medication may be causing sexual impairment. A survey of patients with arthritis showed almost one-fifth said they were unable to engage in sexual intercourse due to limitation from arthritis.
Ms. Zink's message is that sexual intimacy doesn't have to involve intercourse, pointing to the fact that the brain and the skin are the largest sexual organs. A lot of intimacy can be enjoyed by hugging, caressing and sexual stimulation that does not involve intercourse. In some cases, people have to overcome cultural or religious taboos to practice forms of intimacy that they may otherwise regard as out of bounds. Everything about sex and intimacy is normal, and some patients may need to be taught how to be more creative.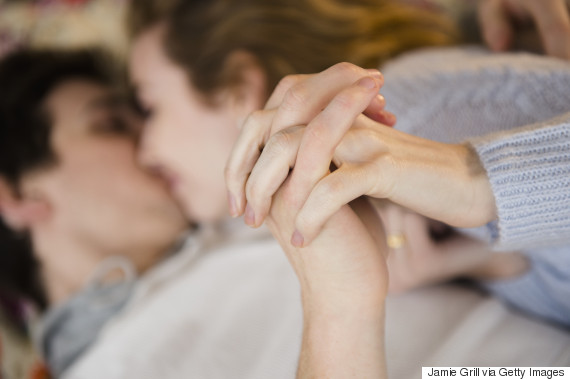 (Photo: Jamie Grill via Getty Images)
Communication between partners is crucial, as is a willingness to experiment. In the Facebook group of the Canadian Spondylitis Association, there have been discussions on intimacy and finding a position that is not painful. The missionary position (man on top) is painful for both men and women with AS, so the cowgirl position (woman on top) may be better. A physical therapist may be required to provide treatment for functional activities, such as the female AS patient Ms. Zink came across who admitted that she could not open her legs wide enough to allow for sex. Physical therapists can also offer advice on modifications in positioning.
A healthy sexuality, of which there are many forms, is key to a normal, happy relationship. Any sexual dysfunction such as those caused by disease or medications can impact not only people's quality of life, but lead to frustrations and a backing away from intimacy. This is a pity. Everyone suffering from AS and other rheumatic diseases should be able to discuss their situation openly with their rheumatology health care team. The health-care team in turn should be prepared to discuss intimacy and offer advice and treatment options.
Don't give up!
Some of the advice can address the top myths about sexuality, such as sex always equals intercourse and the goal of sex is orgasm. Another myth is that there comes a time when sex is not important. In Ms. Zink's view, sex is as important at 80 as at 20.
For people living with AS, it is important not to feel that their health and any physical challenges no longer make them sexy. After all, this is a young persons' disease and strikes men and women in the prime of their lives, usually before age 35. Who wants to give up on sex and intimacy when there are decades of life left?
Key to a continuing healthy sex life is a sense of humour, proper communication and a taste for adventure. Don't give up! As Ms. Zink said to the gentleman who complained his arthritis had made him unable to have an erection and therefore he couldn't keep his wife happy with sex, "What, you don't have a tongue?!"
Michael Mallinson has lived with AS for over 35 years. He developed this content as a consultant to Novartis Pharmaceuticals Canada Inc. No payment was received. To learn more about AS, visit www.spondylitis.ca and watch this video at Youtube.com.
Follow HuffPost Canada Blogs on Facebook
Also on HuffPost:
If poutine and maple syrup have been weighing you down during the colder months, The Double Double provides the perfect way to burn off those calories while gettin' it on. TO DO IT: Both partners get down on one knee facing one another. One partner lifts their leg over their partner's bent knee so that they can get even closer as they bump, grind and let their backbones slide in perfect harmony. This position is not only a top caloric burner, but the intimate positioning is perfect for deep tongue kissing, eye-gazing and dirty whispers (e.g. You're so hot, eh!).

Canadians have a reputation for being friendly, so smile widely while you show your eager beaver some love with The Friendly Beaver. TO DO IT: One partner stands next to the bed (or the kitchen table) and bends over so that her upper half is pressed against the mattress with her feet on the floor. The other partner gets down on their knees and approaches from behind. This position provides the perfect angle for full-beaver pleasure, so be sure to swipe your tongue all the way to the front where you'll find the bilingual fourchette — the highly erogenous fork in the road where the lips meet.

Take your lover for a musical ride — stampede style. TO DO IT: One partner sits on the edge of the bed with their feet on the floor and legs together. The other partner climbs on top facing away and kneels on the mattress with their legs on either side of their lover. The rear partner "harnesses" their partner in place by holding onto their hips or chest to control the rhythm. Most of us will never live up to the stereotype of riding a moose or a bear, so we'll have to settle for The Dirty Mountie, which targets the G-Spot and provides a smokin' hot view.

Build your own personal Sugar Shack using your hot bodies and a few pieces of living room furniture. TO DO IT: One partner sits on the couch with their legs outstretched onto an ottoman (positioned a few feet away) and the other partner straddles their legs in a shallow squat position between the couch and footrest. They pump against one another to create the perfect rhythm in their super-sweet love shack.

You need not be a hockey pro or a puck bunny to enjoy the Just Puck Me position. TO DO IT: In this dually-stimulating arrangement, one partner lies on their back with their knees bent against their abdomen/chest (in a reclined squat position). The other partner squats down from a standing position facing away and exercises complete control over their submissive partner. If there is a penis in the mix, be careful not to bend it — "sorry" won't suffice to heal a penile injury.

We may be friendly and polite, but sometimes even Canadians are in the mood for a good pounding. A study out of over 1,500 Canadians found that sexual fantasies are highly varied and common ones include a range of activities from whipping and spanking to sex in public. TO DO IT: In this position, one partner lies face-down on the bed with their legs hanging off the edge. The other partner stands on the floor and lifts the first partner's legs to hip height as they pound from behind. You may want to reserve The Pounding Lumberjack technique for the end of your sex session when the body has been chemically primed (by oxytocin and endorphins) for rougher play.

Summer is officially here, but that only means that the longest day of the year is already behind us! You may want to save this one for the chillier months (or for a cooler night up north by the campfire). TO DO IT: Both partners lie on their sides facing one another. One partner slides their body between the other's legs and throws their upper leg over their partner's upper hip to create a unique angle for pleasure. Once you start to warm up, you can remove your hipster toques and allow the heat of your twisted bodies to steam up the windows. For our out-of-country readers who might be wondering — the answer is yes. We do, in fact, have windows in our igloos for The Toque Twist.

Not unlike the stunning Canadian Rockies, The Rocky Mountain is a sight to behold. Sure — the former may be a magnificent natural wonder, but this position is perfect for enhanced friction for both partners and can be performed in the great outdoors. TO DO IT: One partner bends over in a downward dog-like pose so that their body resembles the peak of a mountain. The other partner stands upright and approaches from behind.

Take the traditional 69 position and flip it on its side (so both partners are facing one another) and you've got the Oh-So-Canadian 49 position. TO DO IT: Since this arrangement is easier on the neck and back than its more popular cousin, you can prolong your sex play and live up to the Canadian stereotype of the long-lasting lover.

The maple leaf is basically our symbol of pride. This Canada Day, The Maple Leap will help you recreate this precious symbol with your bodies. TO DO IT: Simply lie on your back and press your partner's face in between your legs. Throw your legs over your partner's shoulders with your knees bent and have your partner bend their knees as well. You feet should meet up to form a basic maple leaf with your upper body as a thick stem. By pressing the soles of your feet into your partner's, you can engage your core and pelvic floor muscles to intensify sensations.