It's Time for the Music Industry to Speak Up About CBC Funding Cuts
Funding cuts are slowly killing the CBC and severely damaging the Canadian music industry. That is why my colleagues and I at Canadian Musician magazine are taking a stand and asking the Canadian music industry to join us. Using the Change.org platform, we've launched the "Save Canadian Music: Keep the CBC Alive" petition and campaign.
Though Canadian Musician magazine has traditionally steered clear of politics, part of its mandate since the first issue in 1979 has been to help musicians navigate a difficult career path. No media outlet has done more to further the careers of Canadian artists than the Canadian Broadcasting Corporation (CBC). We feel emphatically that the federal government's recent funding cuts to the CBC pose too great a threat to the careers of artists and our colleagues in the music industry. By bringing attention to this, we've struck a nerve with the music community. In just two days, the petition had over 2,100 signatures. After just five days, the petition and campaign had over 3,500 signatures and the vocal support of major artists and industry figures, including Tegan & Sara, Sam Roberts Band, Arkells, Matthew Good, and Frank Davies, the famed Canadian record producer, music publisher, and founder of the Canadian Songwriters Hall of Fame.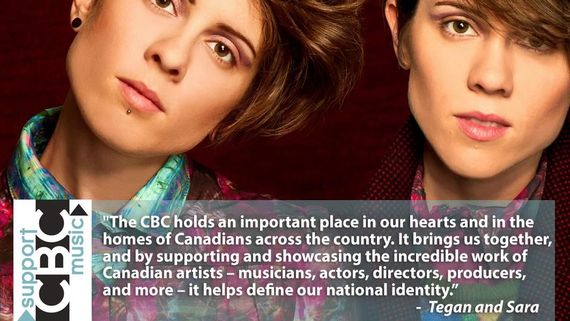 The CBC is suffering from a series of funding cuts implemented by the federal government of Prime Minister Stephen Harper. The 2012 federal budget cut $115 million from the CBC over three years. While this has negative consequences for all Canadians as this national institution is forced to cut jobs and scale back its reach and scope, the country's music and arts communities, in particular, stand to lose. In many cases, it's already happening.
For decades, the CBC's TV, radio, and online programming, along with other initiatives such as the CBCMusic.ca Festival, have provided a platform for Canadian artists to reach a larger audience. It's often the first, and sometimes only, outlet that will play their music and conduct interviews for a national audience. It's a vital part of the music ecosystem in this country. Broadly speaking, more national exposure creates more commercial success for Canadian music. That has a snowball effect, leading to increased album sales, streams, and downloads, which then carries over to concert ticket sales and larger tours. The economic impact goes from record labels to recording studios and concert venues to the retailer who sells a replacement microphone to the touring band. More directly, the CBC also put money back into musicians' pockets in the form of SOCAN (The Society of Composers, Authors and Music Publishers of Canada) royalties. Between May 2013 and February 2015, CBC Radio paid $14.8 million in royalties to SOCAN, which then distributes that to its songwriter members. Supporting the CBC makes good business sense for everybody in the music industry.
Sadly, this could change if this and future governments continue down this same path. Despite this government's claims to the contrary, the CBC has been very economical. According to a Nordicity report, Canada had the third lowest level of per capita funding for a public broadcaster among 18 major western countries in 2011. At that time, the CBC's funding was $33 per capita. In the last fiscal year, that dropped to $29 per capita. Considering this, it is very impressive what the CBC has been able to do for Canadian music.
But that effectiveness won't last. Because of funding cuts, the CBC has announced that in addition to the 657 jobs already cut, it will axe another 1,500 jobs by 2020. That is nearly a quarter of its employees. According to a CRTC report released in June 2015, parliamentary funding for CBC Radio, which accounts for virtually its entire budget, has shrunk nearly 20 per cent since 2010. We've already seen some of the fallout from this and its impact on the CBC's music coverage. Following the first round of jobs cuts, Chris Boyce, executive director of Radio and Audio CBC English Services, said there will be cuts to recorded concerts and that 12 regional music producers, hosts, and engineers lost their jobs. In addition, the In Tune classical music program was cancelled.
Just on radio, the CBC has provided numerous outlets for both major label and independent artists. Any PR rep can attest that getting an artist interviewed on Radio 1's Q can be a major boost to their profile. On Radio 2, there are countless programs airing Canadian music that is unlikely to get much airtime elsewhere. Shows such as Radio 2 Morning and Drive, Vinyl Tap, Tonic, Tempo, and The Signal play established and lesser-known Canadian artists alongside major international acts for a national listenership.
Since its launch in 2012, CBCMusic.ca has become the best place to discover or find out more about Canadian bands. Currently there are over 45,100 Canadian artists featured on the site, from legends like Neil Young to a band releasing its first EP. There is no greater database of Canadian music found anywhere. Personally, I use the website daily to research artists I will be interviewing. As well, the CBCMusic.ca Festival has provided a high-profile stage for Canadian acts to play in front of a large audience. These and other performances are given an extra boost by Backstage Pass on CBC Television.
On Internet and satellite radio, CBC Radio 3 provides a non-stop rotation of solely Canadian indie music.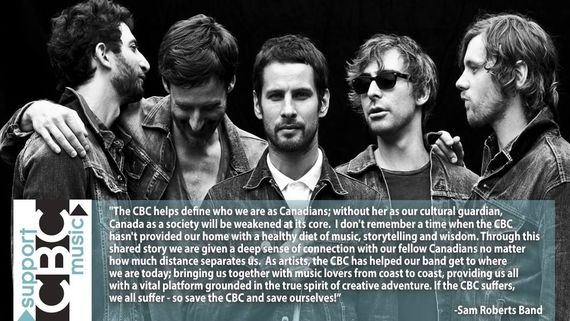 To us, it appears obvious that a diminished CBC comes at a great loss to the Canadian music community. For musicians, regardless of genre, there is no media outlet that will provide them the same coverage and audience reach as the CBC. For music fans, it could mean hearing far less homegrown talent at a time when Canada is creating more noteworthy music than ever. Canada has long had a reputation for punching above its weight with regards to exporting music, and the CBC has been a very big part of that success over the decades.
Politically, restoring funding for the CBC and allowing it to continue being an incubator of Canadian music should not be a controversial stance. A 2014 Nanos Research poll showed that a very large majority of Canadians, 87 per cent, oppose funding cuts to the CBC.
The public has indicated its stance and it is time for Canadian artists, music fans, and the industry at large to speak up. For this reason, sign and share the Save Canadian Music: Keep the CBC Alive petition and let's speak with a loud and united voice ahead of the Oct. 19th election.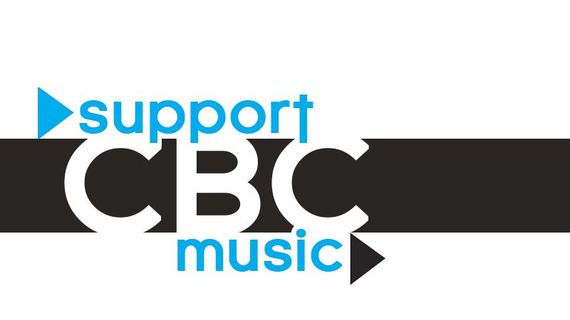 ALSO ON HUFFPOST:
Canadian University Bands
The school: Queen's University The back story: Four of the five members of the band met in Queen's residence Waldron Tower in 1983, and quickly became beloved around Kingston. In 1985, they did a cross-campus tour, and met Paul Langlois in 1986 to complete the band. (via Canada Live) You know them for: "New Orleans Is Sinking," "Wheat Kings," and a few dozen other oh-so-Canadian songs

The school: Queen's University The back story: They lived across the hall from each other in residence, and a few months later, discovered they all played different instruments. They began to jam together, and the rest was history. You know them for: "When The Night Feels My Song"

The school: Collège Stanislas (a private elementary and high school in Montreal) The back story: The two met in the mid-1990s when they were teens, and continued to work together while going to school in their hometown of Montreal — David Macklovitch (left) to McGill, and Patrick Gemayel, who pursued an accounting degree You know them for: "Jealous," "Fancy Footwork"

The school: McMaster University The back story: Four of the five original members of the band met — one after the other — during orientation week in 2004, they explained to McMaster Daily News. Soon, they started playing local clubs in Hamilton. You know them for: Ballad of Hugo Chavez", "Oh, The Boss is Coming!", "Come to Light", and "Leather Jacket".

The school: Etobicoke School of the Arts (a high school in Toronto) The back story: While there are many, many members of Broken Social Scene, some of the most high profile met back in high school — namely frontman Kevin Drew, Emily Haines (best known for Metric) and Amy Millan (best known for Stars). "Emily asked me in the first week of school to come into the practice rooms and sing harmonies with her. I learned to sing from her," Amy told Flare in 2013. You know them for: "Anthems For A Seventeen Year Old Girl," "7/4 Shoreline," and the many offshoots of the band (Note: Oakwood Collegiate Institute is where many other members of the collective found each other, including James Shaw, Evan Cranley, Torquil Campbell and Chris Seligman.)

The school: Queen's University The back story: She played her first shows at open mic nights at Clark Hall Pub and the Grad Club (just like her brother, Matthew Barber), and her songs are now everywhere, including the "Orange Is The New Black" soundtrack You know her for: "Don't Go Easy," "Chances"

The school: Nova Scotia College of Art and Design The back story: The band had its first gig in the school cafeteria, (via NSCAD) in February, 1991. You know them for: "The Rest Of My Life," "The Other Man"

The school: University of Toronto The back story: A child prodigy with the violin, Pallett studied music at U of T and wrote two operas during his time there (he graduated in 2002). He's also amazingly connected within the Toronto music scene (and beyond), having played with everyone from Arcade Fire to Great Lake Swimmers to Snow Patrol. You know him for: "The Riverbed," Final Fantasy

The school: Queen's University The back story: Though Harmer was a member of Toronto band The Saddletramps while at Queen's, she quit to focus on her education — and then started writing her own songs and formed a band, Weeping Tile, with fellow Kingston musicians. (via The Canadian Encyclopedia) You know her for: "Basement Apartment," "Don't Get Your Back Up"

The school: Simon Fraser University The back story: Good's original folk band, the Rodchester Kings, was discovered at an open mic night at the university in 1992. While they had some early success, that band split up, and a new group (that would become famous) formed in 1995. You know him for: "Load Me Up," "Apparitions"

The school: Queen's University The back story: Mark Makoway (guitars) and Jeff Pearce (bass) first met at Queen's University while studying film; they then moved to Vancouver and hooked up with (Kingston natives) David Usher and Kevin Young to form Moist, along with Paul Wilcox. You know them for: "Push," "Breathe," "Silver"

The school: Memorial University of Newfoundland The back story: All four original members of the band got arts degrees from Memorial. Alan Doyle started by playing solo gigs around the campus and eventually in 1993, hooked up with the rest of the band. You know them for: "Ordinary Day," "When I'm Up (I Can't Get Down)"

The school: McGill University The back story: The group, all from Montreal, came together in a variety of ways, but frontman Sam Roberts and bassist James Hall both attended the university, and, Roberts say, it informed plenty of their work. "The sheer number of books and creative information coming and going was definitely feeding directly into what I was writing about," he told the school's alumni publication. You know them for: "Bridge to Nowhere," "Where Have All The Good People Gone?"

The school: Queen's University The back story: Though band members Mike O'Neill and Dave Ullrich grew up together in Oshawa, they didn't form a band (and call it The Inbreds) until they went to university together in Kingston in the early '90s (via Frizzballs) You know them for: "Any Sense of Time," "North Window"

The school: Concordia University The back story: Régine Chassagne, Richard Reed Parry and original member Sarah Neufeld all went to Concordia — lead vocalist Win Butler went to McGill, so he met now-wife Chassagne while in Montreal. It was there they all started playing together. You know them for: "Reflektor," "Wake Up," "The Suburbs" Photo courtesy of Fro Knows Photo

The school: McGill University The back story: Kid Koala (Eric San) was DJing from a young age, but as he told Exclaim, "Montreal was a very nurturing environment for me." He would play at Gert's, the campus pub, and hand out samples of his music to fellow students. You know him for: "Third World Lover," "'8 Bit Blues"

The school: Saint Mary's University The back story: While at the school in Halifax, the artist (whose real name is Rich Terfry) started getting attention for his hip hop tunes. You know him for: "Wicked And Weird," "Heart of Stone,"

The school: Laval University The back story: While at school, the band won first place in a Montreal radio station's competition, leading to the release of their first album in 1993. You know them for: "Ma vie à l'heure," "Amalgame"
Follow Michael Raine on Twitter: www.twitter.com/mpraine