Wash Or Toss? How To Spring Clean Allergens Out Of The Bedroom
Tis the season for itchy watery eyes as allergy season is upon us. The spring also signals a time for rejuvenation and cleaning. While the season may prompt many to clean out their closets, garages and basements, bedrooms should not be neglected. In fact, your bedroom might be contributing to your allergy misery. That's because your mattress, pillows and sheets could be harbouring an array of allergens. This is concerning given the fact that we spend about a third of our lives sleeping.

When it comes to your bedroom, what should you toss and when? If you're still sleeping on the same mattress you bought when you were in school, or the mattress you bought when you got married more than a decade ago, it's probably time to replace it.
The following are answers to some frequently asked questions that can help you reduce allergens in your bedroom and have a good night's sleep:
How often should you wash your sheets, pillows, mattresses, etc.?
Sheets: Try to wash sheets every week in hot water to clean dust, dirt and sweat.
Pillows: Pillows should be washed at least once every six months, if not sooner to get rid of dirt, oil and dead skin cells. If your pillows can't be washed, try to find pillows that have a washable top or cover to ensure the side that touches your face is free from allergens.

Mattresses: For a standard mattress, aim to clean it twice a year. If you can't remember, consider timing it with the changes in season. It's also a good idea to rotate it at the same time to ensure equal usage on all ends. When cleaning, vacuum the top of the mattress using an upholstery attachment and then wipe it with a wet cloth and a little upholstery shampoo. Ensure you keep the water to a minimum because too much moisture can result in mold.
Duvets: To minimize how often you need to wash your duvet, invest in a duvet cover. The cover should be washed weekly with the sheets. The duvet can go without cleaning for a couple of years or more if covered. To preserve the duvet, it's best to get it professionally cleaned.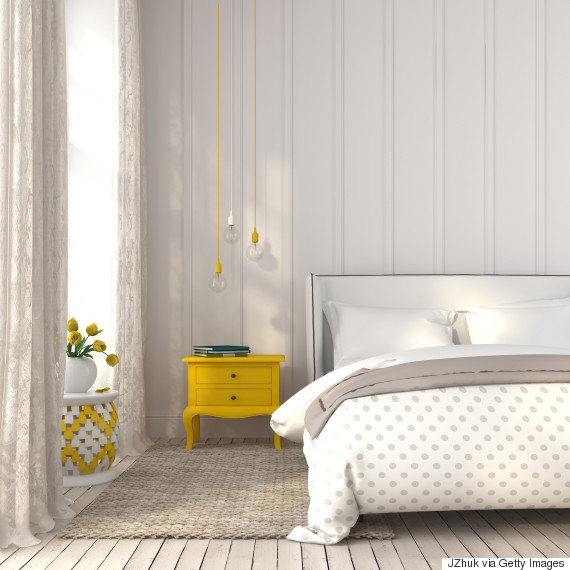 How often should your bedding and mattress be replaced?
Sheets: There's no hard and fast rule for replacing sheets other than to replace them when they start showing their wear. Depending on the material and how often you wash them, some sheets may last longer than others.
Pillows: If you start to experience neck or back pain or pillows won't fluff up any more, it's time to buy new pillows. As a rule of thumb, expect to replace down-filled pillows every two years. Memory foam will last about five years.
Mattresses: To increase the lifespan of your mattress, rotate your mattress twice a year and invest in a mattress cover. Without a cover, the average person replaces a mattress every seven to eight years. According to Consumer Reports, mattresses should be replaced anywhere from five to 10 years, depending on the quality on the mattress and your age. Seemingly, the older you get, the more often you should consider changing your mattress.
It's critical to keep the bedroom clean and free of dust.
Beyond washing regularly, what else can be done to combat allergens in the bedroom?
Pillows: When shopping for pillows, look beyond soft and firm and find one that is hypoallergenic and washable. Most memory foam pillows are hypoallergenic and doesn't attract dust mites the way traditional pillows do.
Mattresses: Consider purchasing a memory foam mattress that is 100 per cent hypoallergenic and won't attract dust mites. Dust mites like living in feathers and cotton so you don't have to worry about that with a memory foam mattress.
Perhaps the most shocking tip when it comes to reducing allergens in the bedroom has to do with vacuuming. It's critical to keep the bedroom clean and free of dust. Experts say to accomplish this, high-traffic areas should be vacuumed daily! While this is the ideal situation, it's not realistic for most people. Still, if you're worried about dust and allergies, aim to vacuum your bedroom once or twice a week and dust at least every other week.
We spend so much time in the bedroom yet can be the easiest space to overlook because it's a private space, out of the public eye. Keep in mind that neglecting our bedrooms can lead to a dirty and dusty space that can not only impact allergies but also your mood. Keeping it clean and uncluttered will ensure you have a fresh place to rest, recuperate and rejuvenate.
Follow HuffPost Canada Blogs on Facebook
ALSO ON HUFFPOST:
Spring Cleaning Myths Put To The Test
TRUE: A truly green alternative, lemons are a great way to safely remove water stains from glass and chrome in the kitchen and bathroom. Their acidity breaks down stains while also releasing a fresh clean scent. Simply rub a lemon on the stain and then rinse. Also a great way to remove general grunge from around faucets.

FALSE: Bleach doesn't clean so much as it disinfects. Bleach does a great job killing bacteria, and also removes tough stains. But bleach doesn't really clean dirt and residue from surfaces. To do that, you need to scrub and rinse the surface with a cleaning product. For many household cleaning jobs, bleach just isn't the right choice. It has heavy fumes that can make you sick, as well as damage and remove colour from some surfaces.

FALSE: We often associate freshness and cleanliness with fragrant scents. But sometimes the fragrance may just be covering up the actual problem. It's been proven that scented and unscented versions of the same product clean equally well. The best way to know whether a surface is clean is to do the touch test. If it feels clean and looks clean, chances are you have sufficiently removed dirt and grime from the surface.

TRUE: A window squeegee does a great job at removing pet fur from carpets and furniture. Pet hair from dogs and cats can be hard to remove once it has become embedded in the fibres — even with a vacuum. The solution? A simple window squeegee. Use the rubber blade to rake up the pet hair. Once most of the pet hair has been successfully removed, a vacuum should be able to finish the job.

TRUE: For natural furniture scratch repair, just take the meat of a walnut (not the hard shell), and rub it gently on the scratch in the wood using a circular and up-and-down motion. The walnut will release an oily substance, which should also be rubbed into the scratch. It is these natural oils that help repair the wood. A quick polish and the scratch should be gone.

FALSE: An ordinary cleaning cloth has fibres made of cotton or a synthetic material such as nylon. The fibres in these fabrics are quite large. But a microfibre cloth has far more fibres and they're much smaller. Microfibres are able to attach themselves to even the smallest, most microscopic dirt particles — ones that ordinary cloth fibres simply brush past.

FALSE: Citrus peels may temporarily eliminate nasty scents from the garbage disposal. However, if they aren't completely ground up, they will eventually contribute to the bad smells wafting from your sink. Citrus peels can clog your drain and corrode the metal in your disposal. It's safer to pour a few teaspoons of white vinegar into the disposal instead.

TRUE: This sounds strange, but there is truth to it! Take an ice cube and place it in the stubborn carpet dent for a while, then fluff it with a fork to get the fibres looking good as new.

TRUE: Plant experts tell us that specific varieties do a great job purifying the air in our homes. Plants such as rubber trees, corn plants, bamboo palm, ficus, gerber daisies, english ivy, peace lily and philodendrons are great picks.

TRUE: This is a popular one. It seems impossible that a sheet of paper covered in ink could clean anything, but it has been a contractor's trick for years. Using newspaper on windows leaves no streaks, is absorbent and easy to maneuver around the window. The lack of lint on newspaper (vs. paper towels or an ordinary cleaning cloth) is the key.

FALSE: The argument here is that the rotating brush in a vacuum can pull, stretch, and wear out carpet fibres. However, this is untrue. Dirt puts more wear and tear on our carpets than most vacuum cleaners ever could. That being said, it is possible to overwork your carpet. If your vacuum cleaner has multiple settings, be sure to use it on the correct one. Don't use the bare floor setting when vacuuming the carpet.

TRUE: Natural cleaning methods are just as effective as their chemical counterparts but may need to be used differently. Some natural cleaning methods need to sit and soak for maximum efficacy. That said, they definitely do the job when tested. For example, white vinegar not only cuts through grease, but has acidic properties that can create an unfavourable environment for mold and bacteria. Those who make the switch to natural cleaning products find that they can remove stains from clothing, scrub tough grease out of dishes and sanitize their kitchens and bathrooms without using dangerous chemicals.

TRUE: Surprising but true. When you add equal parts of white vinegar with baking soda, clogged drains beware! Simply sprinkle ½ cup of baking soda down your clogged drain, followed by ½ cup of vinegar. Cover with a cloth and wait 5 to 10 minutes before flushing with very hot water. Drains should be clear.

FALSE: Using cold water to wash our clothes is a great way of saving energy and money on our monthly utility bills. It also keeps clothes looking new and fresh longer. However, sometimes hot water is a must. Using hot water helps to kill bacteria, mold and viruses. So, when washing your undergarments, bed sheets, bathroom towels or anything else that may be filled with germs, it's a good idea to turn the dial to hot.