Vancouver Election 2014: What To Expect From Vision's Third Term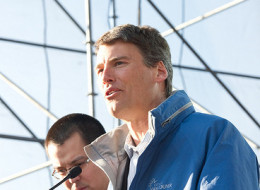 "All in favour? Opposed? Carried unanimously."
It's October 2018, and so adjourns the final city council meeting of Vision Vancouver's third consecutive term of government. The time also will mark the 10th year of Vision Vancouver's political dynasty, and -- very likely -- Gregor Robertson's final days as mayor.
Of course, the actual results of the Nov. 15, 2014 election have yet to be tallied up. But polls suggest that Robertson and the Vision slate will cruise into an easy victory at council, and at the school and park boards.
The smoldering dissatisfaction felt in many Vancouver communities is probably too dispersed to overcome a powerful and well-funded political machine like Vision's.
Then there is the fact that only one-third of eligible voters will even bother to cast a ballot this year; such is the declining interest in local government elections. Most British Columbians may not realize that their municipal vote is worth 33 per cent more, now that three-year terms are being abandoned for four. It behooves us to be a little more careful with our choices, but the vast majority of voters in Vancouver will vote the slates that most suit their own political leanings.
So what will 10 years of Robertson's Vision government have brought to our city? To understand what lies ahead for Vancouver between now and 2018, one needs to look back at the mayor's unfulfilled political promises. You can be sure that Robertson will be determined to leave a political legacy as most long-serving politicians do.
Here are five areas to watch:
On ending street homelessness. Some of the brightest minds who have studied homelessness warned Robertson not to promise he could "end" anything, let alone something as complex as our city's homelessness problem. But all indications are that even more city resources will go into warehousing people to drive numbers of street homeless down. Once the last of the 14 social housing projects promised in a 2007 provincial-city partnership are complete, Vision will have little choice but to dig deeper into city coffers to uphold Robertson's promise.
On the Georgia and Dunsmuir Viaducts. A city staff study suggested the viaducts could serve out their usefulness for another four decades if properly maintained, but Robertson has too much political capital already invested in tearing them down. It will be billed as a big win for the community, but there is a risk it will make the losses of the Olympic Village construction feel like a walk in the park. It's a bold plan for sure, but as the Burrard and Granville Bridges continue to crumble, a lot of Vancouverites might question the sense of it.
On public engagement. Robertson leads an activist government that often gets impatient with the process of getting buy-in. If their minds are set on something, they will stubbornly drive ahead while paying lip service to the public's viewpoints. Increasingly the city seems to be using the courts to help them plow ahead, such as in the recent case of the CP Rail right-of-way along Arbutus. Watch the city's legal bills mount.
On the "Greenest City" pledge. 2020 might be the end date, but Vision's targets toward greening the city are all laid out today and they will have a considerable financial cost. For example, green building codes for new single-family homes are already increasing home prices. The city has big ambitions for district energy systems, a bike-sharing program, and a green enterprise business district on the False Creek Flats -- all of which that come with a big price tag. Robertson's push for green jobs means that you'll hear more about e-waste specialists and weatherization experts in the local lexicon.
On blocking tankers. John Horgan may have the title, but the real Leader of the Opposition to Christy Clark's energy-driven mandate is at 12th and Cambie. Expect Robertson and his activist circle of donors and supporters to continue the pressure on fracking and pipelines right through Clark's 2017 bid for re-election, when the premier will have to prove that her plan to grow the economy is working.
You might notice there is no mention of rapid transit to UBC -- one of the mayor's "top" priorities. That, sadly, I predict will be no further along in 2018 than it is today.
ALSO ON HUFFPOST:
Vancouver Mayoral Candidates 2014
The veteran newsman is used to monitoring politics behind the scenes as a senior editor at The Vancouver Sun, CTV, Canadian Press, and National Post. He was also CBC ombudsman from 2010 to 2012 and is currently a journalism professor at UBC. LaPointe, 56, was born in Toronto and raised by a single mother. Here are five things you may not know about him.

"I am a goaltender for three hockey teams. They are rooting for me to win the mayoralty, I suspect, so they can find someone to replace me. I suppose I will take the support wherever it is."

"I am an avid music fan. It started by seeing The Beatles at age six. I have seen hundreds of concerts and, because I was a music writer in earlier journalism days, interviewed hundreds of musicians. I try to stay current." (Lapointe is seen here with radio personalities from The Kid Carson Show on SONiC.)

"I coach girls softball, a team called Blue Thunder, having coached them from Mites level into Midget over seven great seasons. It's the best time of year. The vibe is fantastic."

"I have run nine marathons and more than 100 10K races, none of them in the first one-third of the finishers. I have run for 32 years and have missed a birthday run only once in that time. I used to be upset when I was called a jogger; now I'd consider that an upgrade."

"I know one good magic trick. I teach it every year to journalism students because it involves choosing a word from the newspaper, writing it on a slip of paper, handing that paper to someone, then having another person choose the same word. Only two people have figured the trick out when they've seen it."

Born in North Vancouver, Gregor Robertson previously served as a B.C. MLA. He's been running the city since 2008, and is gunning for a third term in the November municipal election. Here are some surprising facts you may not have heard before.

He sailed a 40-foot wooden sailboat across the Pacific Ocean to New Zealand on a boat he helped restore and build himself.

He's played soccer all his life.

Here he is practising with the Vancouver Whitecaps.

He used to be an organic farmer on an acreage near Fort Langley.

His favourite meal in general is spicy Chinese or Mexican food.

He co-founded Happy Planet, a successful multi-million dollar B.C. juice and natural foods company. The soups are his favourite Happy Planet product.

He's a distant relative of Norman Bethune (the mayor's full name is Gregor Angus Bethune Robertson). His grandmother was a first cousin to the Canadian doctor who brought modern medicine to rural China.

He plays the drums...

... and the tuba.

The community organizer, who currently works with Vancouver Coastal Health, was born in China and spent part of her childhood in Hong Kong. She moved to Canada as an international student when she was 19. If elected, Wong would be Vancouver's first female mayor, as well as the first Chinese person in that role. Here are some fun facts she shared with HuffPost B.C.

She started EcoMinds, a group that promotes better mental health through gardening.

She's a member of the Gung Haggis Fat Choy dragon boat team.

She lists kayaking and hiking in Haida Gwaii as one of her favourite vacation pastimes.

She's huge fan of Batman because he "fights injustice in Gotham City."

"Live simply. Love generously. Care deeply. Speak kindly."
Follow Mike Klassen on Twitter: www.twitter.com/MikeKlassen