Vancouver, I Love You But You're a Mess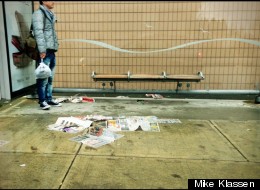 It was crisp and gloriously bright day in early January in Vancouver — the perfect conditions for outdoor chores like taking down Christmas lights.
Or, in my case, it also meant grabbing tongs and a pail to scour my block for coffee cups, bus tickets, plastic packaging, as well as used condoms and discarded bags of dog feces.
In total, I collected enough junk to nearly fill a 75-litre garbage can. My reward was, at least temporarily, that the street regained its "walkability" by removing the irksome mess.
So why did I want to do this? Is it not someone else's job to pick up the filth off my street? Well, yes and no.
While sanitation has a diminished role next to the City of Vancouver's suite of social responsibilities like creating affordable housing, we still rely upon the city's help for most of our garbage removal.
However, I believe it would be a month of Sundays before anyone could convince the city to pick up every bit of litter on my block, let alone on a statutory holiday.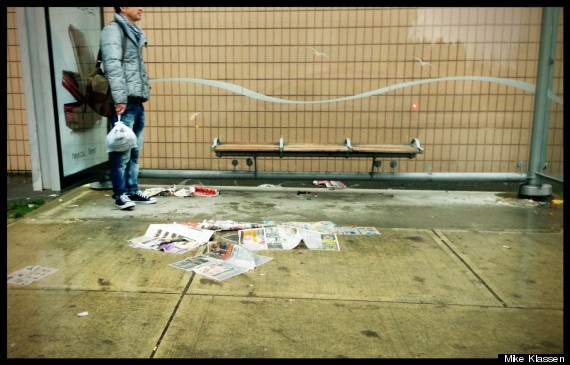 As someone who likes to take walks in my neighbourhood, I could not bear to look at it any longer.
I had the good sense to stop after 40 minutes, but I could have kept going. For example, the garden beds built into sidewalk bulges nearby have barely been attended to over the years, letting the weeds and litter accumulate. Gardens in public schoolyards close by are not much better.
Several storefront businesses on a nearby thoroughfare never bother to clean the walk, leaving rotting leaves for passersby to tread through.
Glance at the ground at most bus stops and you'll see gum stuck to the sidewalk, scraps of paper and boundless cigarette butts. With so many stakeholders involved in maintaining bus shelters, it is hard to know who is accountable for a veritable blast radius of waste surrounding them.
In its own wide-ranging 2008 survey of pedestrians, the City of Vancouver found that the conditions of our sidewalks was the top concern. There are too few garbage receptacles, said respondents, and too much mess. In its quest to make Vancouver walkable, it was not doing enough to make the experience pleasant.
Even though after five years it seems little has been done to address these concerns, I cannot heap the blame only on city hall.
That is because we have to start taking some responsibility for our surroundings — individuals, private businesses, labour unions and public institutions together.
Perhaps those bus shelters could start running ads reminding us of our duty to keep our streets clean. Or collective agreements could provide flexibility for inside workers to maintain school grounds. How about BIAs partnering on multilingual anti-litter posters aimed at their patrons?
What if our mayor and elected officials led school kids on clean-up campaigns, not just each spring but year-round? Not only do you drive home the idea that city living comes with a social contract, those kids are unlikely to grow up as litter bugs.
Even if implemented ideas like these will not change Vancouver's litter culture overnight. Nevertheless, I long for the day when I can permanently retire my tongs.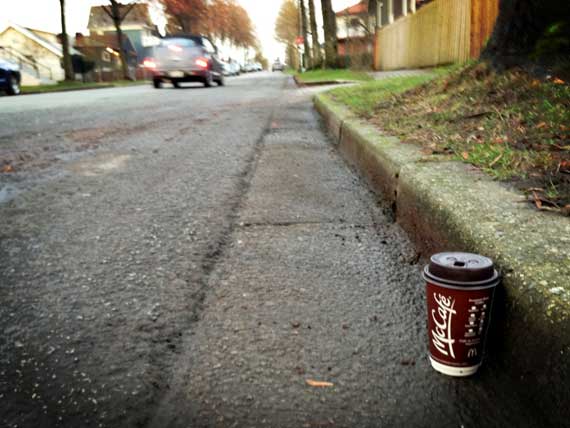 The Best Cleaning & Organizing Tips
remove stick price tags.

using a baking soda and water cleaning solution.

to reuse their glass holders.

using crumpled aluminum foil.

using a coffee filter.

using a colander.

to clean your outdoor grill.

catch the debris when using a drill.

remove coffee and tea stains on your cups.

by wiping your space down with vinegar.

unclog your drains.

by using rubber bands to keep them in place.

by using binder clips to keep them in place.

fix stubborn carpet dents.

save time and money when ironing clothes.

clean those hard-to-reach places in vases.

make your own broom.

and six other home tasks you've probably been neglecting.

they're a huge germ hot spot.

using baking soda.

help from your hair dryer.

by placing your items on cutting boards.

by using a clothing hanger.

by rubbing it down with flat beer.

with a rub of toothpaste.

with these easy laundry tips.

clean small spaces in your home.

that are dirtier than your toilet.

by dusting your lightbulbs.

to organize your hair ties.

by standing it upright with a binder clip.

to organize your bathroom.

using shower curtain hooks.

with these mail organizing tips.

to mark your keys and prevent losing track of them.

by lining the bottom of your trashcan with newspaper.

with these stress-free organizing tips by 'A Bowl Full Of Lemons' blogger.

clean out bottles with persistent odors.

water your plants.

a bar of soap.

make nifty magazine storage.

make your pillows fluffy again.

clean stainless steel appliances.

help you dust a ceiling fan.

remove rust stains from your toilet.

make your home smell like cookies all day.

as air purifiers at home.

to deodorize your home.

How often should you wash scarves, gloves and hats?

eliminate litter box odors.

keep dust baseboards clean.

eliminate litter box odors.

They're kind of gross.

protect floors from scratches when moving furniture.

polish forks between the tines.

using a hanging shoeholder.

remove paint stains on the floor.

Browse through these surprising bathroom items that have expiration dates.

clean your toilet bowls.

to clean your cheese grater.

It's one dirty little thing.

to remove sticky price tags.

as a garbage bin.

Check and clean your vacuum without making a mess.

clean your coffee grinder.

Don't let it ruin your New Year's Eve!

remove oil stains on cement.

remove ink stains from fabric.

make your fire smell even better this winter.

Make sure you aren't exposing your best friend to any harmful chemicals.

remove water marks from wood surfaces.

a Post-It note?

remove scuff marks from vinyl flooring.

It's the dirtiest part in your home, so make sure you're cleaning it thoroughly!

with plastic bags filled with ice

reduce static cling on your clothes.

with this beauty salon product.

fix scratches on CDs.

clean a dirty wall.

attach pairs of socks so you'll never have a mismatched pair again!

remove staples.

filling them with baking soda and putting them in the fridge.

with foam rubber, which can be found on dry-cleaning hangers.

increase suction of a toilet plunger and keep it in good shape.

help remove wine stains from your tablecloth.

place a teabag in water in the microwave.

clean food particles out of your can opener.

stop a shower curtain from sticking.

safely store candles.

create a yummy (and all-natural!) home fragrance.

help clean the keys and buttons on your cell phone, laptop and remote control.

remove grease stains from clothing.

remove paint odor from any room.

naturally polish silver.

silence squeaky door hinges.

protecting doorknobs and other hardware while painting.

help you clean soap scum from your shower.

fix a shrunken shirt.

help dry your delicate sweaters.

clean your bathtub.

remove mineral stains from glasses.

freshen a linen closet.

collect particles from your broom.

turn discolored socks white again.

clean laminate floors.

dust Venetian blinds.

clean the dust off your houseplants.

clean burnt food out of your oven.

get rid of spiderwebs in your home.

remove gum from the soles of your shoes.

clean up an egg spill.
Follow Mike Klassen on Twitter: www.twitter.com/MikeKlassen