Ontario Should Lead the Cleantech Revolution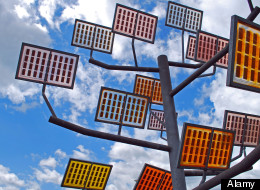 Wayne Gretzky became The Great One because he skated to where the puck was going to be, not where it had been. He understood that winning required anticipating the future. The same can be said for fostering a great economy in Ontario.
Ontario desperately needs a bold plan to create jobs for the 21st century. We need to replace the 300,000 manufacturing jobs lost in the last decade. It won't happen with the old ideas -- building more casinos or lowering taxes on blue chip corporate profits -- being recycled by the political insiders at Queen's Park.
Ontario needs to invest in where the puck is going: the cleantech and low carbon economy. Last month at the World Economic Forum in Davos, world leaders called for a $14-trillion investment in greening the world's economy. The highly respected McKinsey Global Institute has called for a global resource revolution to push for more efficient use of energy, land, materials and water due to environmental constraints. Overcoming these challenges will require an annual investment of over $1 trillion, driving innovation, economic development and job creation.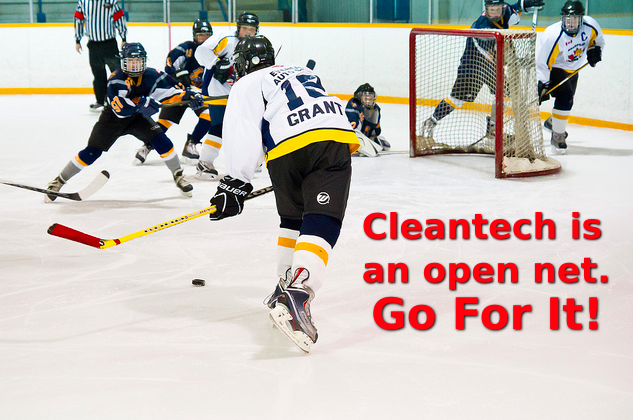 I want Ontario to be a global leader in the emerging cleantech, low carbon economy. Creating cleantech jobs will require innovations that shift Ontario to a new way of doing business.
Cleantech touches all aspects of our economy. It's about helping homeowners and businesses save money by saving energy. Ontario can lead by converting agricultural waste to energy, developing more efficient mining operations, and by reducing, diverting and recycling waste. We can advance water conservation, following the lead of cities like Guelph, who has decoupled population growth from water consumption. And we can be a leader in manufacturing and installing renewable energy systems.
Ontario needs the benefits that come from innovative new industries: a broader tax base, greater demand from more stable incomes, and more quality full-time jobs that can't be outsourced. We can generate wealth by selling our cleantech expertise, products and services at home and around the world.
Ontario can become the cleantech capital of North America. The TSX already has more cleantech companies listed than any stock exchange. But we need political leadership that provides an investment tax credit for cleantech companies and puts a price on pollution. We need to invest in tomorrow's infrastructure, not yesterday's. Instead of wasting $36 billion on new nuclear, Ontario should invest in energy efficiency and renewables. And we need better training programs and apprenticeship reform so young workers have the skills needed to create and obtain cleantech jobs.
It's clear where the puck is going, do we have the courage and vision to skate there?
Photo credit -- Rob Marchand (@Cuss) on Flickr -- Creative Commons
Renewable Energy Sources For Canadians
Now non-car owners in Montreal who opt to take public transit and to walk or ride their bikes as a way to reduce their carbon footprint have an eco-friendly option when it comes to renting a car for those occasional times they need a vehicle. Communauto added a fleet of electric Nissan Leaf cars to their car-sharing service this year so you can get around the city without feeling ridden with guilt about your greenhouse gas emissions.

In 2009, Toronto was the first North American city to implement a green-roof bylaw, which requires all new construction to feature a green roof of no less area than 2,000 square metres. How does a green roof help benefit condos such as Tridel's The Republic condo and North Toronto Collegiate Institute? By providing insulation, absorbing heat and collecting rainwater, not to mention helping to clean the air.

You may never say "Rain, rain go away, come again some other day," when you hear this: A University of Guelph study found that rainwater harvesting (that is, capturing rainwater runoff and storing it for use later) could decrease household potable water demands by as much as 47 percent. One company that's implemented rainwater harvesting is IKEA Canada. At its new location in Richmond Hill, Ont., impermeable pavement absorbs rainwater and helps to improve drainage. (And this is just one of the sustainable features included here—the new store also boasts reflective rooftop to minimize solar gain, occupancy sensors and fans to reduce heating requirements, and much more).

When one thinks of Canada's cold climate, solar power, ie. converting sunlight into energy, may not be the first resource that comes to mind. But we have a wealth of solar energy resources, focused more in Ontario, Quebec and the Prairie provinces. While the solar-power industry is in a bit of a tenuous position (the abundance of supply and subsidies being slashed being at the root of the downturn), installing solar panels can be a simple way to cut your energy bill, and kits are readily available at your local building supply store such as Home Depot. As for solar-powered businesses, in Red Deer, Alta., the Comfort Inn & Suites is one of Canada's most energy-efficient hotels. Thanks to rooftop solar panels, 520 tons of carbon dioxide emissions will be saved.

Many Torontonians drive by the 30-stories tall wind turbine at Exhibition Place these days without noticing it—it's become a fixture on the Toronto skyline, but this powerful turbine puts out about 1 million kilowatt hours of clean wind energy annually, which is enough electricity to power about 100 homes for a year. You may also not realize that this is North America's first urban turbine—most can't be built in cities given zoning regulations and the fact that residential areas often tend to interfere with the flow of wind needed to generate power.
Follow Mike Schreiner on Twitter: www.twitter.com/MikeSchreiner